Cabbage with stew in a frying pan\Kohl mit Eintopf in einer Bratpfanne
Hello,my friends!
Today we will cook fresh cabbage with canned meat. You can easily use any meat or even chicken. I used pumpkin in the recipe, but if you don't have it or don't like it, you can use carrots.
Let's go, it's going to be bright!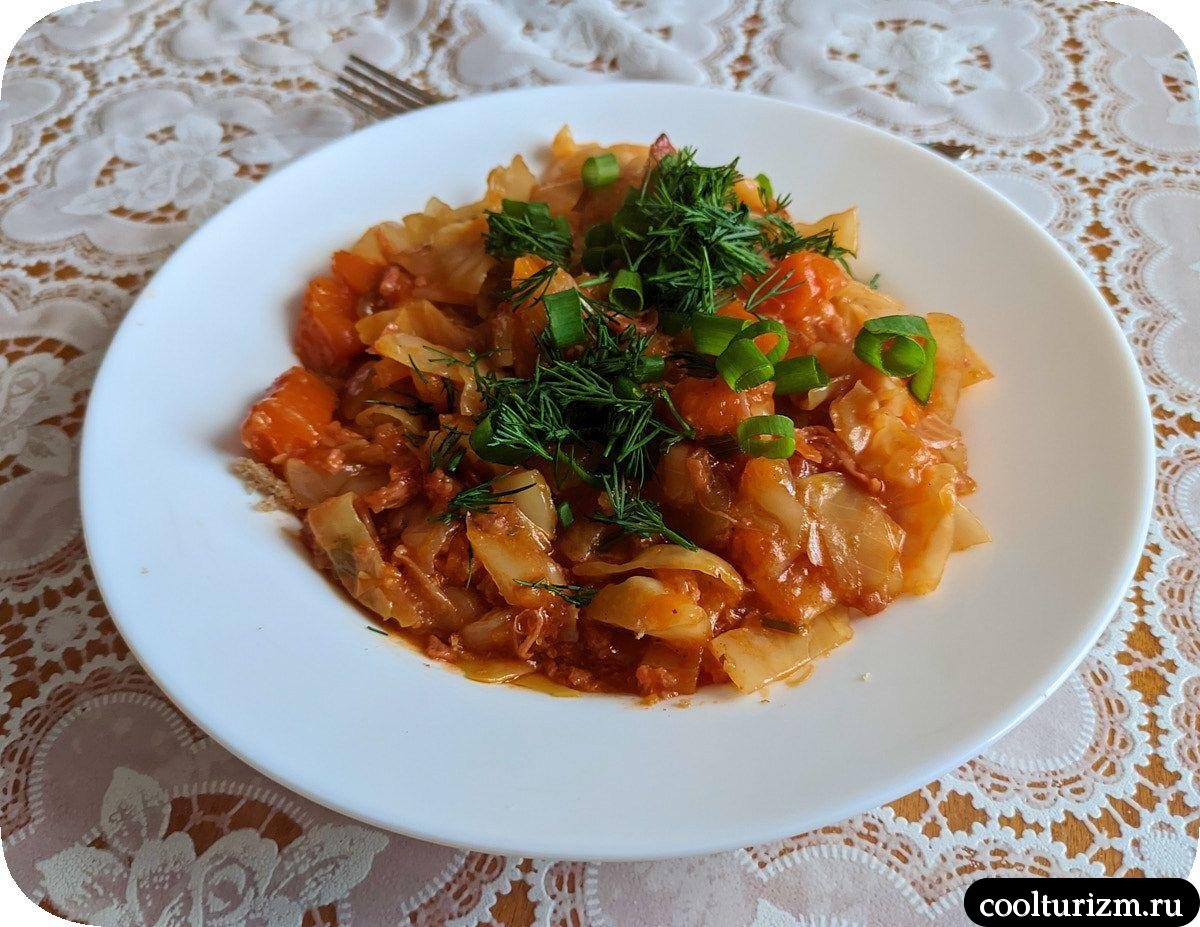 Ingredients:
● Cabbage - 1/3 heads (700 g)
● Beef stew or some other - 1 can (325 g)
● Pumpkin -100 gr
● Semi-smoked sausage - 4 pieces (for flavor)
● Soy sauce -4 tbsp.
● Vegetable oil for frying - to taste
● Onion -1 pc.
● Hot pepper - a pinch
● Tomato paste -3 tbsp.
● Salt, sugar, herbs, bay leaf, peppercorns, spices - to taste
1.Peel the onion and cut the onion into half rings or smaller. Peel the pumpkin and cut into cubes. Fry the onion and pumpkin in oil. I illegally added pieces of sausage with garlic, purely for the smoky flavor.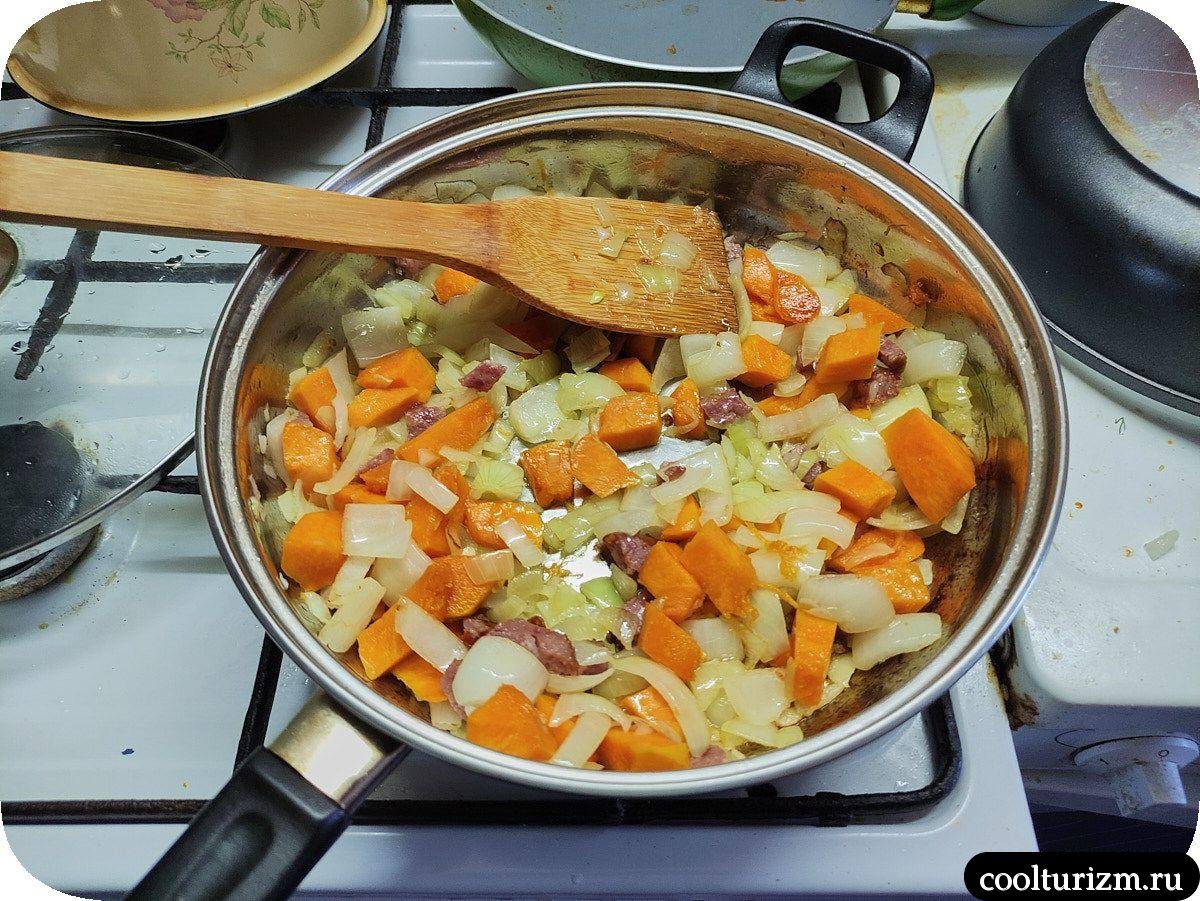 2.Shred the white cabbage into strips, or however you like. Lay the cabbage, add sugar, a pinch of salt, bay leaf and black peppercorns. Pour in a glass of water and begin to simmer the cabbage. Stir, reduce heat to medium and cover the pan with a lid.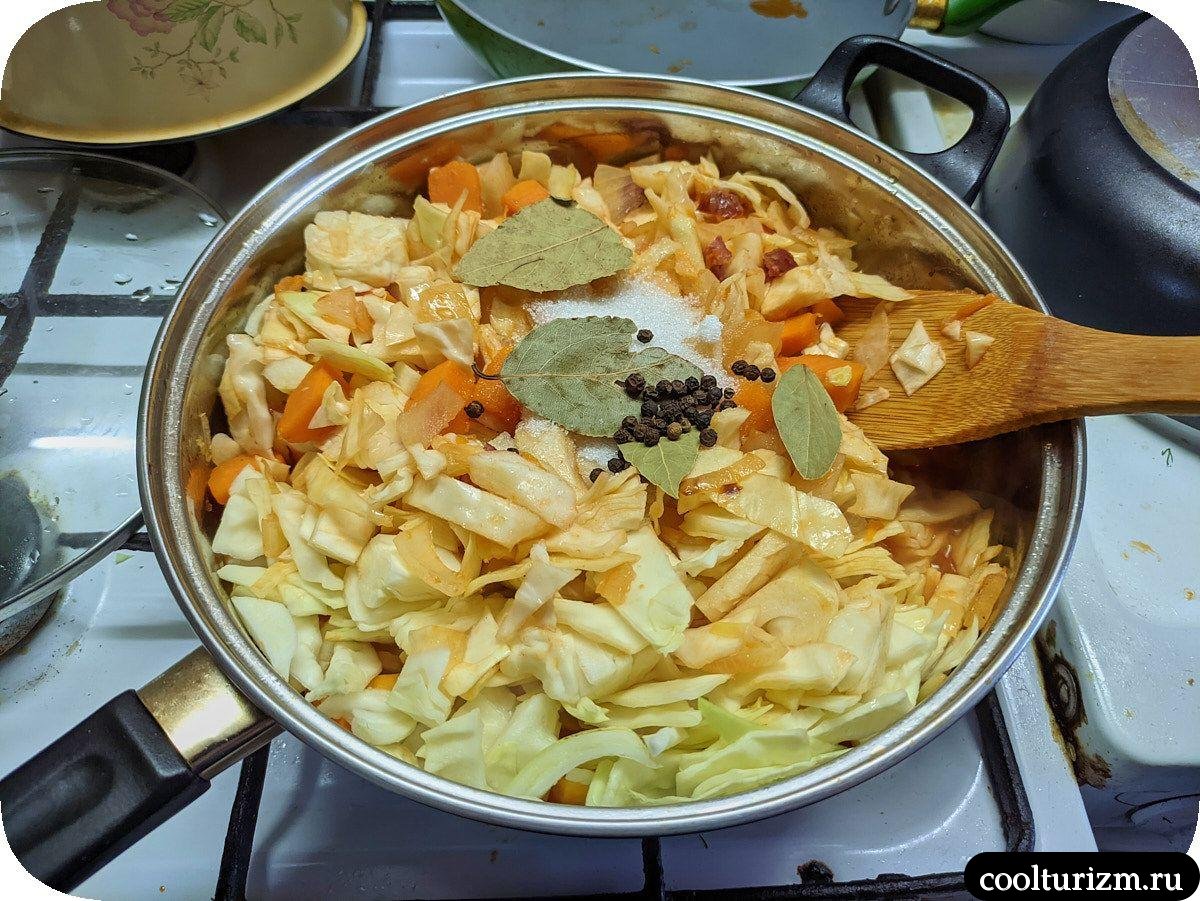 3.After 15 minutes, the cabbage will shrink somewhat. Now it's the turn of the stew.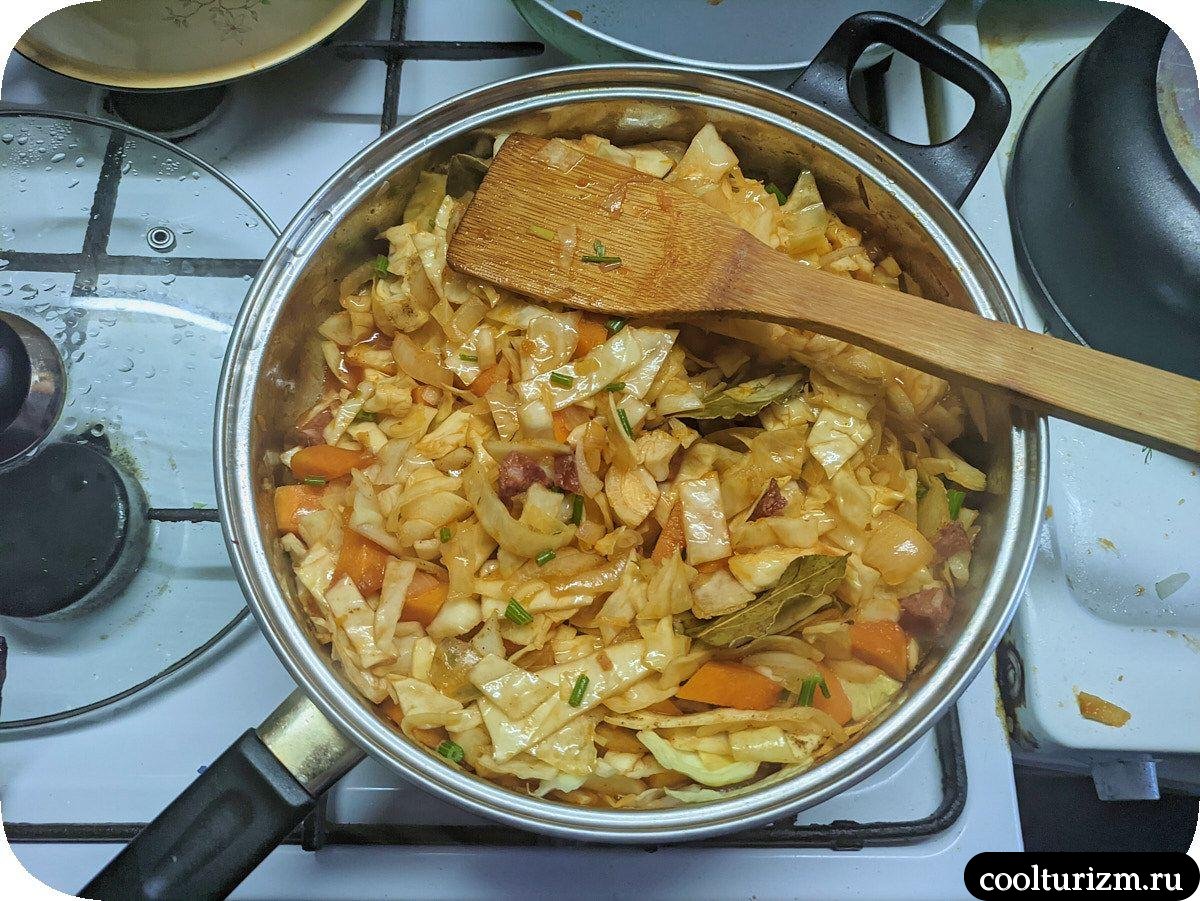 4.Open the can of stew and pour the contents of the can into the frying pan. I also dissolve 3 tablespoons of tomato paste in a glass of water, add a pinch of sugar and a couple of tablespoons of soy sauce. Dill will go well here, there are always these thick stems that are neither here nor there, and with cabbage they will be stewed. Stir the cabbage. You can add bell peppers and use fresh tomatoes instead of tomato paste. Cover the pan with a lid and cook the cabbage for another 20 minutes. The total cooking time for the cabbage and stew is approximately 40 minutes. The cabbage will become soft and juicy, if you like crispy cabbage, then cook it less. If necessary, add salt and pepper to taste. If there is too much liquid left, you can thicken it with starch or simply drain it before serving.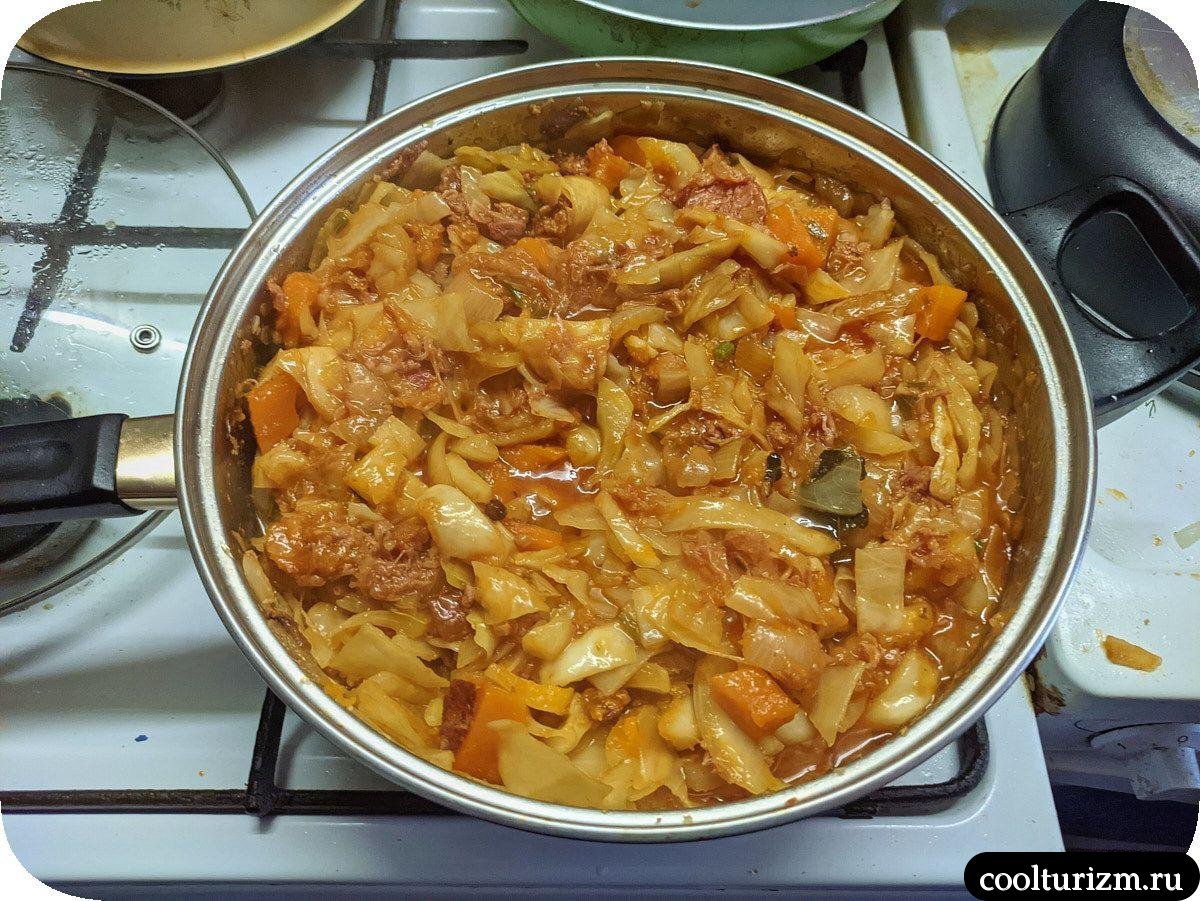 5.Serve the stewed cabbage with stewed meat along with herbs and black bread. Tasty and satisfying!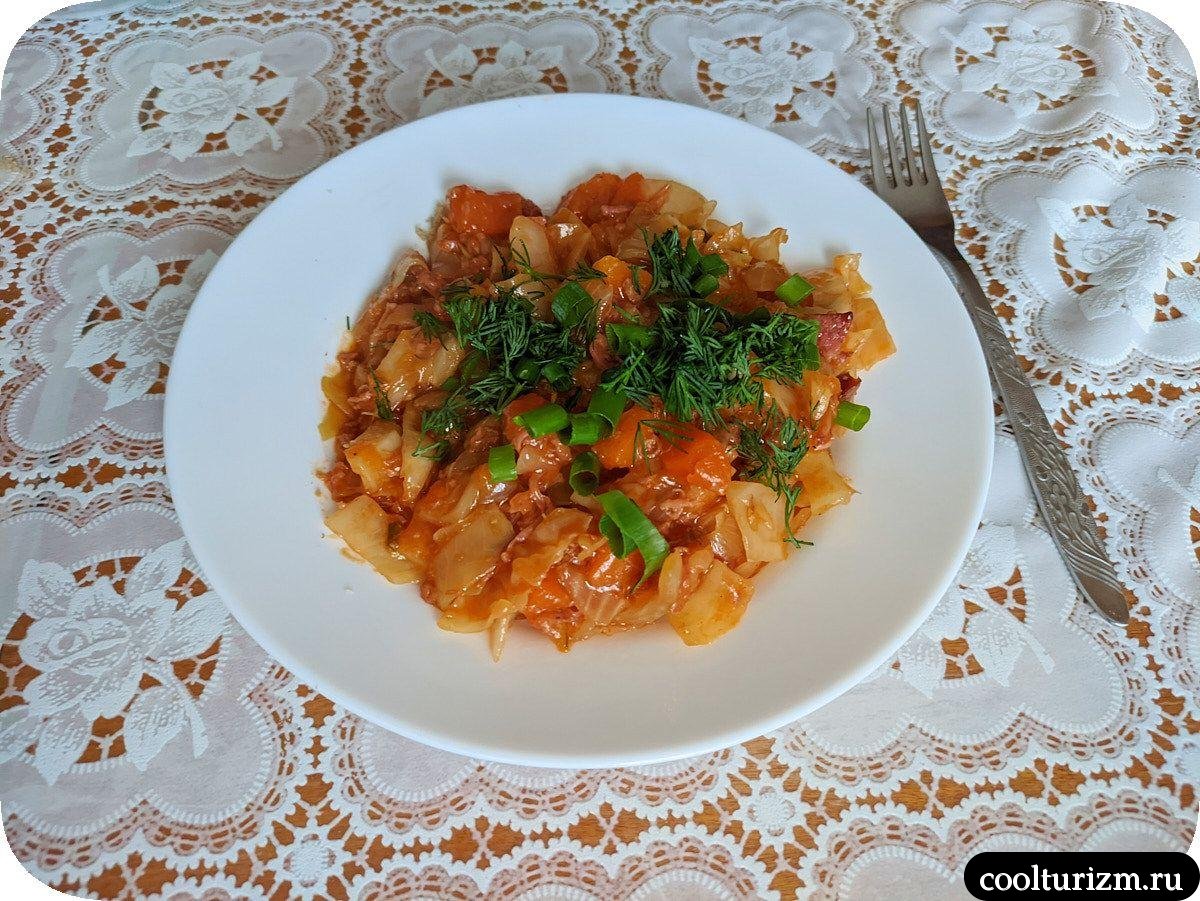 Shall we cook?

Heute bereiten wir frischen Kohl mit Dosenfleisch zu. Sie können problemlos jedes Fleisch oder sogar Hühnchen verwenden. Ich habe im Rezept Kürbis verwendet, aber wenn du ihn nicht hast oder ihn nicht magst, kannst du auch Karotten verwenden. Auf geht's, es wird hell!
Zutaten:
● Kohl – 1/3 Köpfe (700 g)
● Rindereintopf oder etwas anderes – 1 Dose (325 g)
● Kürbis -100 gr
● Halbgeräucherte Wurst – 4 Stück (für den Geschmack)
● Sojasauce -4 EL.
● Pflanzenöl zum Braten – nach Geschmack
● Zwiebel -1 Stk.
● Peperoni – eine Prise
● Tomatenmark -3 EL.
● Salz, Zucker, Kräuter, Lorbeerblatt, Pfefferkörner, Gewürze – nach Geschmack
1.Die Zwiebel schälen und in halbe Ringe oder kleiner schneiden. Den Kürbis schälen und in Würfel schneiden. Zwiebel und Kürbis in Öl anbraten. Ich habe illegal Wurststücke mit Knoblauch hinzugefügt, nur wegen des rauchigen Geschmacks.
2.Den Weißkohl in Streifen schneiden, oder wie auch immer Sie möchten. Legen Sie den Kohl hinein, fügen Sie Zucker, eine Prise Salz, Lorbeerblatt und schwarze Pfefferkörner hinzu. Gießen Sie ein Glas Wasser hinein und beginnen Sie, den Kohl zu köcheln. Umrühren, Hitze auf mittlere Stufe reduzieren und die Pfanne mit einem Deckel abdecken.
3.Nach 15 Minuten wird der Kohl etwas schrumpfen. Jetzt ist der Eintopf an der Reihe.
4.Öffnen Sie die Eintopfdose und gießen Sie den Inhalt der Dose in die Bratpfanne. Außerdem löse ich 3 Esslöffel Tomatenmark in einem Glas Wasser auf, füge eine Prise Zucker und ein paar Esslöffel Sojasauce hinzu. Dill passt hier gut, es gibt immer diese dicken Stängel, die weder hier noch da sind, und mit Kohl werden sie gedünstet. Den Kohl umrühren. Sie können Paprika hinzufügen und anstelle von Tomatenmark frische Tomaten verwenden. Decken Sie die Pfanne mit einem Deckel ab und kochen Sie den Kohl weitere 20 Minuten. Die Gesamtgarzeit für Kohl und Eintopf beträgt etwa 40 Minuten. Der Kohl wird weich und saftig, wenn Sie knusprigen Kohl mögen, kochen Sie ihn weniger. Bei Bedarf Salz und Pfeffer nach Geschmack hinzufügen. Sollte zu viel Flüssigkeit übrig sein, können Sie diese mit Stärke andicken oder vor dem Servieren einfach abgießen.
5.Den gedünsteten Kohl mit gedünstetem Fleisch zusammen mit Kräutern und Schwarzbrot servieren. Lecker und sättigend!
Sollen wir kochen?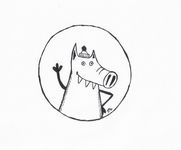 ---
---