Sweet Tortilla - with Strawberry, Banana, Peanut Butter and Chocolate
The title of the post says a lot - if you love desserts I'm sure you will love the combination that I used in this tortilla 😍
This kind of way of preparing tortillas (to look like crepes) got popular a while ago and I can only accompany the other recipes and creators and agree that it is a super convenient and great way of preparing tortillas instead of just wrapping them (when I wrap them, everything seems to fall out quickly 🙈).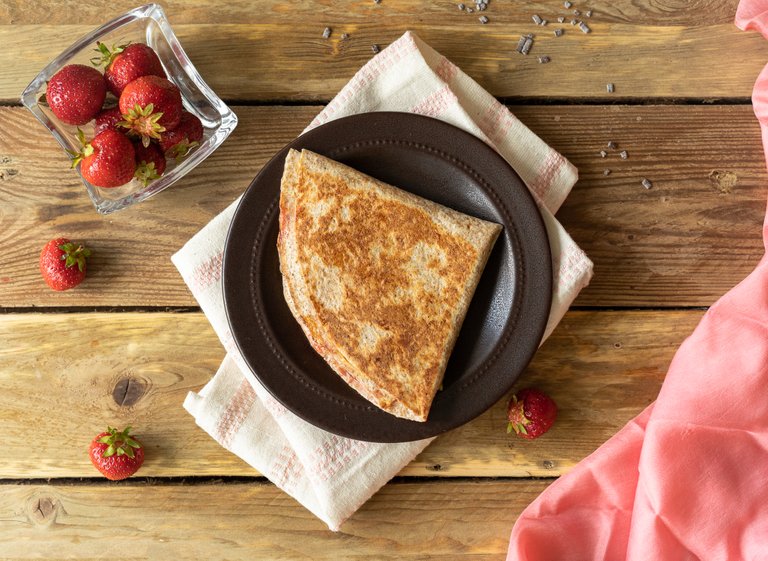 You can make whatever you want tortillas like that - sweet with chocolate and fruit, salty with tofu, veggies, hummus or anything else! You can also use a variety of different tortillas. I usually use simple wheat tortillas but you can absolutely switch them depending on what tortillas are accessible to you.
I absolutely love strawberries and bananas, so combination of them makes these tortillas perfect for me 😁 These fruit also fit very well as they don't get too watery while cooking the tortilla, it is easy to fold the tortilla without the fruit falling out. And in general... who doesn't like strawberries or bananas? 🙈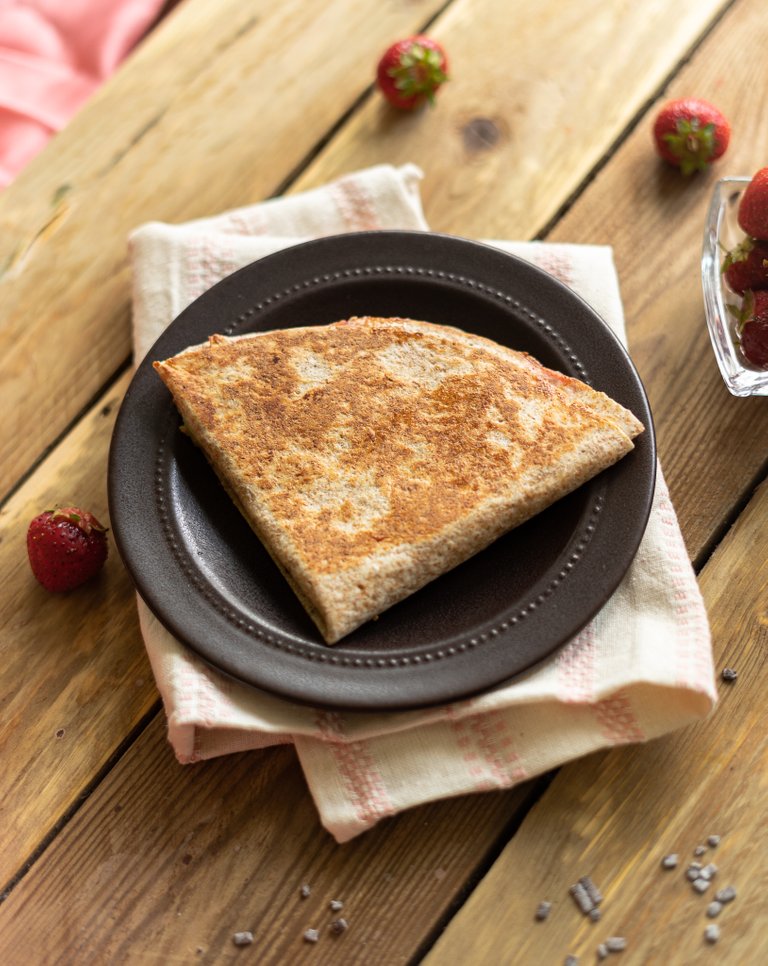 As for the chocolate - I used dark chocolate chips. You can use chocolate disks or simply chop some chocolate into small pieces that you already have at home. 🍫
Feel free to also switch the peanut butter to whatever is your favorite - maybe it's almond butter? 🥜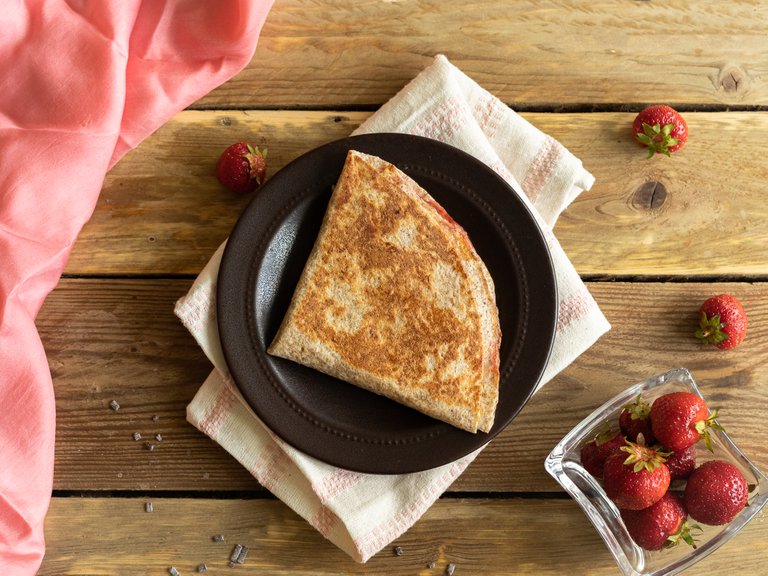 These tortillas are great for breakfast or as a more filling snack throughout the day. It tastes similar to crepes but also different at the same time. Except, you don't need to mix any batter for it - you simply take a pre-made tortilla, put your ingredients, warm it and enjoy!
I can also imagine that some vegan ice-cream or whipped cream would go very well with it if you choose to eat it more as a crepe 😏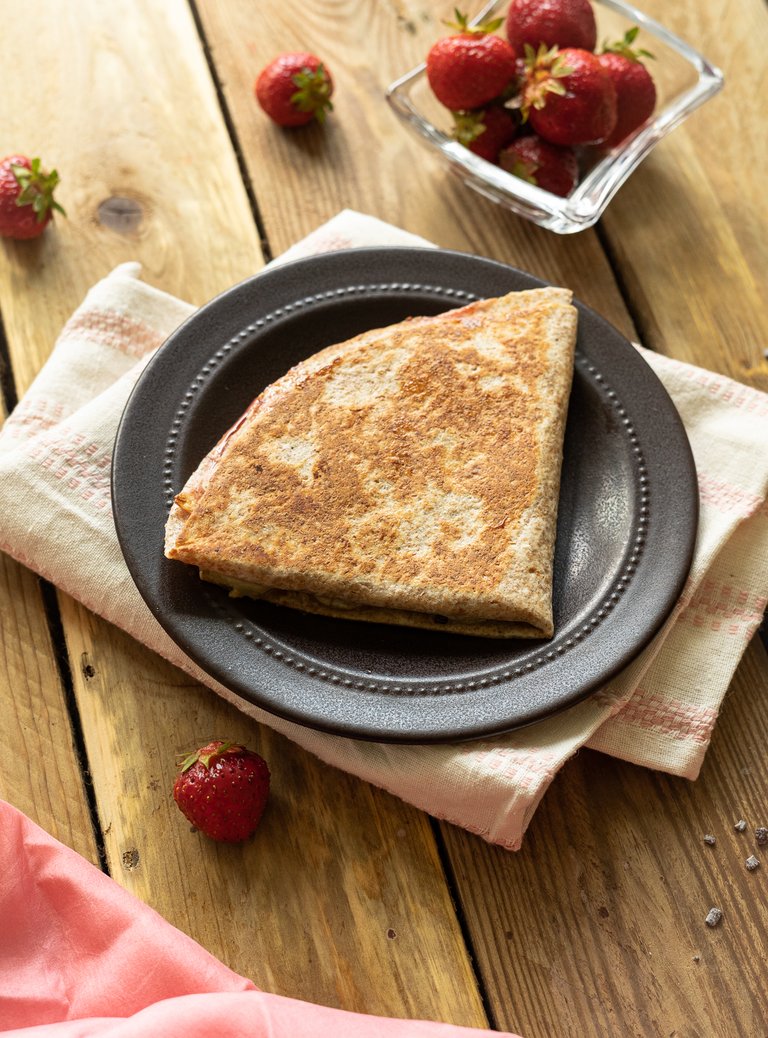 You will need:
1 wheat (or other) tortilla
3-4 fresh strawberries
About a half of a banana
1 teaspoon of peanut butter
Sprinkle of cinnamon
0,5 teaspoon of agave syrup (you can also skip it or use maple or other syrup)
1 teaspoon of dark chocolate chips/disks or chopped chocolate
0,5 teaspoon of coconut oil for cooking

Preparation
Cut the tortilla halfway.

Spread peanut butter on one side of the tortilla.

And spread some agave or maple syrup on the other half. You can skip this but I added this as then the chocolate and strawberries stick to the tortilla better and it's easier to fold it.

Add the banana slices on one quarter, sprinkle some cinnamon on the other quarter, add strawberry slices to the third quarter and finally, sprinkle some chocolate chips or pieces to the fourth quarter.

Fold the tortilla by putting one quarter on top on the other, starting from the one where the chocolate is.

Melt some coconut oil in a pan, heat it and spread the oil throughout the pan.

Add the folded tortilla and cook both sides for 2-3 minutes or until the tortilla is lightly brown and crispy.

Enjoy!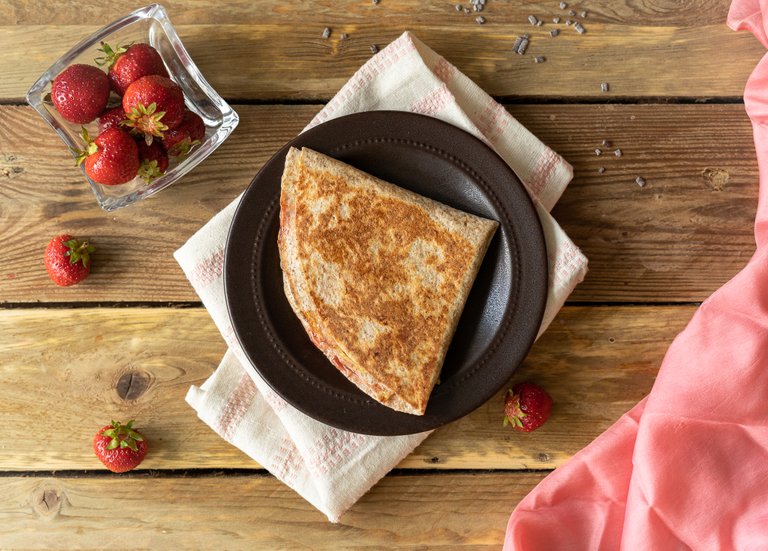 ---
---