Arugula Salad with Toasted Almonds and Creamy Tahini Dressing
Now, I know what you might be thinking: "Salads can be boring." But trust me, this one's a game-changer, packed with flavors that will surprise your taste buds in the best way possible.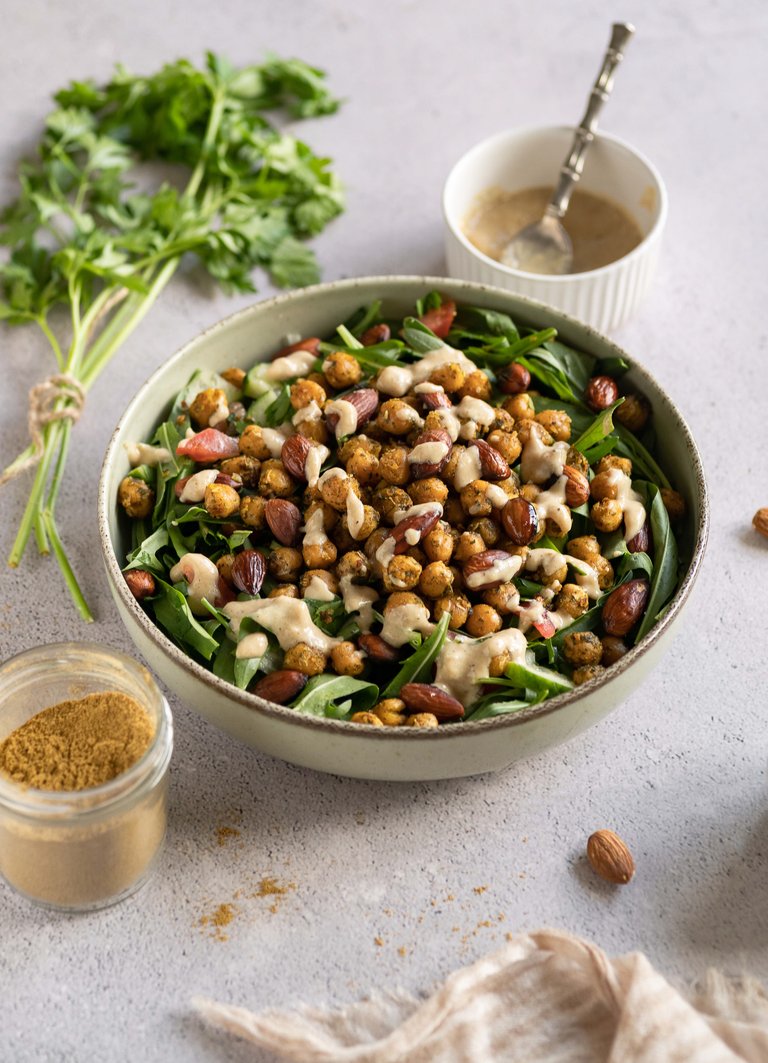 Let's talk about salads for a moment. They often get a bad rap for being the obligatory side dish or the go-to choice for those watching their waistlines. But who says salads have to be mundane? It's time to give them the spotlight they deserve! Picture this: a bed of fresh, peppery arugula leaves that instantly wake up your senses. And guess what? This salad goes beyond just greens. It's a medley of textures and tastes that'll have you rethinking your salad game.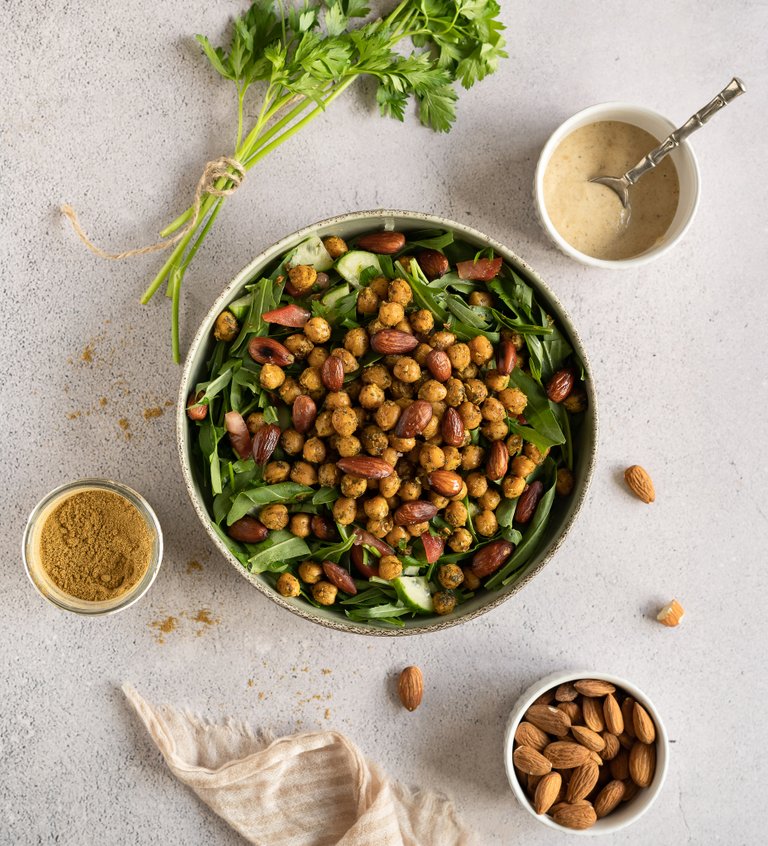 Imagine crunchy, nutty goodness that adds a delightful contrast to the tender leaves. It's like nature's own croutons! And don't even get me started on the creamy tahini dressing. If you haven't tried tahini yet, you're in for a treat. It's a sesame-based paste that brings a velvety richness to your salad without relying on dairy. Plus, it's packed with nutrients that'll make you feel like you're doing your body a favor.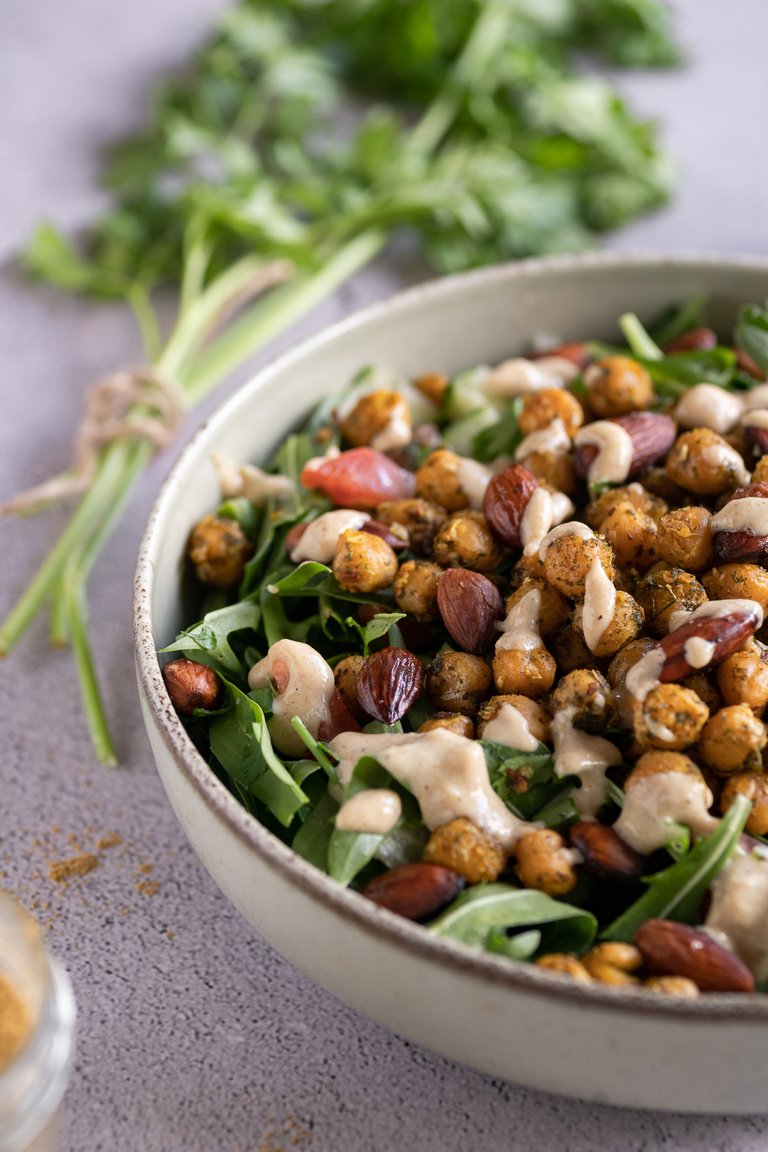 One of the things I love most about this recipe is its versatility. Whether you're a dedicated vegan or simply looking to incorporate more plant-based meals into your routine, this salad has got you covered. It's proof that salads can be hearty, satisfying, and full of personality. So, the next time you're in the mood for something light yet deeply satisfying, give this recipe a shot!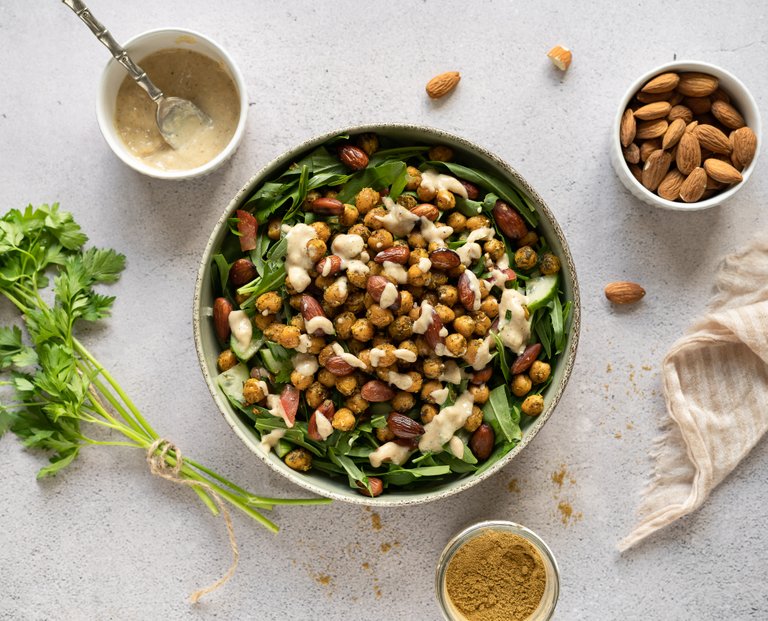 In a world where fast food often takes center stage, let's not forget the power of a well-crafted salad. It's a canvas for creativity, a palette of colors, and a symphony of flavors.
You will need:
For 1 serving
● 50-60 g. arugula leaves
● 120 g. canned/boiled chickpeas
● 25 g. almonds
● 1/3 small cucumber
● 1/3 tomato
● Quarter of a small onion
● Fresh parsley, onion leaves (optional)
---
For roasting chickpeas:
● 0,5 teaspoon granulated onion
● ¼ teaspoon dried parsley
● ¼ teaspoon curry powder
● ¼ teaspoon salt
● 1 tablespoon of olive oil
Sorry, I forgot to add some spices to the picture!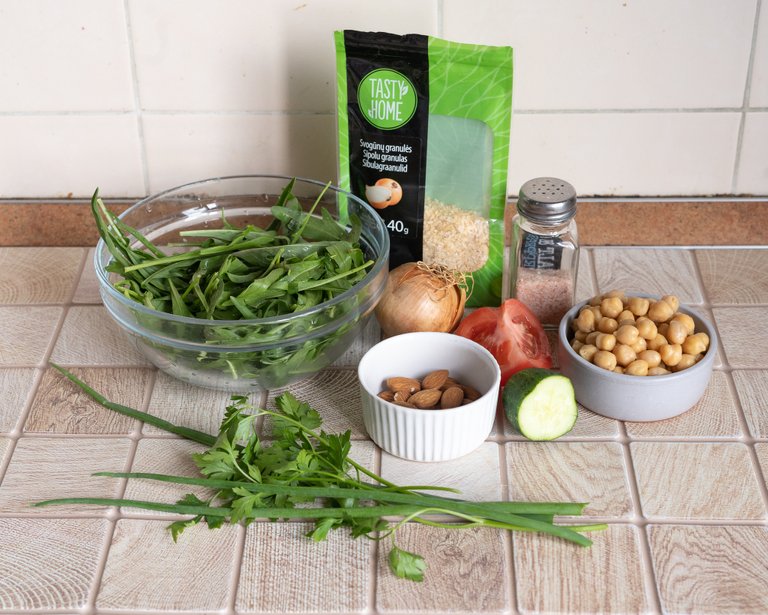 ---
For the dressing:
● 2 tablespoons of tahini (sesame paste)
● 1 teaspoon olive oil
● 5 teaspoons soy milk (unsweetened)
● 1 teaspoon fresh lemon juice
● ¼ teaspoon cumin powder
● Pinch of garlic powder
● Pinch of black pepper
● Pinch of salt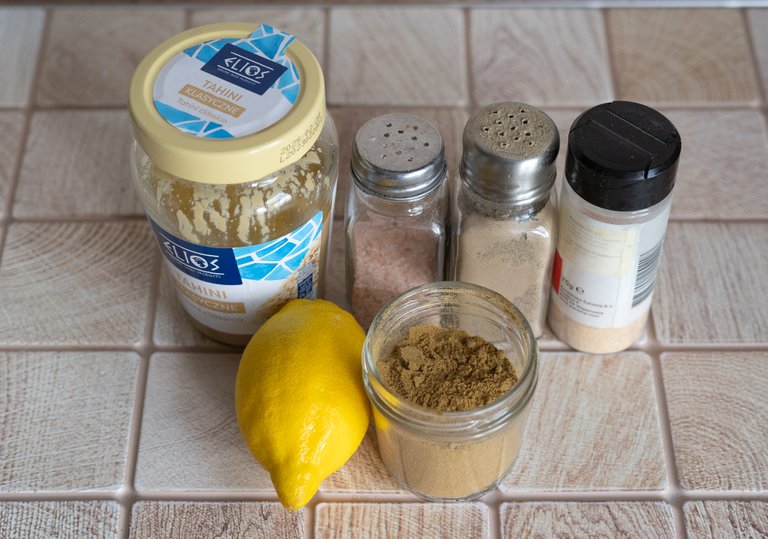 ---
Preparation
If your arugula leaves are big, chop them a couple of times to make them smaller.

Chop the cucumber, tomato, onion, onion leaves and parsley.

Mix the arugula with the chopped vegetables.

Heat a little olive oil in a frying pan.

Add the chickpeas and fry for a few minutes until lightly browned constantly mixing.

Then add the spices (granulated onion, dried parsley, curry powder and salt), stir well and turn off the heat. Place the chickpeas in a separate bowl.

Heat a little oil in a frying pan (separate or the same one but cleaned) and add the almonds. Fry for 1-2 minutes or less, just until the nuts are lightly toasted, stirring constantly. Then set them aside as well.

Combine all ingredients for the sauce.

Mix all the ingredients until smooth.

5.Place the roasted chickpeas and roasted nuts on top of the salad and pour over the dressing. Mix everything together.

Enjoy!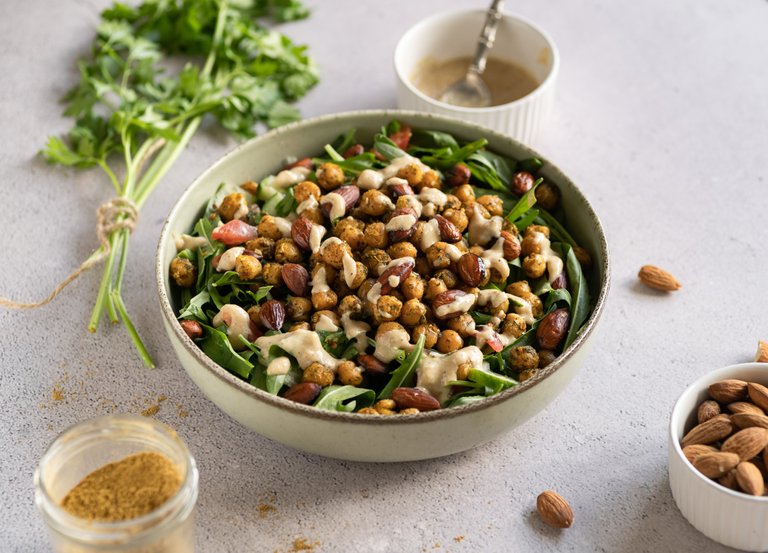 ---
---