Plant-based Milk Pudding With Strawberry Sauce Topping
Sweet and a little sour but refreshing. Like a sweet life with happiness, also a little pain of life's trials.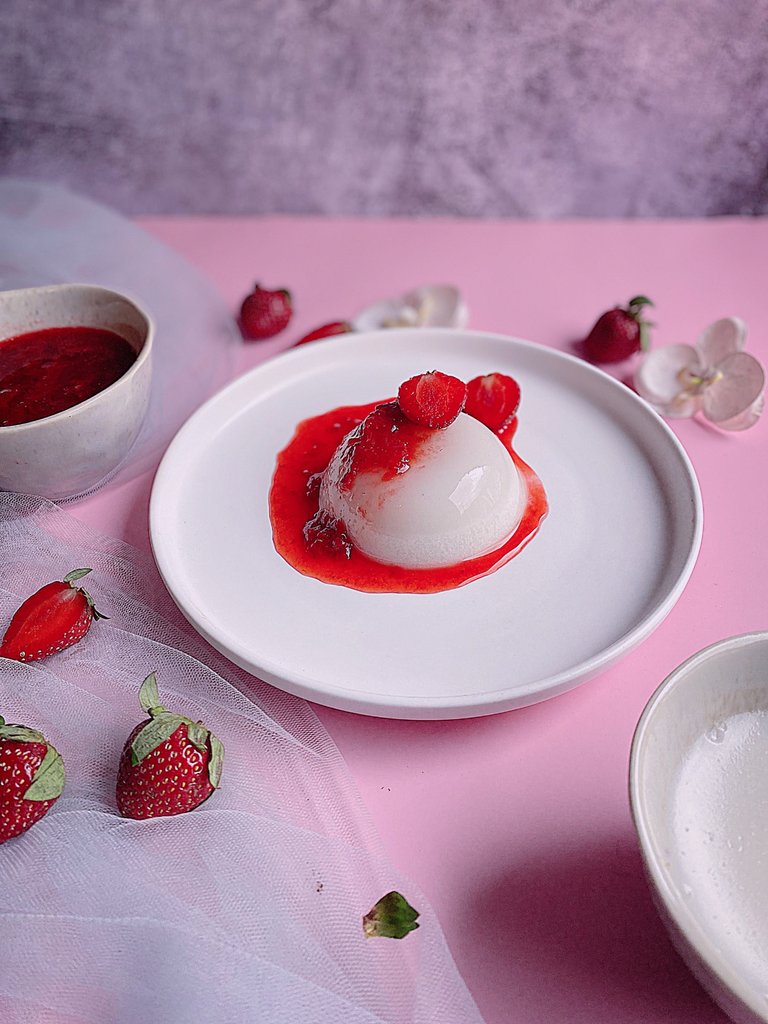 ---
What is the original taste of strawberries? Really sweet, or a mix of sweet and sour? It depends on the type of strawberry itself which is influenced by the area where the strawberry is planted. But as far as my experience of trying strawberries goes, there is always a slight sour taste in it.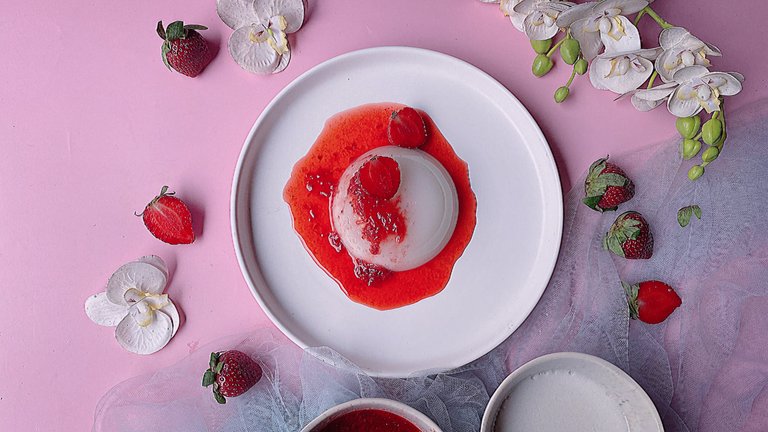 A bit sour, but I like strawberries. The sour taste for me is refreshing. Also, like the pain in life that never makes me give up.
---
Anyway, there is a supply of strawberries given to me by my husband. Since we got married, he has given me fruit more often than flowers. Even though I still really like flowers, getting fruit is much more enjoyable. Of course!
Strawberries in the area where I live are quite expensive. For 0.2 kg for $1. So, when I have a supply of strawberries, I prefer to make desserts rather than eat them raw.
---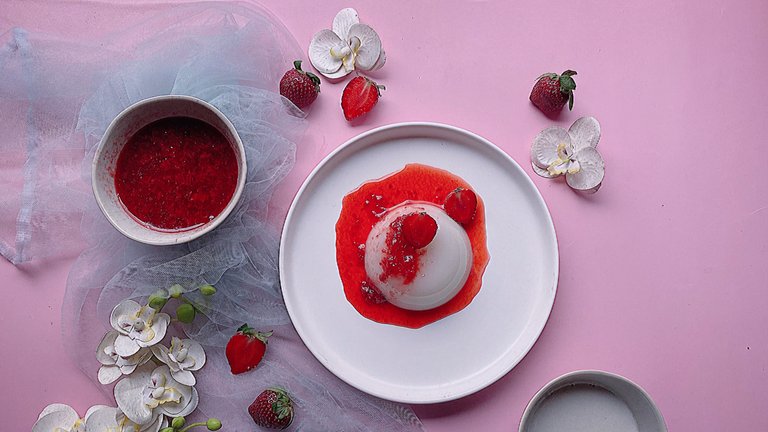 That day was quite a hot afternoon. It feels refreshing if I make sweet desserts. However, with a mix of a little sour taste so it's not boring.
Because strawberries are quite expensive, I have to make a type of dessert that doesn't use so many strawberries.
Seeing that there was a supply of old coconut, I had the idea to make plant-based milk pudding. Then, with strawberry sauce pudding as topping. I think this sounds pretty interesting and saves my strawberries. Haha. Well, I just don't want my strawberries to run out quickly.
At least, if I process strawberries into sauce, I can use the sauce to make strawberry milk and strawberry jam.
---
---
---
I cleaned the strawberries and cut them into pieces. My husband asked what I would make for that afternoon. I smile. This is a surprise. After all, he will always eat what I make with love. I knew it from the look in his eyes. It can never be lied to.
---
Meanwhile, I asked my husband to help me prepare coconut milk from fresh coconut. If my husband doesn't have work, he always makes coconut milk. Starting from peeling the coconut, grating the coconut or blending the coconut, to filtering the coconut pulp mixture into coconut milk.
---
---
---
THE INGREDIENTS
plant-based pudding
800 ml of coconut milk or any plant-based milk
1 1/2 teaspoons agar powder or a sachet
100 grams of sugar
optional: vanilla or pandan leaf
---
strawberry sauce
150 grams of strawberries
5 tablespoons sugar or adjusted to taste
---
---
---
COOKING INSTRUCTIONS
MIX ALL PUDDING INGREDIENTS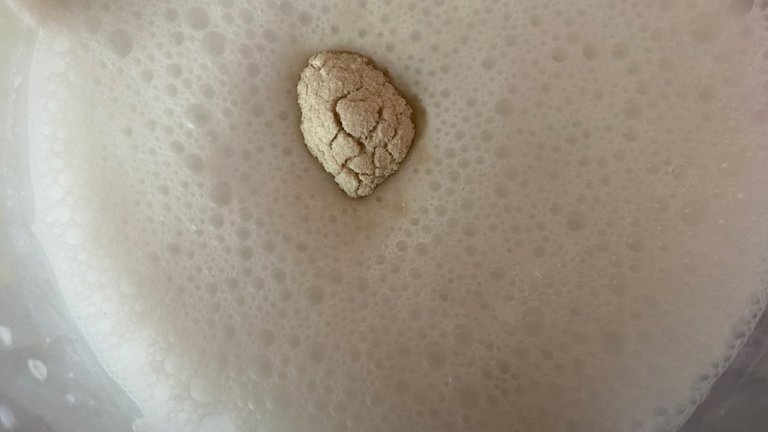 In a pan, combine plant-based milk, agar powder, and sugar. Mix them well.
---
---
---
BOIL THE PUDDING MIXTURE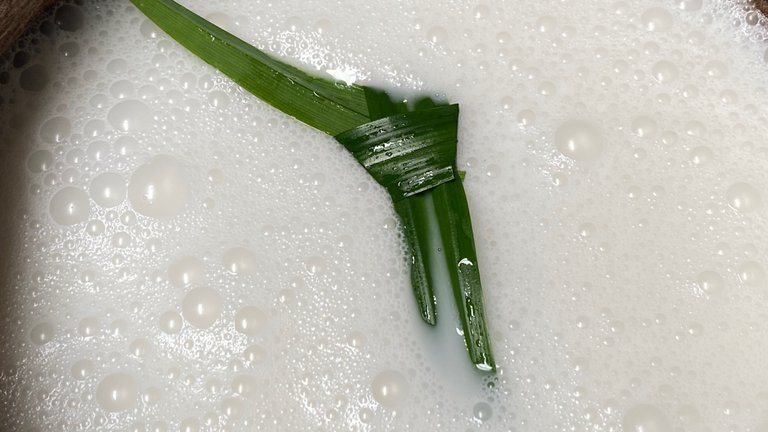 After the pudding mixture is mixed evenly, heat the fire. Start bringing them to a boil. But you have to stir continuously to keep the texture of the milk good and not burn.
---
---
---
LET THE PUDDING COOL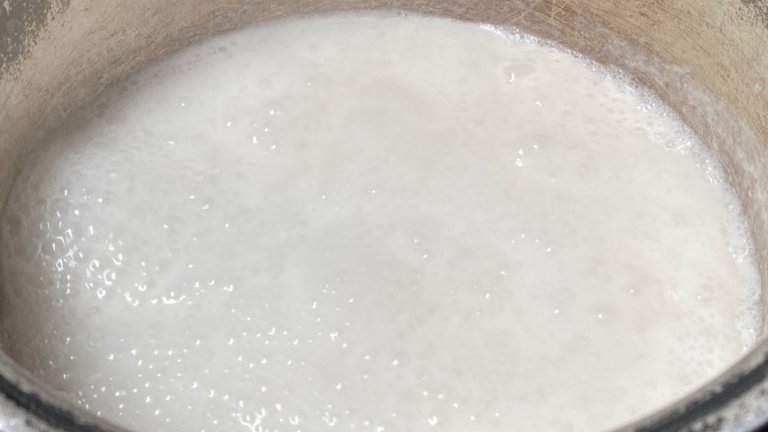 Remove the pudding mixture. Then, continue to stir the mixture to remove the hot steam before transferring it to the pudding mold.
Then, transfer the mixture into pudding mold. Let them cool to room temperature then store them in the refrigerator before serving.
---
---
---
MASH STRAWBERRIES WITH SUGAR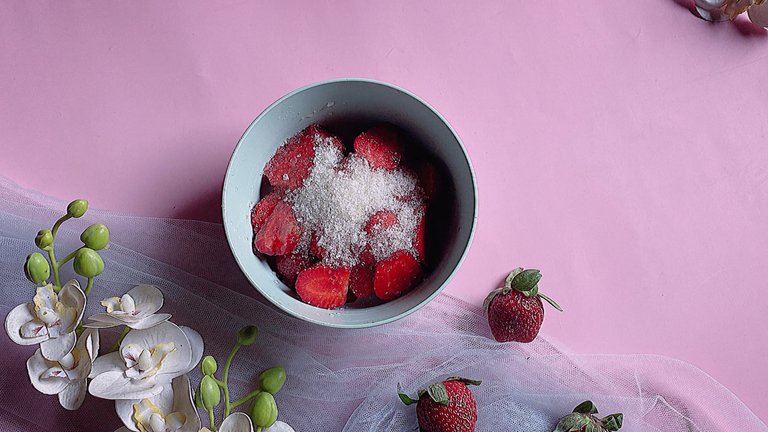 ---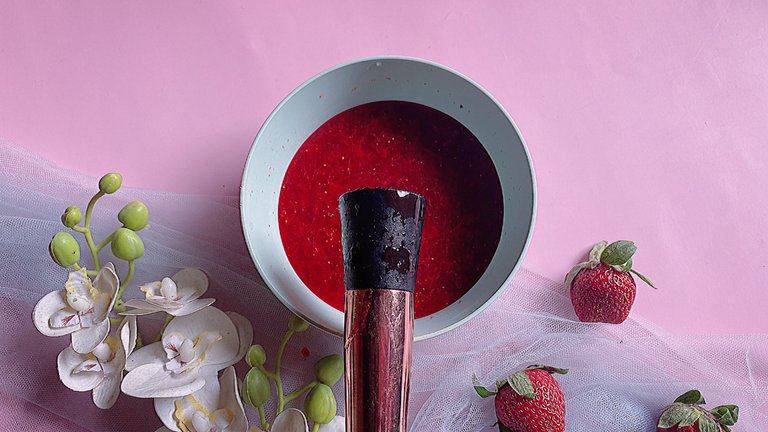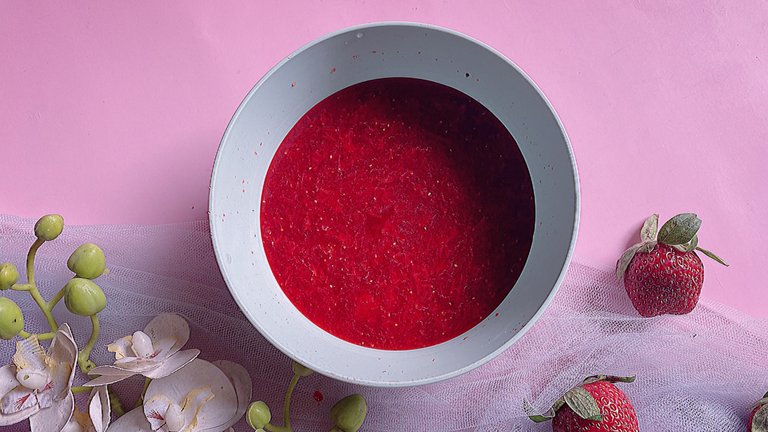 ---
Add sugar into strawberry pieces. Then, mash them well.
---
---
---
BOIL STRAWBERRY MIXTURE
---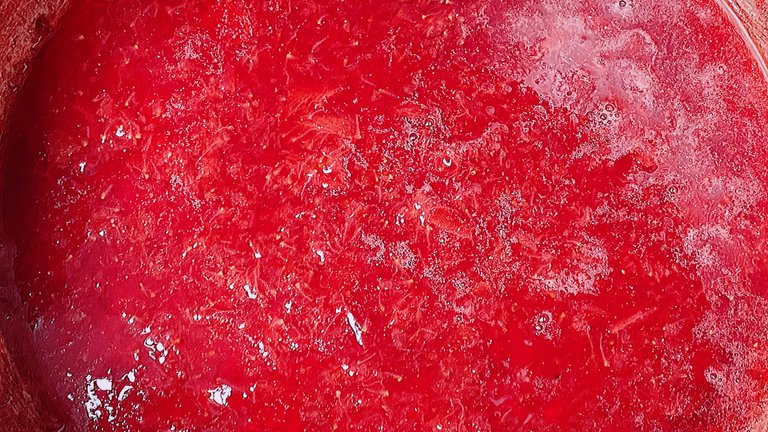 ---
After mash strawberries, bring them to boil until they become thickened. Well, I added a little water so that their texture consistency wasn't too thick.
---
---
---
SERVING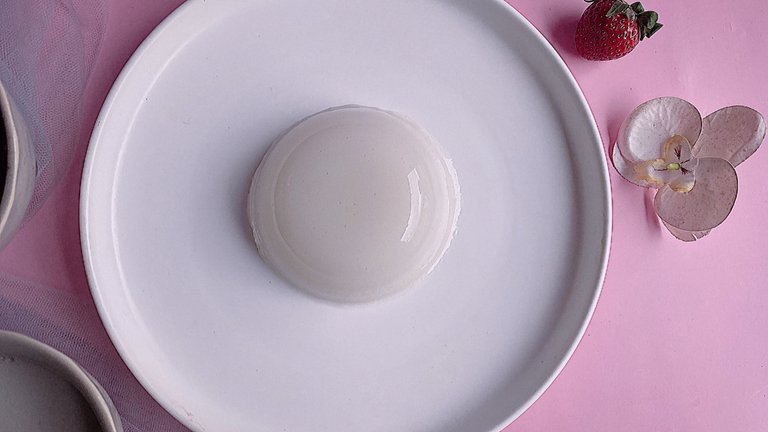 Serve the coconut milk pudding after storing it in the refrigerator until set. Give the strawberry sauce topping on top of the coconut milk pudding.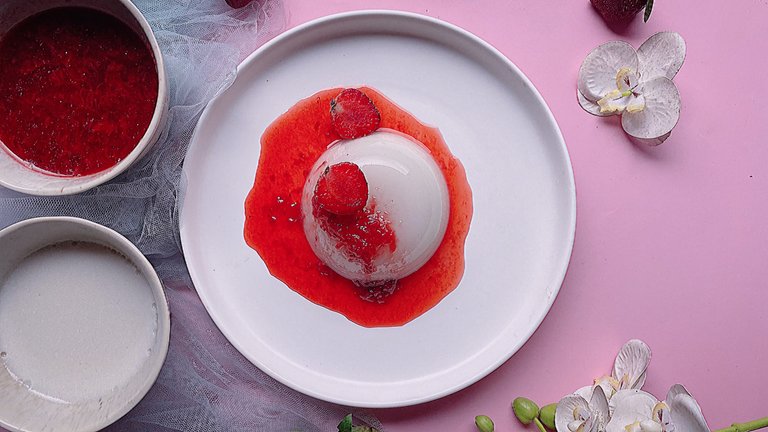 My husband absolutely loved this surprise. He quickly finished a bowl of pudding. Meanwhile, the rest was spent by my nephews.
As a chef, I only get a spoonful of the pudding to ensure that it really is a delicious dish.
---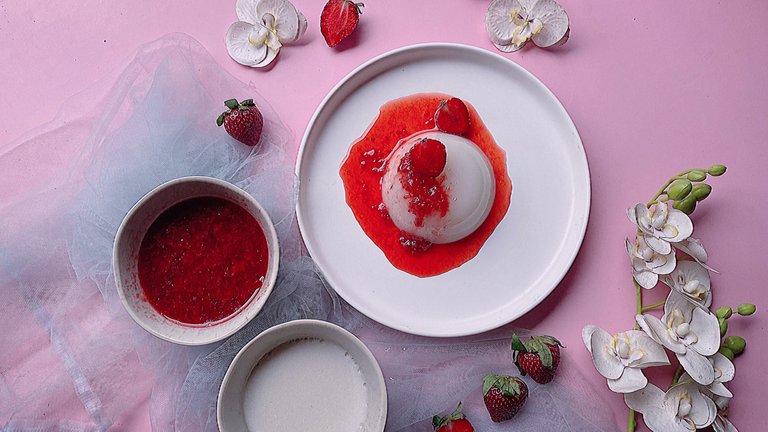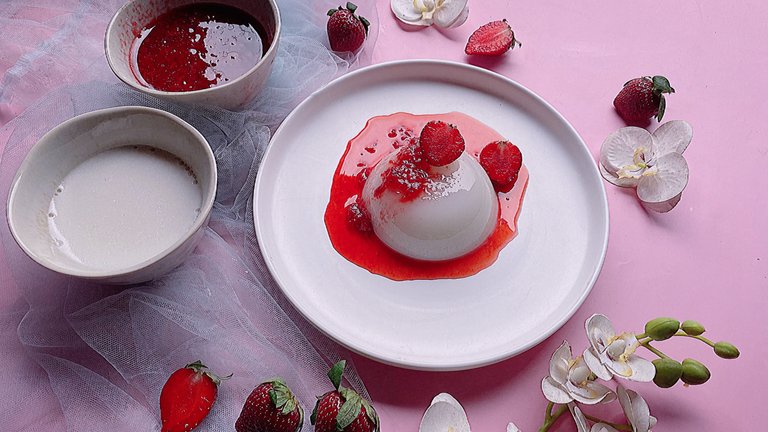 ---
Fresh, sweet and fun with a slightly sour surprise from the original strawberry flavor itself.
---
---
---
You can make plant-based pudding with almond milk or even soy milk. But yeah, for me, I prefer using coconut milk. Somehow, the distinctive aroma of almond milk is not a pleasant milk for my taste buds.
---
---
---
❤️❤️❤️ Until next, FOODIES!
---
---
---
Thank you for reading my blog and reblog if you want my blog this time worthy of reading by others.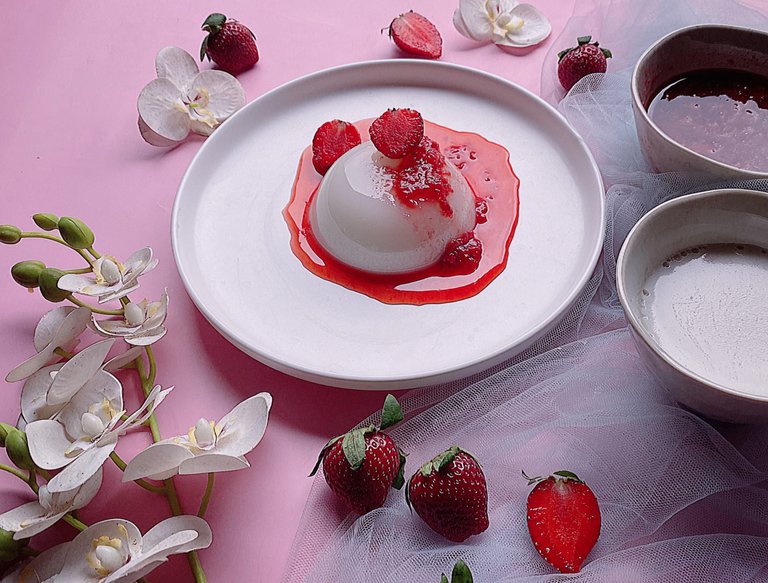 ---
---
---
Best Regards,
Anggrek Lestari
---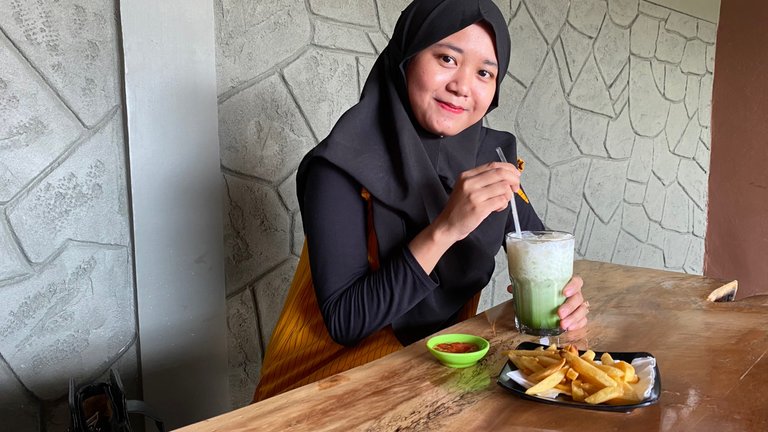 Who is Anggrek Lestari?
Anggrek Lestari is an Indonesian fiction writer who has published two major books. Now She is a full-time content creator. She has a goal to share life, poem, and food content that makes others happy and can get inspiration.
---
Contact Person: [email protected]
Discord: anggreklestari#3009
---
---
---