Gluten Free Rice Flour Noodles Served With Lettuce
The temptation to eat noodles is always big and it is not good. Rice flour noodles can be a gluten-free and healthier noodle choice.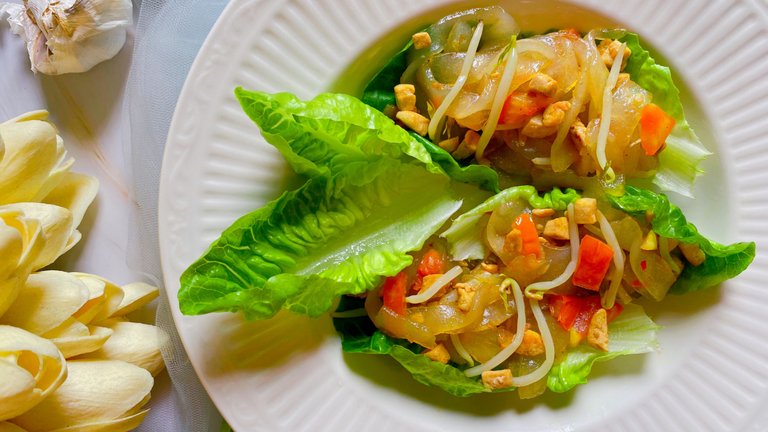 ---
Noodles are the second type of menu that people around me eat most often, besides rice. Noodles are indeed an alternative to eating rice.
But of course, we have to pay attention to the type of noodles consumed so that they don't have a worse impact on the body than rice.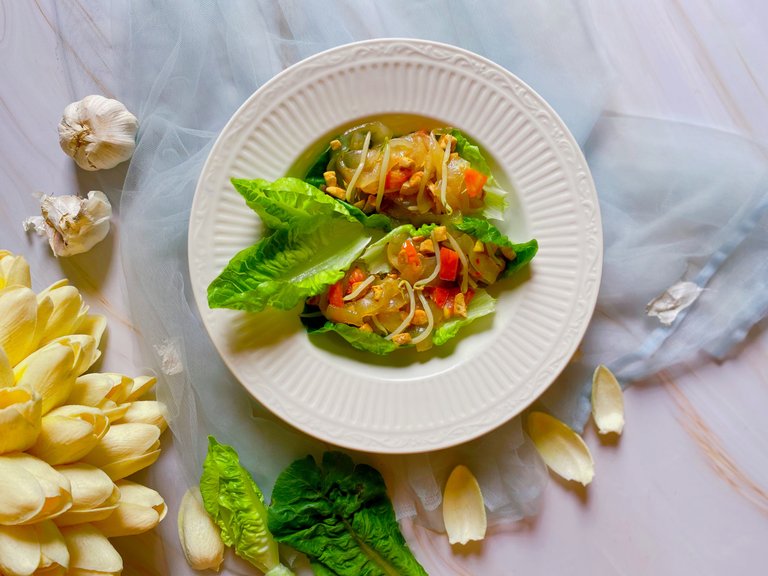 Make sure it's not the instant noodle type. Homemade noodles that are sold in traditional markets are fresher and better. Compared to packaged noodles with instant seasonings in them which contain high levels of sugar and also high levels of salt.
In the area where I live, there is a type of rice flour noodles. As the name suggests, it is made from rice flour. That's why it's gluten free noodles. Maybe your place also has other types of homemade noodles, such as wheat noodles or noodles made from other grain flours, which are healthier than general noodles.
One thing, rice flour noodles have a chewy texture even though they don't use eggs in making them.
Since childhood, rice flour noodles have been my favorite noodles. Even when I was sick and had no appetite, my late mom would make me a special menu from rice flour noodles.
---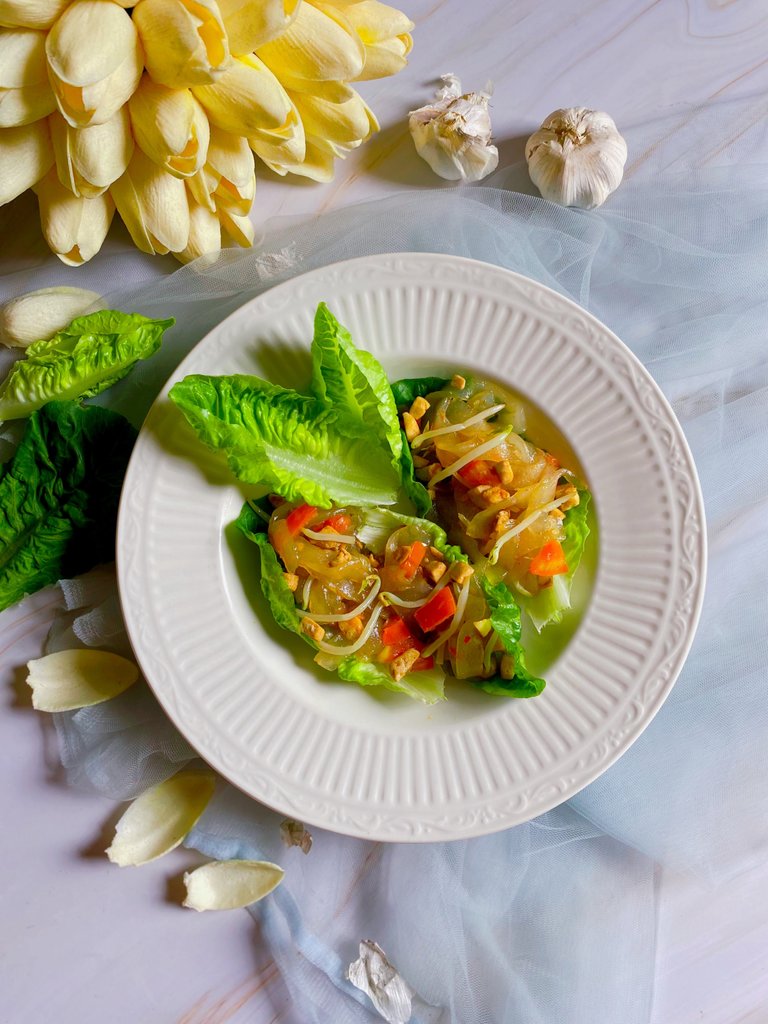 For this time, I will show you how to prepare rice flour noodles for a plant-based menu without using eggs. Usually, the rice flour noodles menu in my area uses beaten eggs when stir-frying the noodles.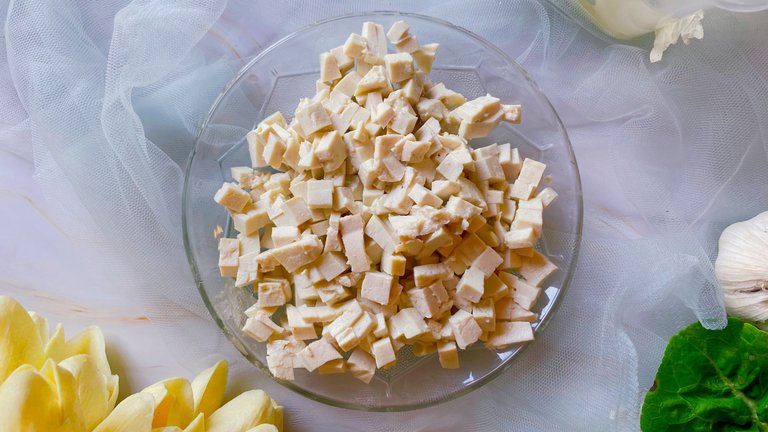 To replace eggs, I use tofu which has a high protein content. Also, when the tofu is chopped, they will resemble scrambled eggs. Interesting!
---
---
---
For healthier reasons, I also serve stir-fried noodles using crunchy romaine lettuce. A delicious combination to increase your green veggies intake. Also, I added mung bean sprouts. But you can skip sprouts if you have no stock in your area.
---
---
---
The Ingredients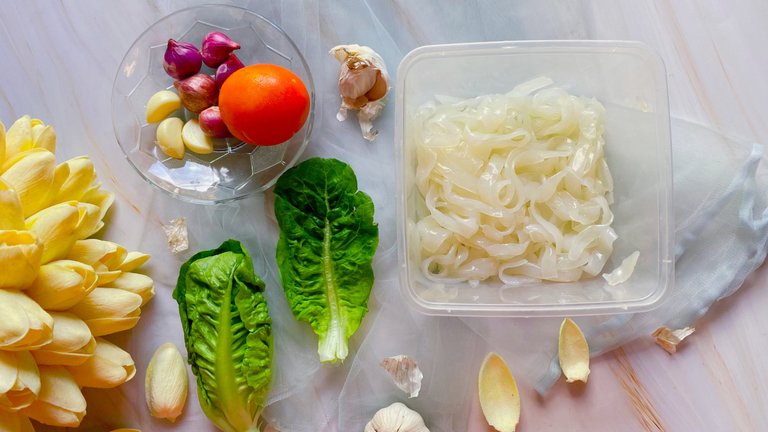 250 grams of rice flour noodles
a bunch of romaine lettuce
3 cloves of garlic, sliced
5 small cloves of red onion, sliced
a tomato, diced
1/2 teaspoon salt
(optional) 2 tablespoons sweet soy sauce
a handful of mung bean sprouts
50 grams of tofu, chopped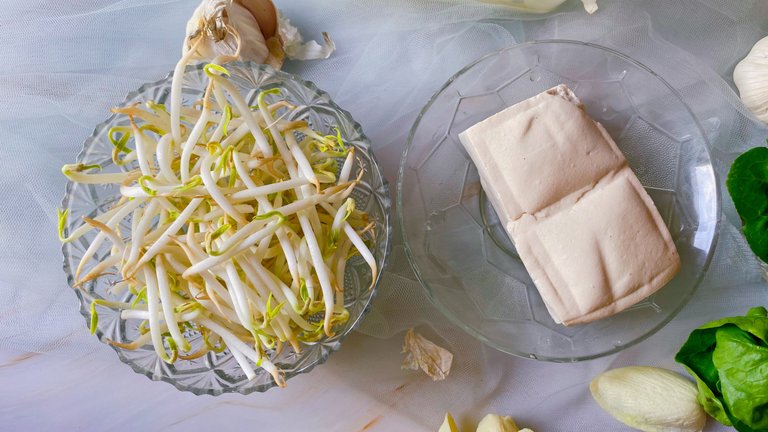 ---
---
---
Cooking Instructions
SOAK RICE FLOUR NOODLES

Before doing the next cooking step, soak the rice noodles first with water for about 15 minutes then wash them thoroughly several times.
---
---
---
CHOP TOFU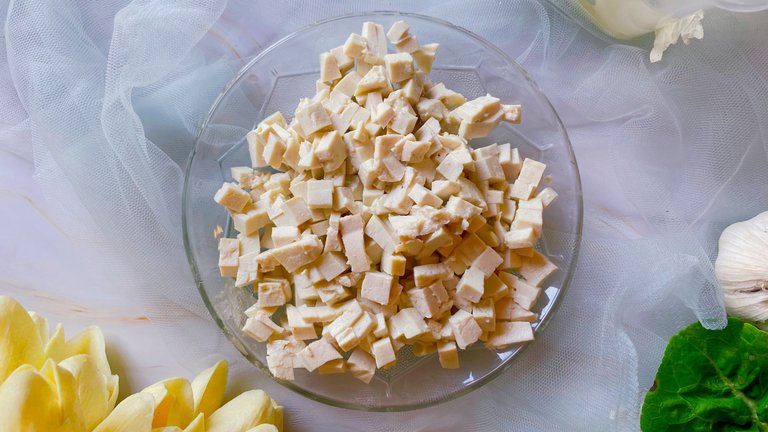 Chop tofu. I used a knife. But you can also use a chopper. You just need to pay attention so that the tofu doesn't become too smooth and cause water.
---
---
---
CLEAN SPROUTS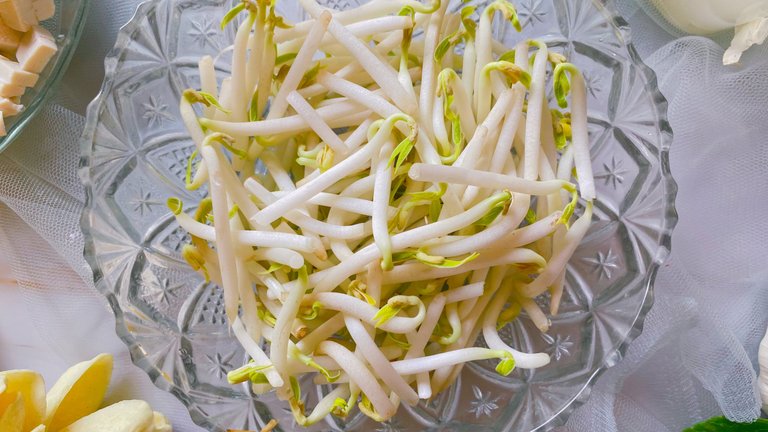 For mung bean sprouts, usually they will have long roots. That's why we need to remove the long roots.
---
---
STIR-FRY SEASONING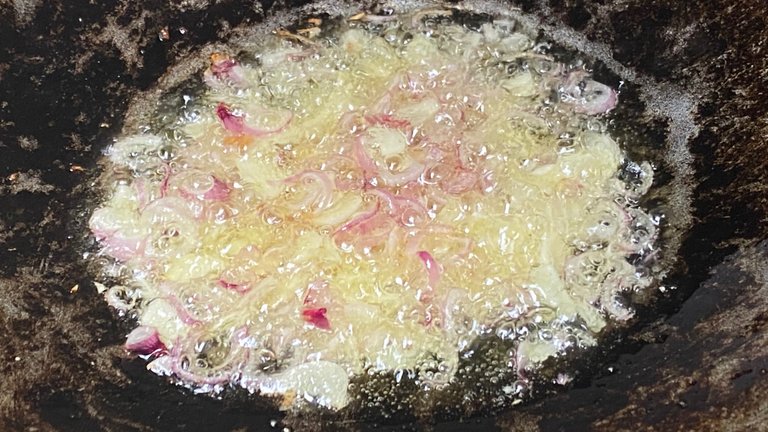 Heat a little cooking oil. Then, add chopped garlic and red onion. Stir-fry them until they smell fragrant. Keep stirring them.
---
---
---
ADD CHOPPED TOFU
---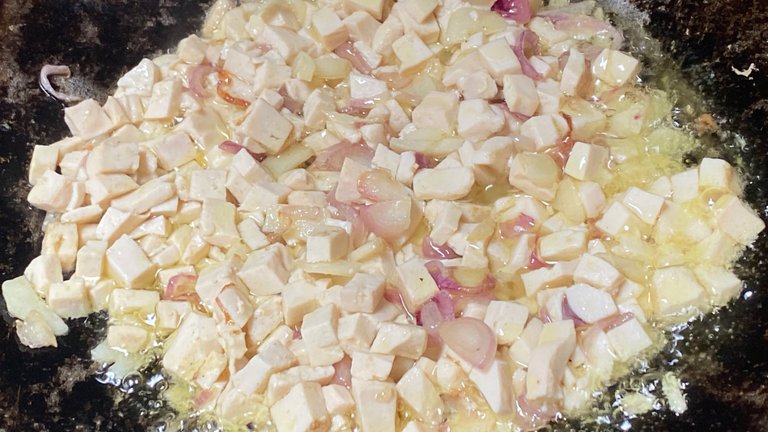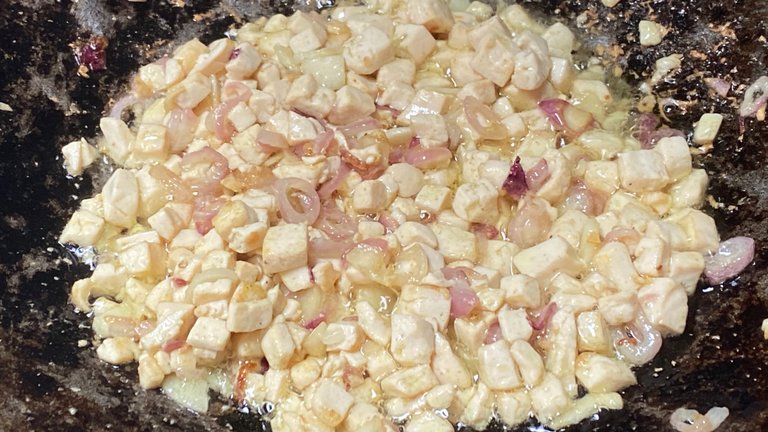 ---
Next step, add chopped tofu. Keep stirring until the chopped tofu turns slightly brown.
---
---
---
ADD SPROUTS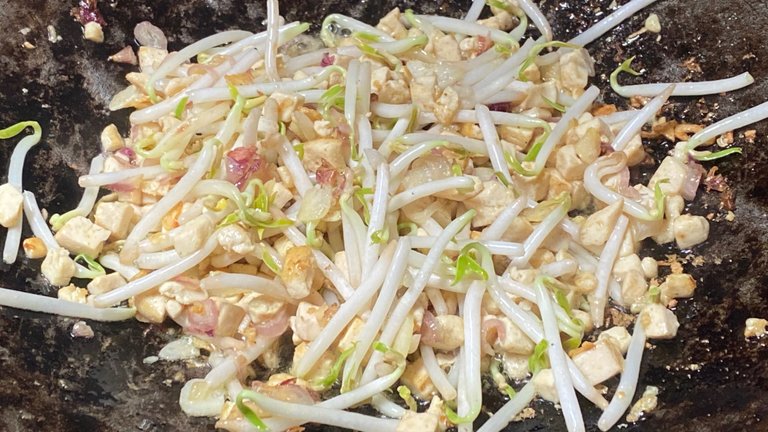 Add sprouts and keep stirring them to avoid them burning.
---
---
---
ADD SOY SAUCE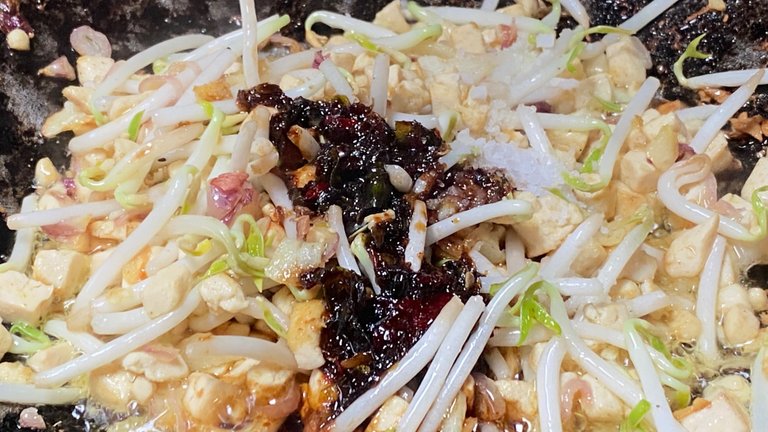 Add sweet soy sauce and salt. Keep stirring until they are mixed well. Don't let the salt clump on any part of the tofu.
---
---
---
ADD RICE FLOUR NOODLES
---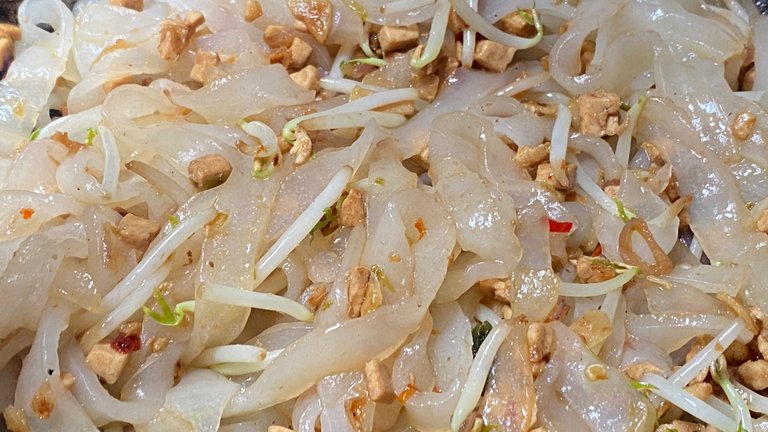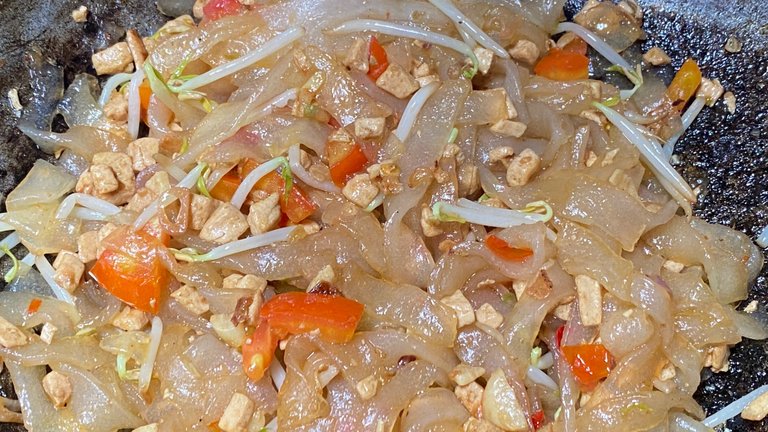 ---
The final step, add rice flour noodles. Stir-fry for about 3 minutes. Anyway, if you want to have a bit of gravy, then you can add a little water. But the texture of rice flour noodles will become soft.
Just before serving, add the diced tomatoes. Adjust the taste to suit your taste. You can also add pepper or spicy sauce if you like.
---
---
---
SERVING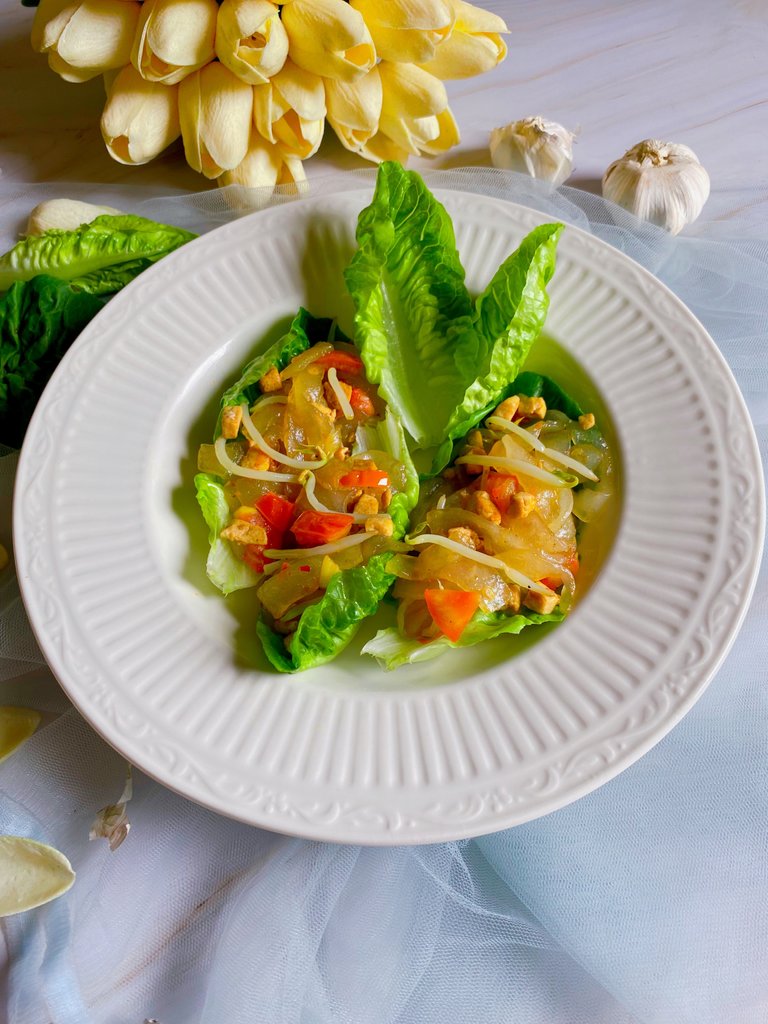 Serve stir-fry rice noodles while still warm. Arrange them on lettuce sheets. Then, sprinkle them with fried onions or fellow seeds for extra flavor. Enjoy!
---
---
---
Honestly, I like this version better because it uses crispy romaine lettuce. Also, this version uses tofu. Some of my family members were fooled by the appearance of chopped tofu, thinking it was scrambled eggs. :)
What a perfect dinner to replace rice. We usually serve a menu like this for dinner. But we can also serve this menu for lunch as well. Just combine it with some of your favorite vegetables or protein.
---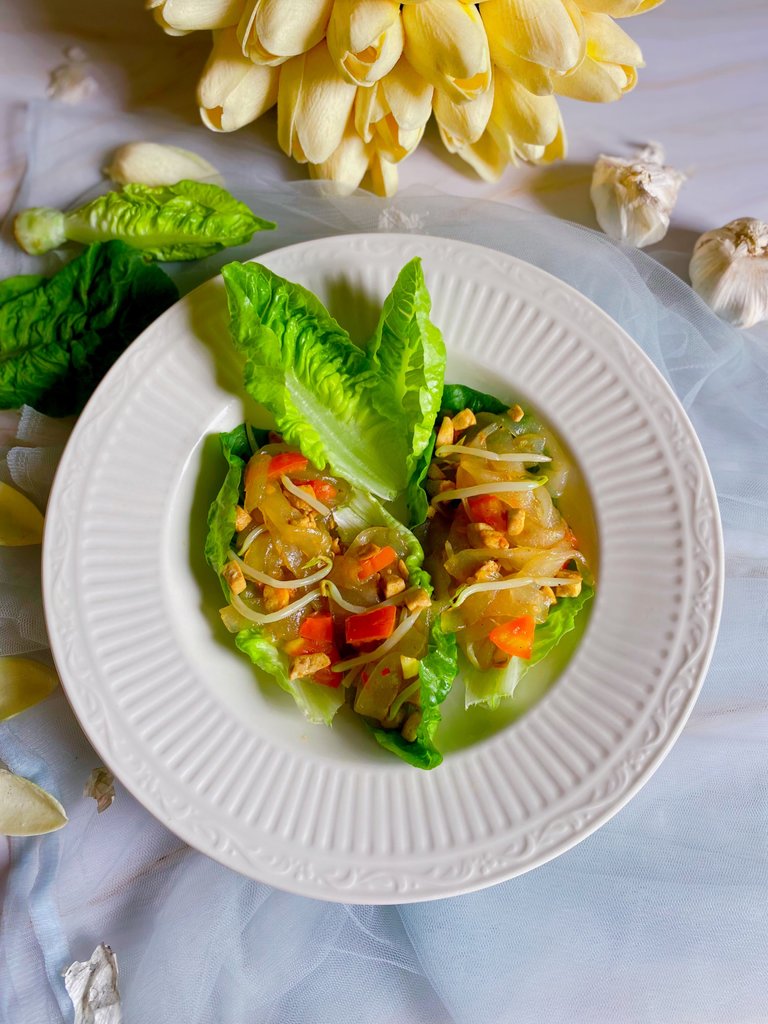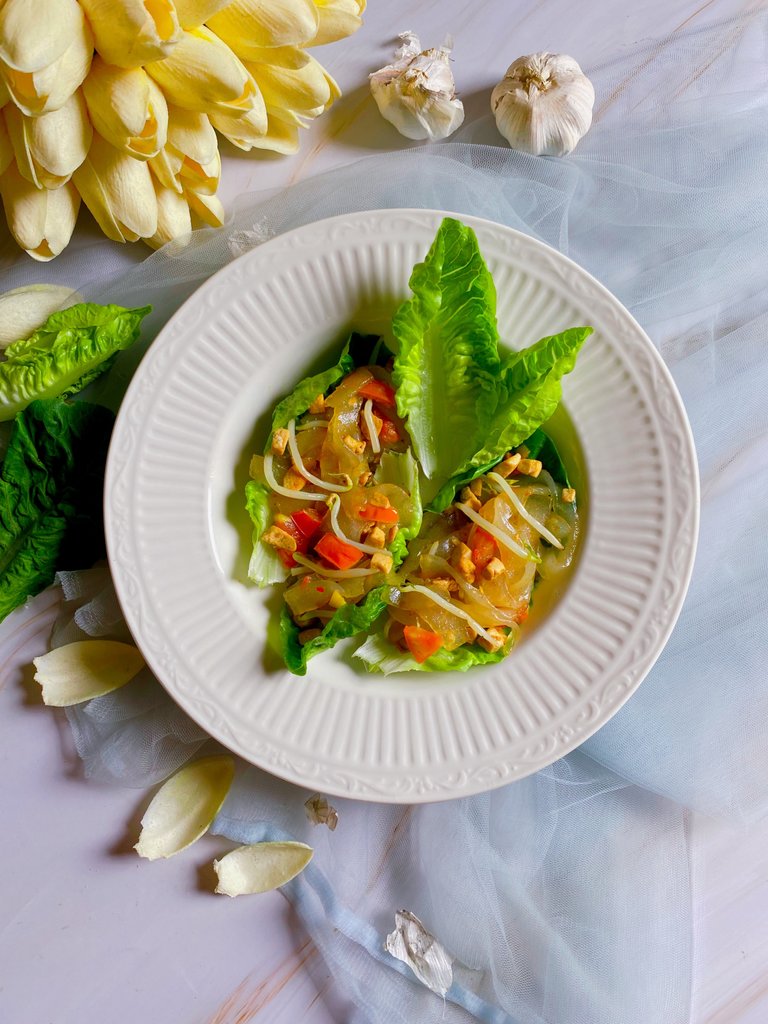 ---
❤️❤️❤️ See you, Veggie Lovers!
---
---
---
Thank you for reading my blog and reblog if you want my blog this time worthy of reading by others.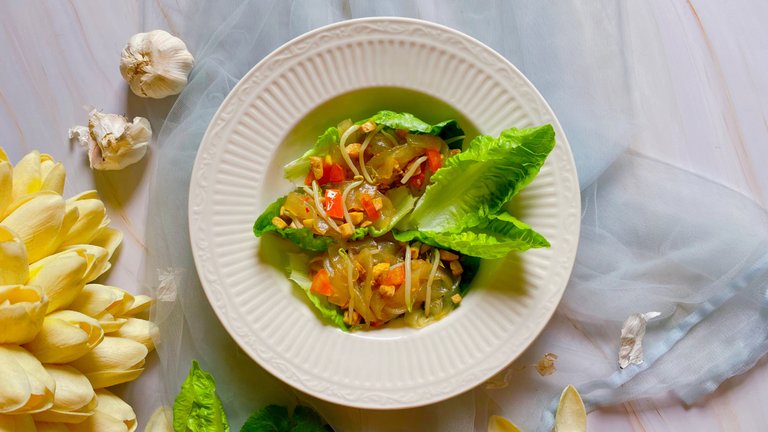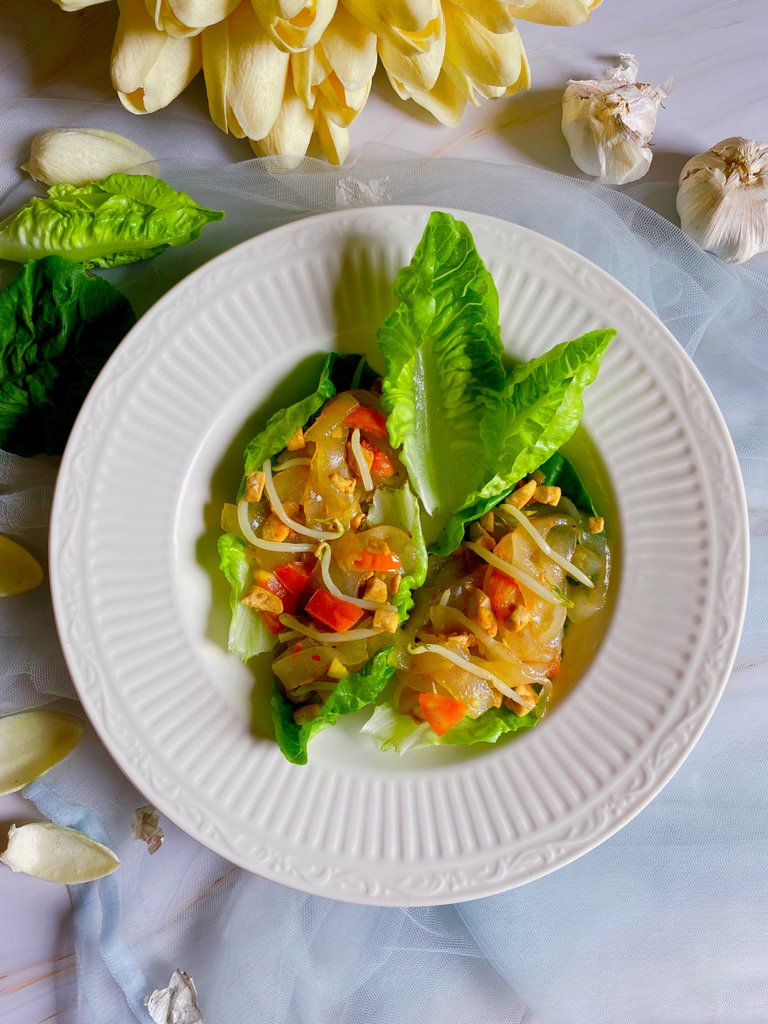 ---
---
---
Best Regards,
Anggrek Lestari
---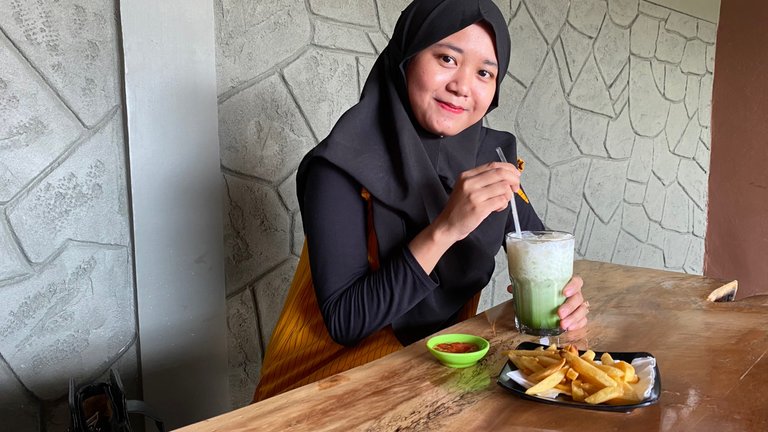 Who is Anggrek Lestari?
Anggrek Lestari is an Indonesian fiction writer who has published two major books. Now She is a full-time content creator. She has a goal to share life, poem, and food content that makes others happy and can get inspiration.
---
Contact Person: [email protected]
Discord: anggreklestari#3009
---
---
---