From An Old Coconut to Delicious Coconut Porridge
There are always blessings from nature for us to process natural products into delicious food. We become able to survive. We modify many food menus from only simple food ingredients from nature.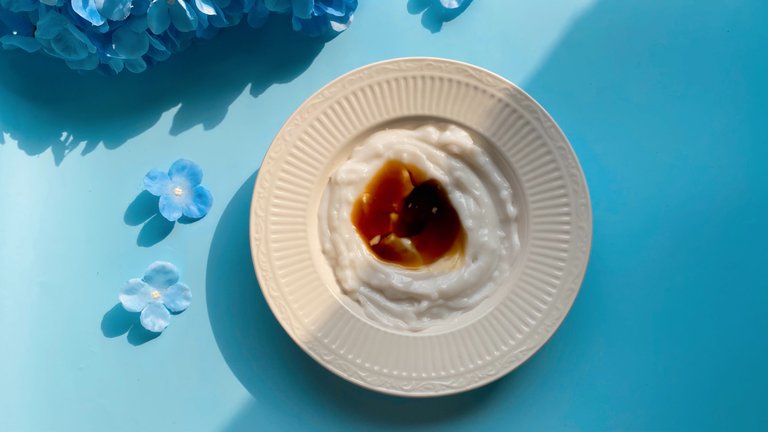 ---
This time I made a dessert inspired by the supply of old coconuts that I had at my mother-in-law's house. I was staying for a few days at my mother-in-law's house. Then, under the kitchen table, I found some old coconuts.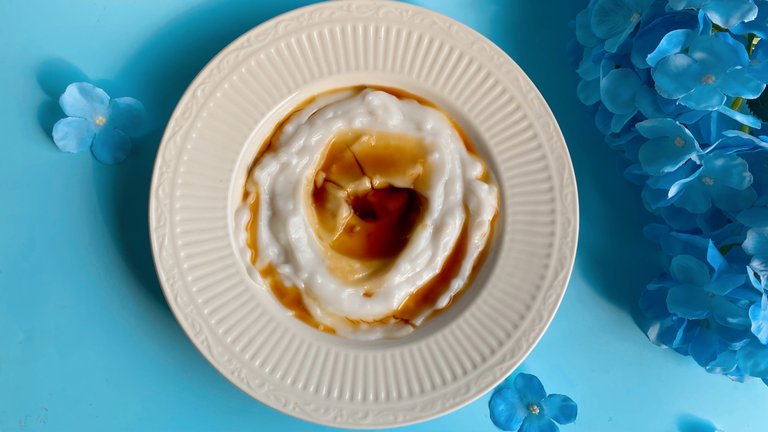 I also took the initiative to make coconut porridge, or also known as rice flour porridge. I have often made a version of rice flour porridge on my blog. But of course, like this time I have another story.
This time it's about very old coconuts that have very dry outer shells. Old coconuts that are very dry will weigh less than coconuts that are not yet dry.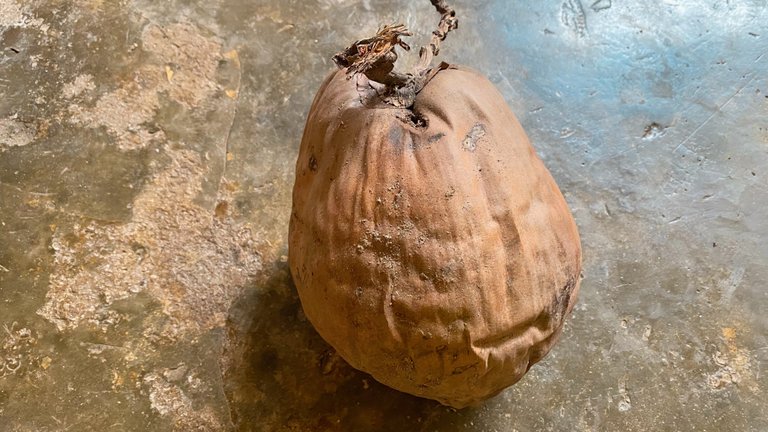 This is an old coconut that I will peel and then process it into coconut milk. Processing fresh coconut into coconut milk is quite energy-intensive. That's why I usually only use ready-to-use coconut milk that I buy at the market.
---
---
---
Removing the Outer Shell of Coconut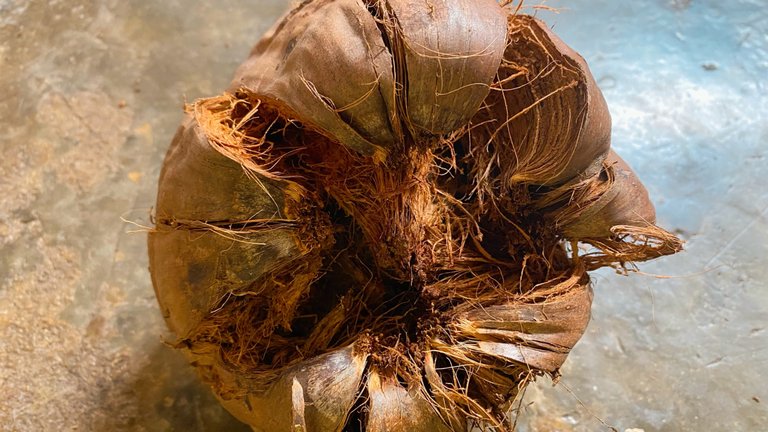 From a coconut, we can learn about miracles. How coconuts have layers of protection to prevent the coconut from breaking even if it is dropped from a very tall tree.
On the outer shell of the coconut, there is a thick layer of fi. As the coconut dries, the coir becomes lighter. However, it still has protective value for the coconut itself.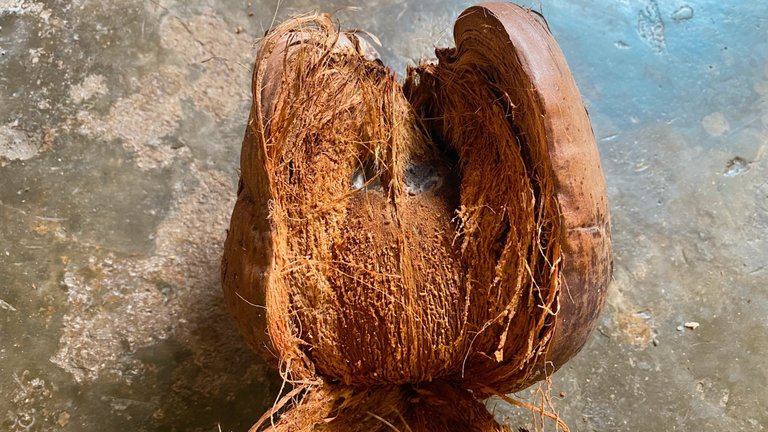 To open the outer shell of the coconut, I used a large, sharp machete. First, I had to remove a bit of the top and bottom of the coconut. Then, I made a cut around the coir. This part is quite difficult because the coconut fiber is quite thick and we need a lot of energy to remove the coconut fiber.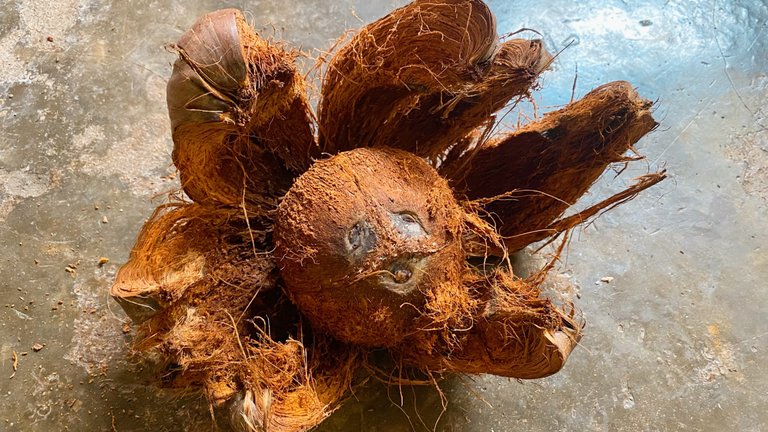 You can see that the part of the coconut is still covered with a thick coconut shell. Then, next I threw away the coconut fiber.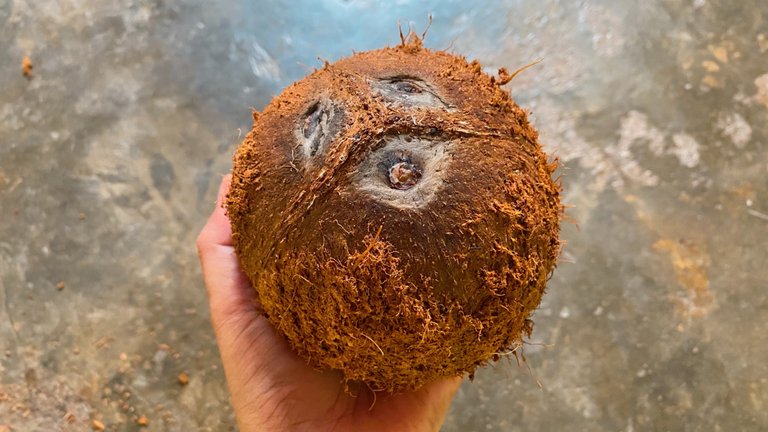 ---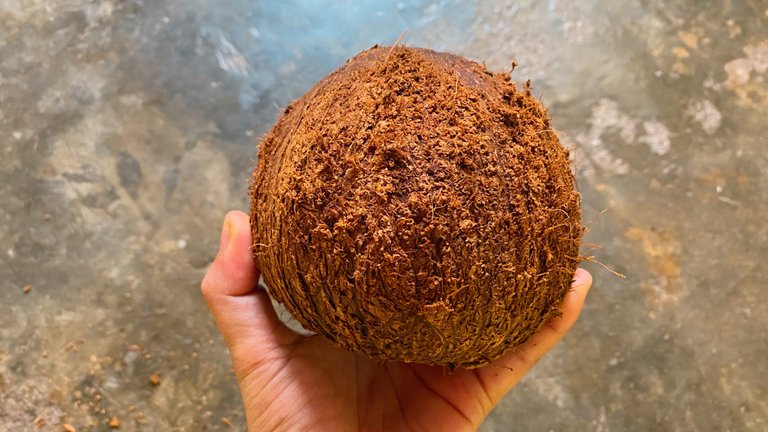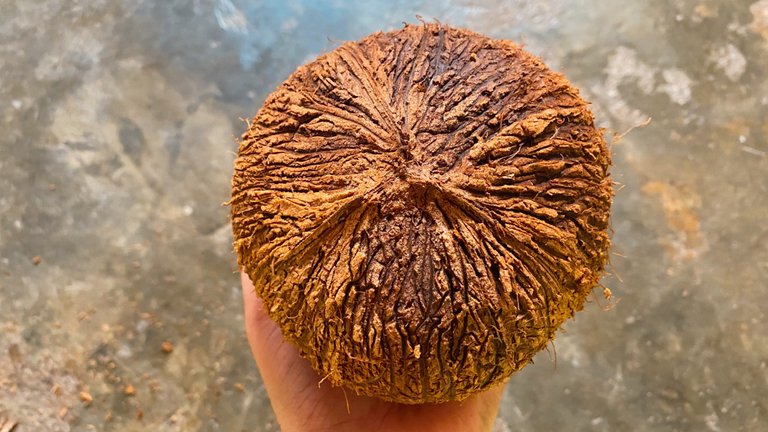 ---
This is a beautiful old coconut. Old coconuts will produce lots of creamy and tasty coconut milk. It would be very suitable for making sweet desserts or coconut curry.
---
---
---
Removing Coconut Meat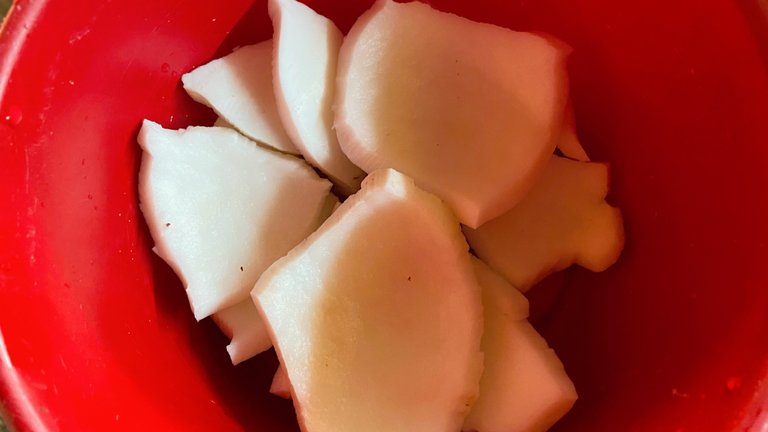 Next, still using a machete, I removed the coconut flesh from the coconut shell. Maybe you saw in some people's posts, they burn the coconut first to make it easier to open the coconut. I don't think it's recommended because it will change the freshness quality of the coconut.
Actually, all we need is a sharp machete. Just that. Then, remove the coconut meat by crushing the coconut shell, or by prying the coconut meat from the coconut shell.
---
After getting the coconut meat, next I peeled off the darker part under the coconut meat. The dark skin of the coconut can cause the coconut milk to have a blackish color if it is not peeled.
Once the dark skin on the coconut meat is peeled off, wash them clean, and transfer them to a blender with about 1 liter of water.
---
---
---
Blend Coconut Meat With Water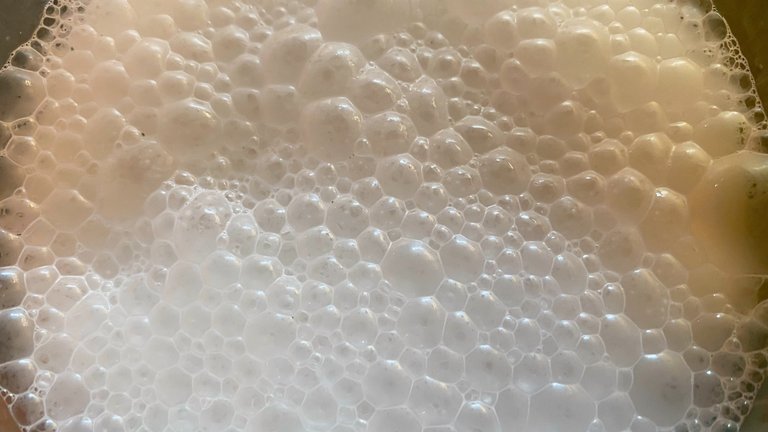 Prepare a blender. Then blend coconut meat with 1 liter of water.
After blending, strain the coconut pulp. For one old coconut, I can get 1.5 liters of coconut milk.
---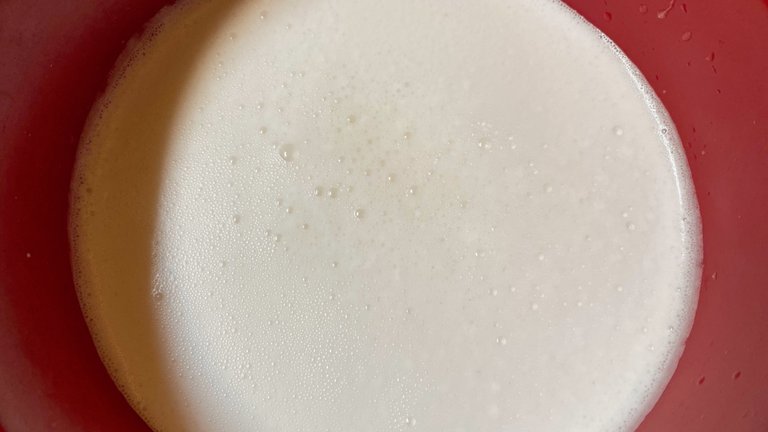 So, I have fresh coconut milk now. Let's move on to making coconut porridge.
---
---
---
Cooking Coconut Milk Porridge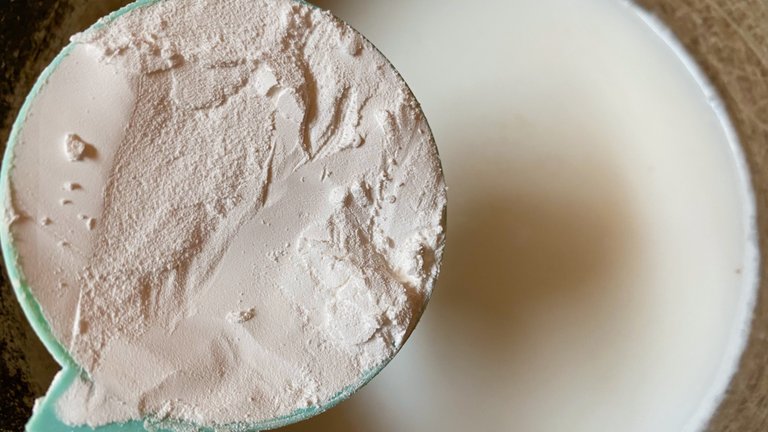 We need the following ingredients to make rice flour porridge / coconut porridge:
200 grams of rice flour
1.5 liters of coconut milk
2 teaspoons of salt
Combine all ingredients in a cooking pan. Then cook them while continuing to stir. Never leave them out or they will burn quickly.
---
---
---

Cook until the coconut milk with flour mixture thickens into porridge. We will see the surface of the slurries will become bubbly when they are ready to be removed.
Coconut pulp will have a hardened surface if it is cooled at room temperature. But on the inside, they remain soft texture.
---
---
---
Cooking Brown Sugar Sauce
Coincidentally, at my mother-in-law's house, there is also brown sugar still wrapped in palm leaves.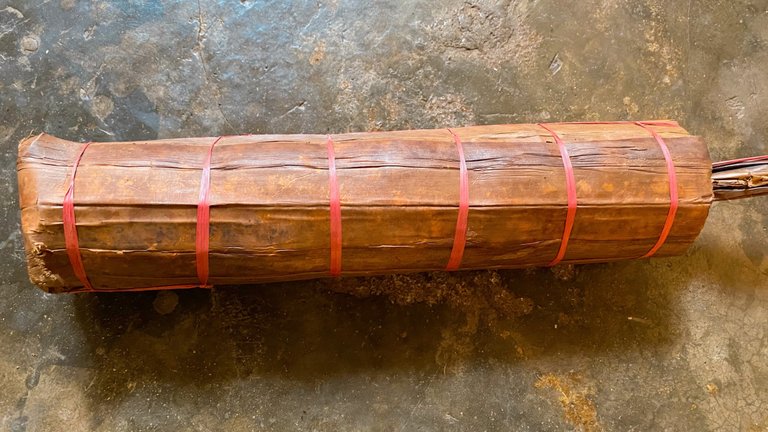 Original brown sugar from this village has a very delicious aroma and is suitable for making as a sauce for serving desserts.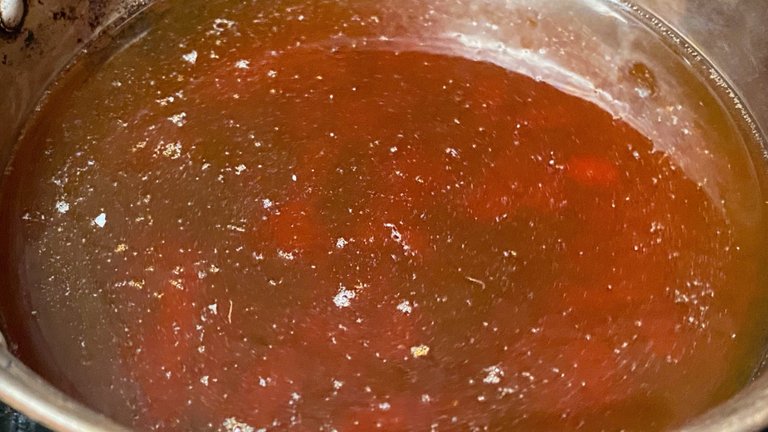 I cooked 300 grams of chopped brown sugar with 500 ml of water. Then, add two tablespoons of white sugar to create a more balanced sweet taste.
Then strain them when serving with coconut porridge / rice flour porridge. we need to strain them to avoid small ant inside the sugar.
---
---
---
Serve Coconut Porridge
Serve the coconut porridge while it's warm with brown sugar sauce. Just add a little brown sugar sauce and it will be a sweet dessert.
The taste of coconut porridge itself is delicious because we use salt in the ingredients. Savory and sweet is the right combination. I love this combination.
Well, all my family members, as well as my mother-in-law also like this coconut porridge / rice flour porridge. My mother-in-law always praises me because I can make such pure white porridge.
Meanwhile, my husband always praises my porridge which is different from the coconut porridge sold in the market. My husband said my porridge tasted very tasty and had a soft texture.
---
---
---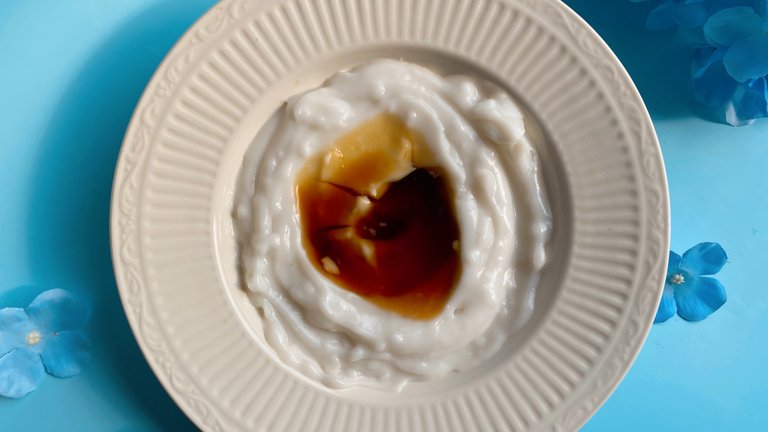 That was a sweet dish that I made from old coconut which I combined with rice flour. Also, with brown sugar sauce.
In Indonesia, we are also used to eating coconut porridge as breakfast. Also, as food that is distributed after the wedding day in the village.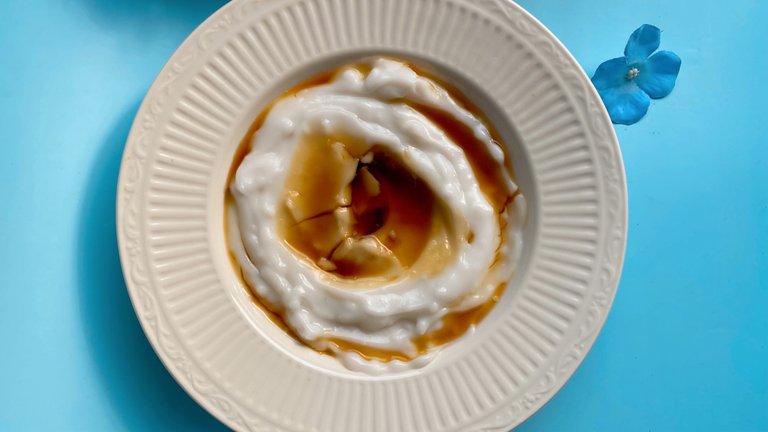 So, do you have a similar recipe like mine? Coconut porridge is worth trying, of course.
---
---
---
❤️❤️❤️ See you in my next recipe!
---
---
---
Thank you for reading my blog and reblog if you want my blog this time worthy of reading by others.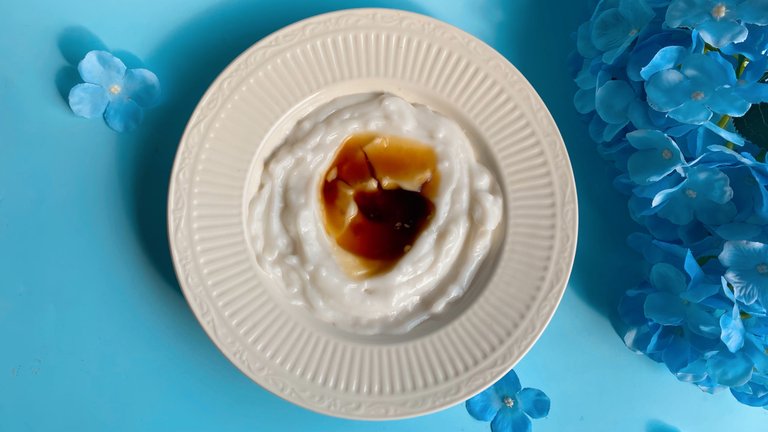 ---
---
---
Best Regards,
Anggrek Lestari
---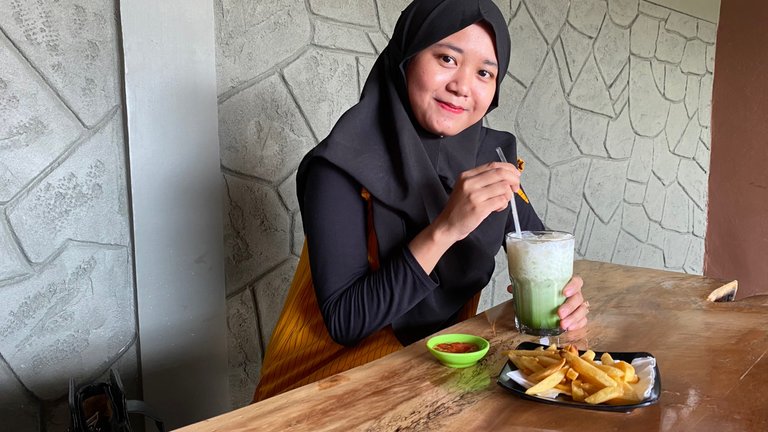 Who is Anggrek Lestari?
Anggrek Lestari is an Indonesian fiction writer who has published two major books. Now She is a full-time content creator. She has a goal to share life, poem, and food content that makes others happy and can get inspiration.
---
Contact Person: [email protected]
Discord: anggreklestari#3009
---
---
---