Blog#5 - Visiting one of the places that has a variety of beauty (Waduk Jeulikat)
Last Sunday afternoon I took my beloved wife and children to visit one of the tourist attractions in my area, more precisely in Jeulikat village, Lhokseumawe city, North Aceh. This tourist spot has been around for a long time. The last time we were here was around 2020, when I was still dating my wife, because we hadn't been here for a long time. tried to go and it turned out that a lot of changes had occurred and it was a shame that this beautiful place was no longer maintained and there were very few visitors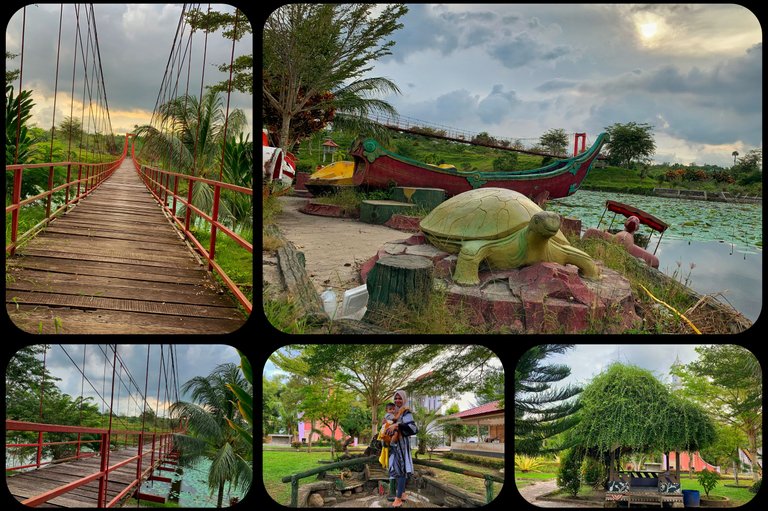 according to the information I got when asking one of the residents there, this place is now opened irregularly because it is empty of visitors, on Sundays it is rarely opened because yesterday there was a group of college students, so it was opened and this has become our good fortune
Parking and entrance tickets are also very cheap, only 10 thousand rupiah. When I entered the area, I was amazed to see the very beautiful view, the road access was also good.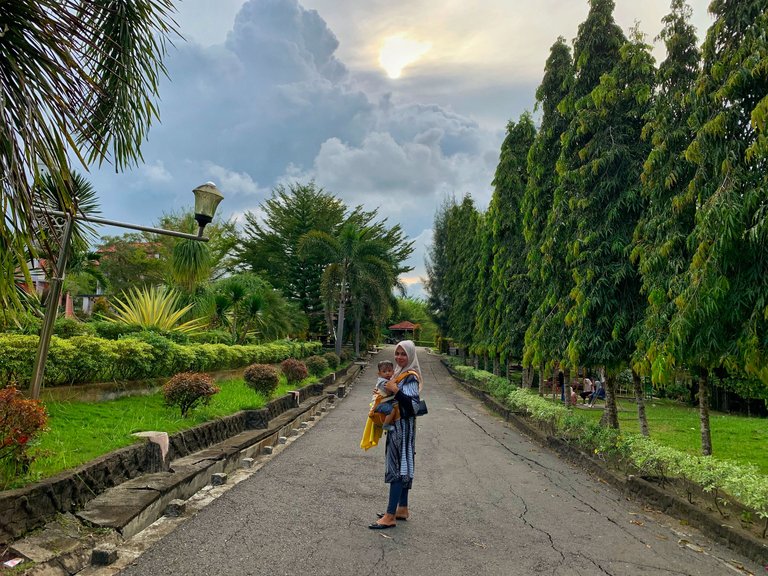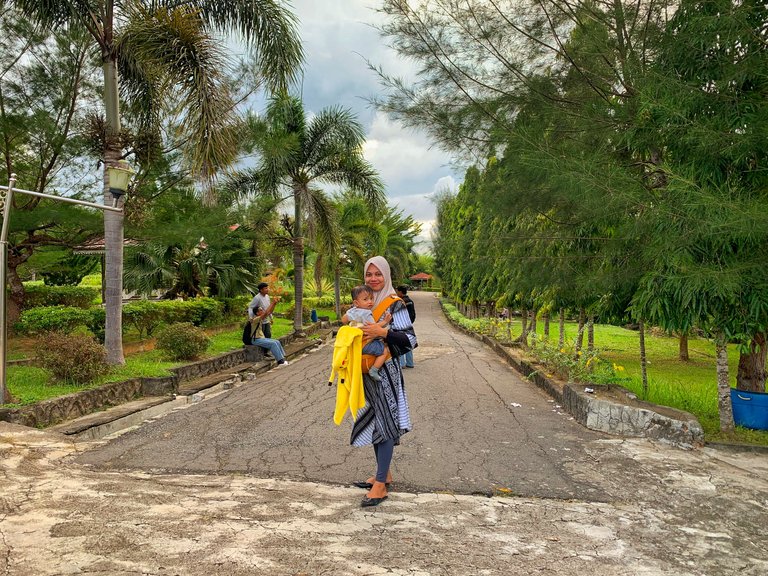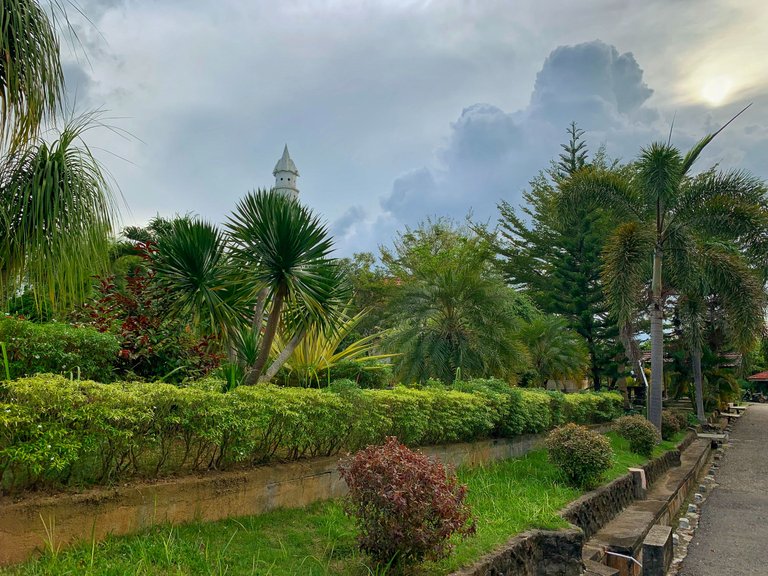 Along the road there are flowers planted very neatly, the air is so fresh and there is a tree that is already bearing fruit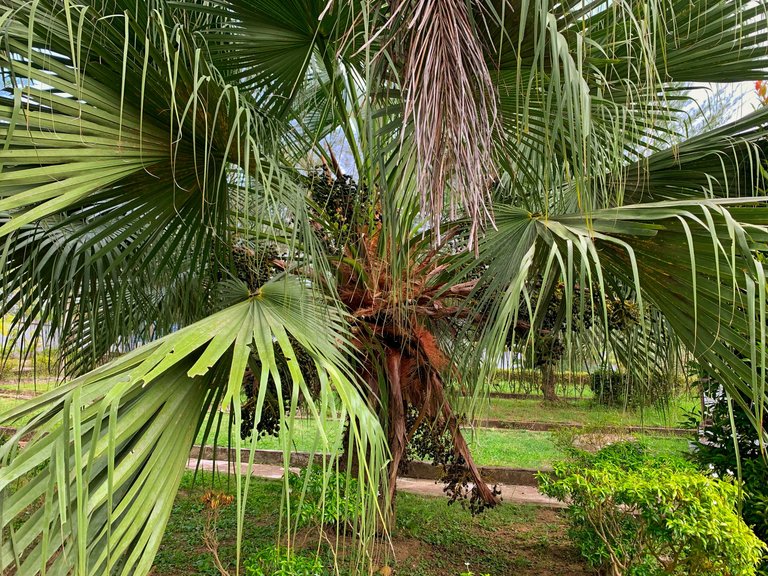 I continued walking while looking to the left and right, I saw a resting place that had been deliberately made, but what was unique was that the roof was covered with plants that had been deliberately made.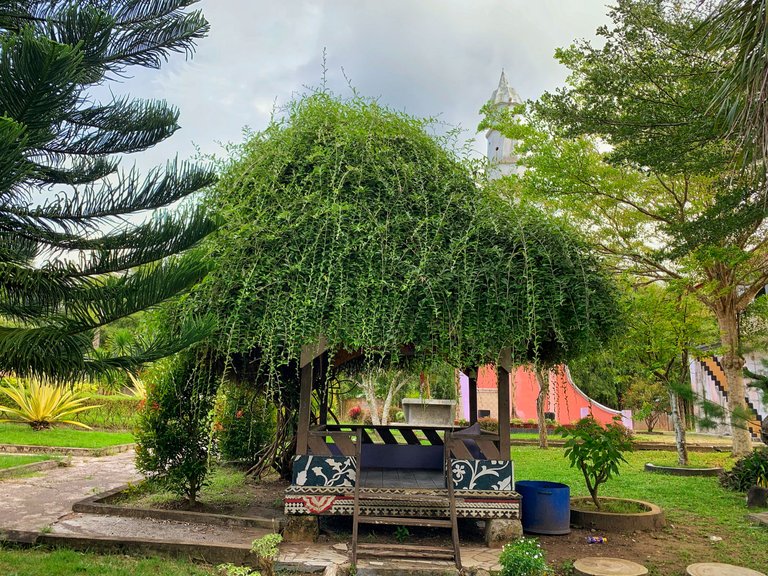 There is another place that is also made by planting several flowers on the edge to make it more beautiful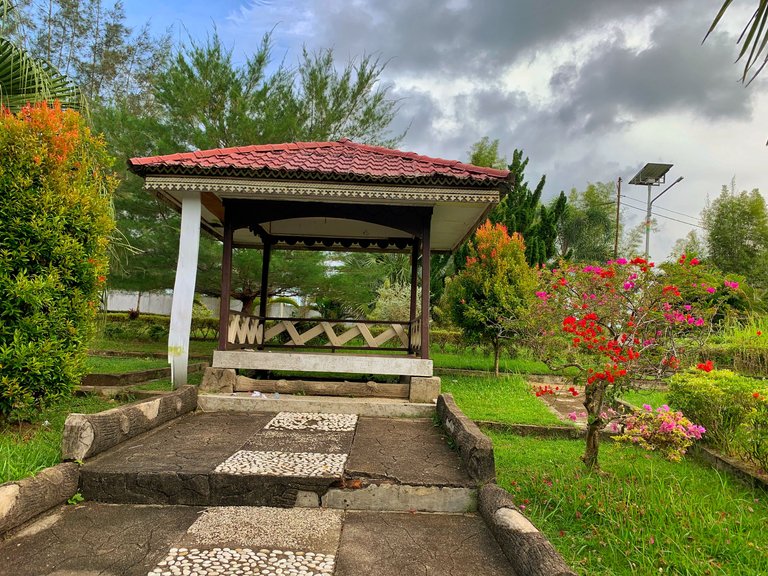 then I headed towards the back, saw that there was a building that looked like a tegu which was made quite high and beside it there was a place of worship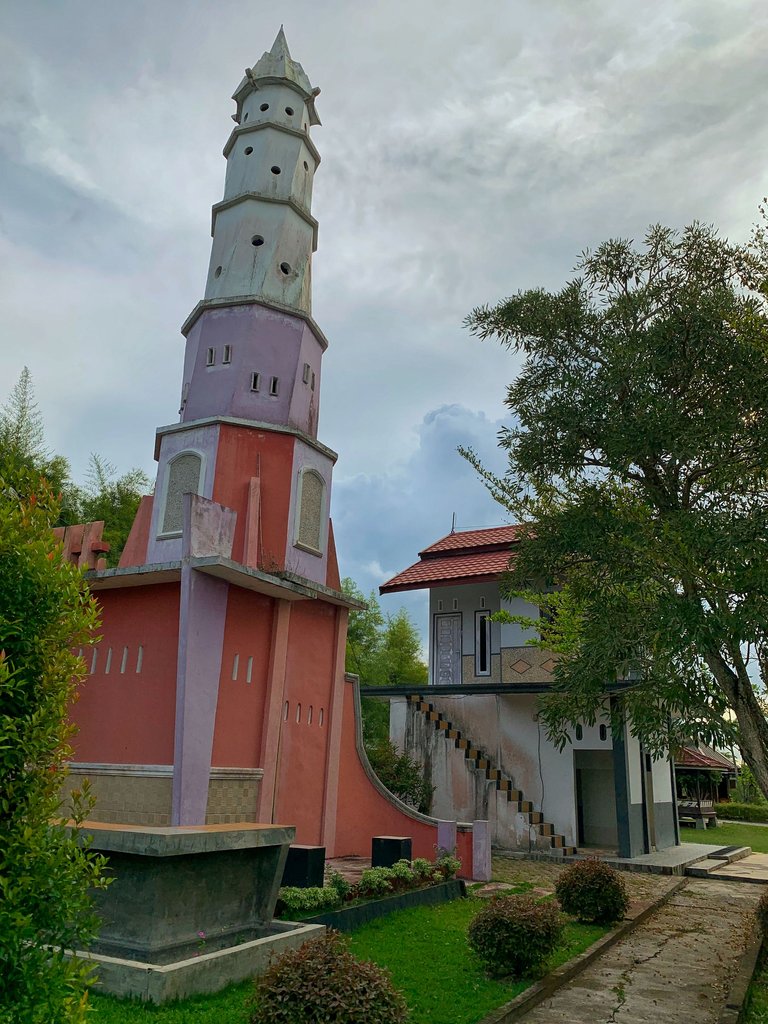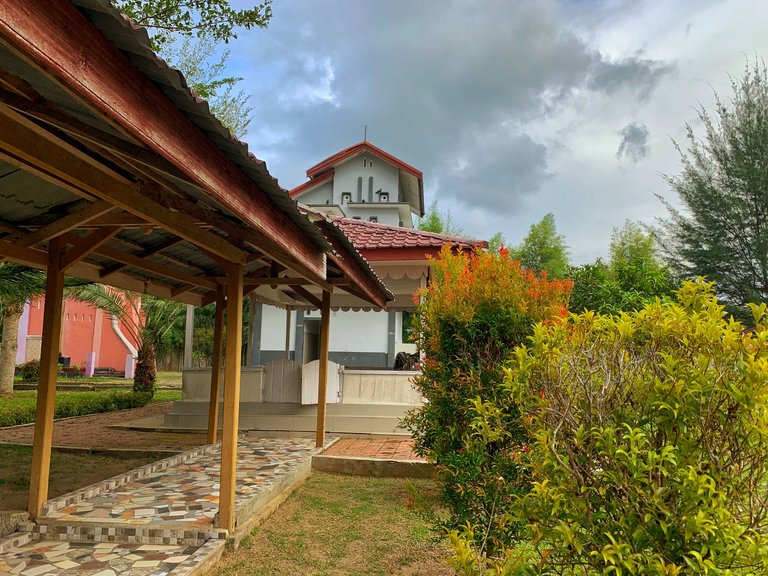 in front of the tegu there is a fish pond whose design is very beautiful, because it is not maintained this place no longer functions, only memories remain, there used to be lots of fish there and the water flowed from behind there is also a small bridge in the middle of the pond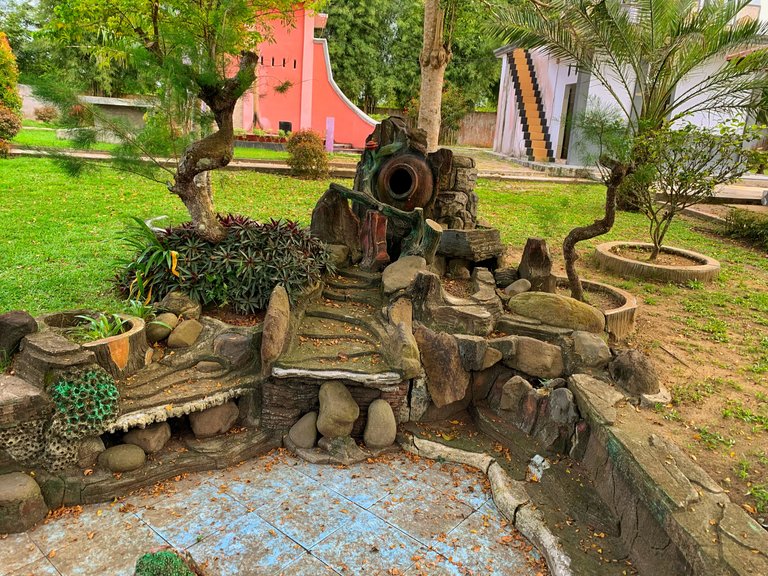 My wife and I continued walking and found a beautiful place to take photos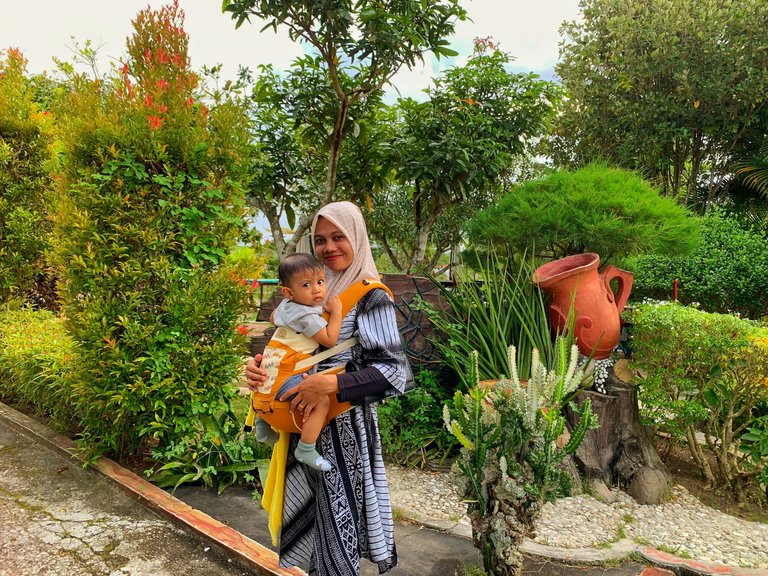 In front of it turns out there is a coffee kede which is made of wood but has a very nice design, which is called coffee 33
there are two beautiful lovebirds in the cage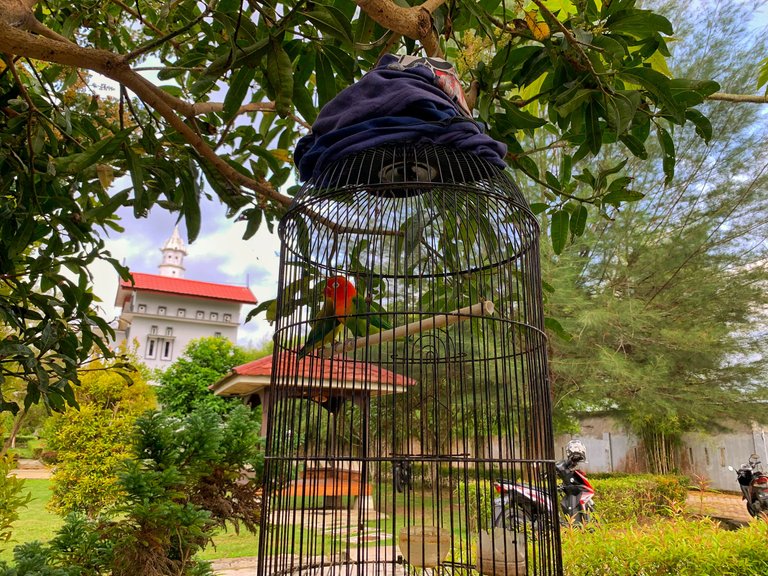 not only is Kede coffee made beautifully, but the place for us to enjoy coffee is also very nice with a natural feel, several trees are planted and the air is so cool to relax,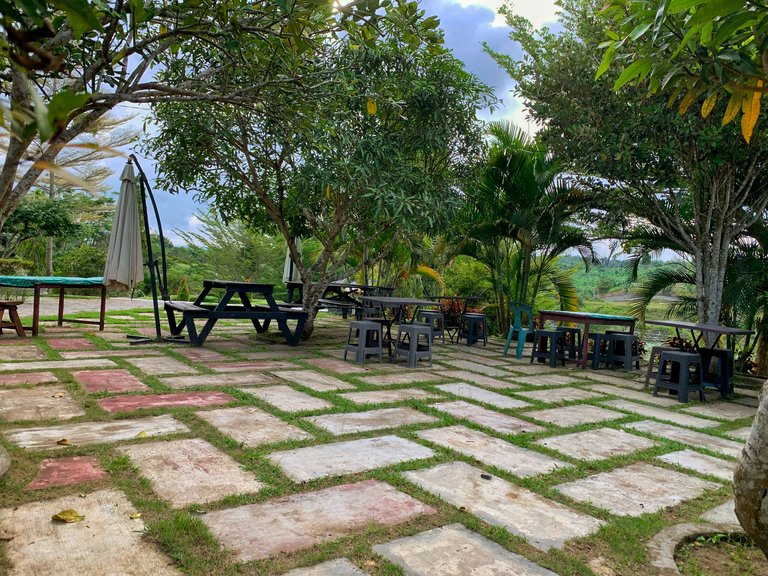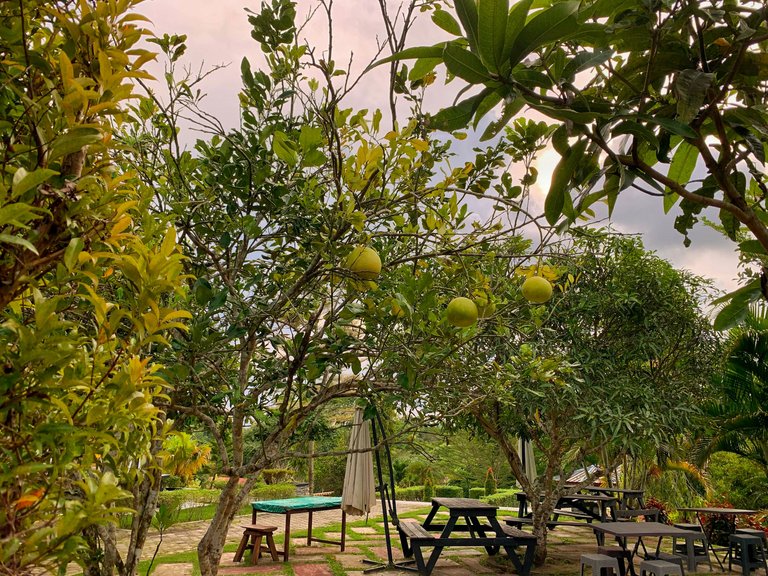 we continued walking forward again, there was a ladder that was a little higher, I went down and took photos upwards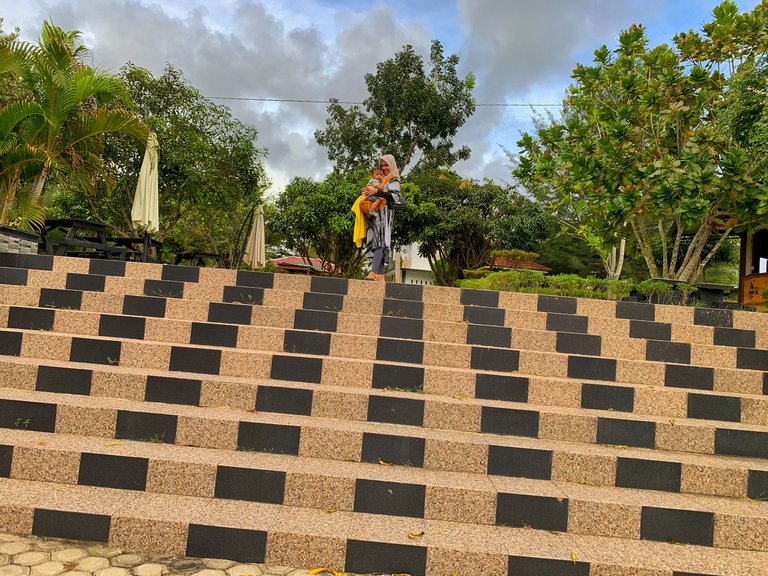 going down from the stairs we will go to one of the flyovers which is connected to the other side, this bridge is actually very good as a place to take wedding photos, there are two girls who are making videos in the middle of the bridge, I didn't walk towards the bridge because of my wife not dare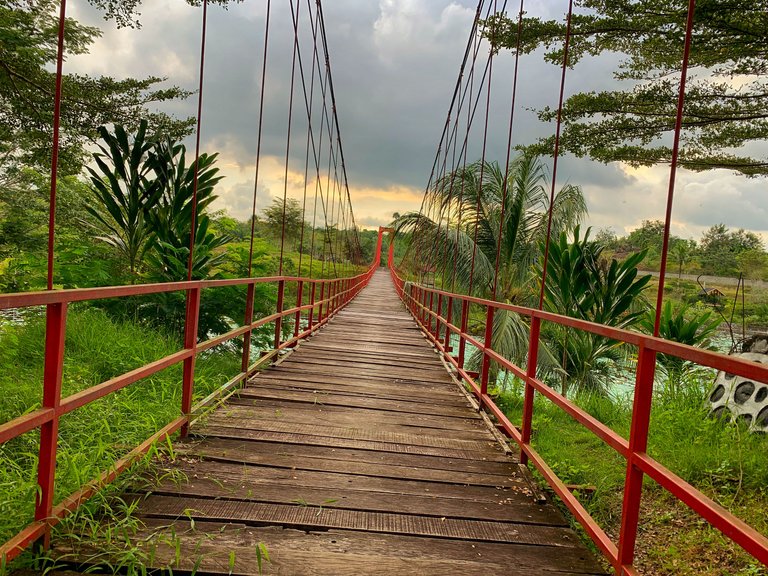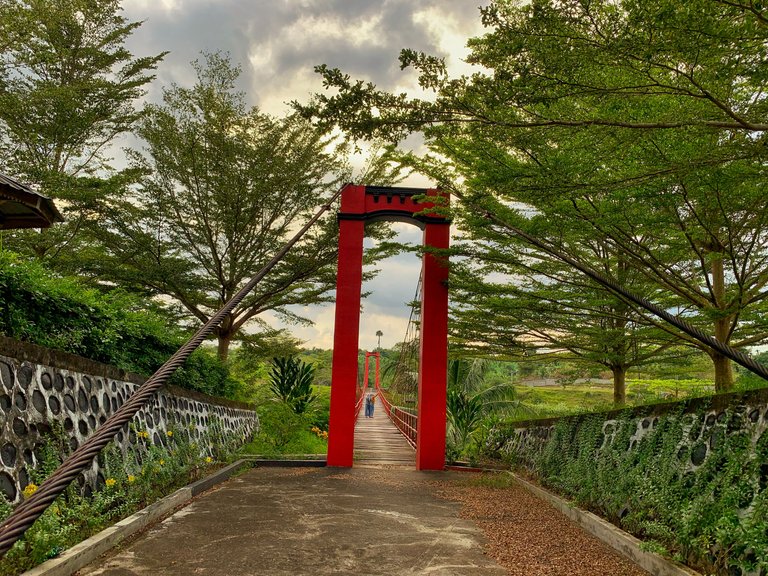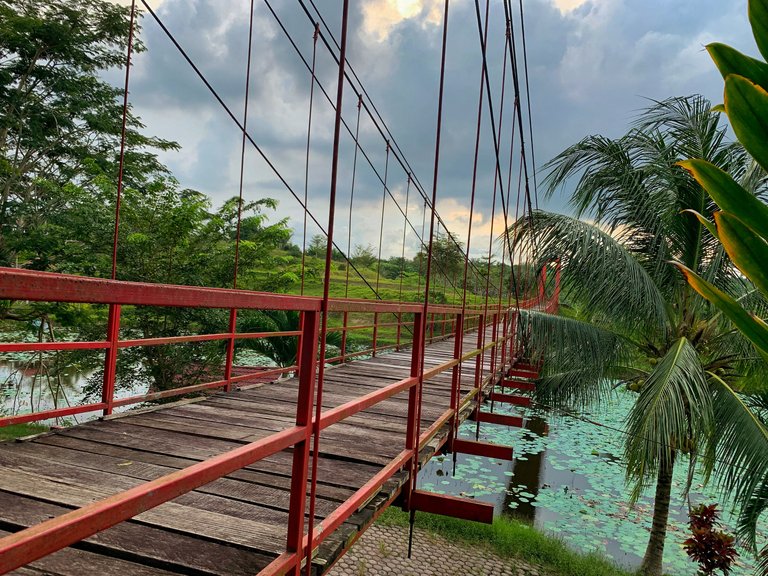 I continued to walk closer to the reservoir and passed the descending path, and there were also seats made so that visitors could relax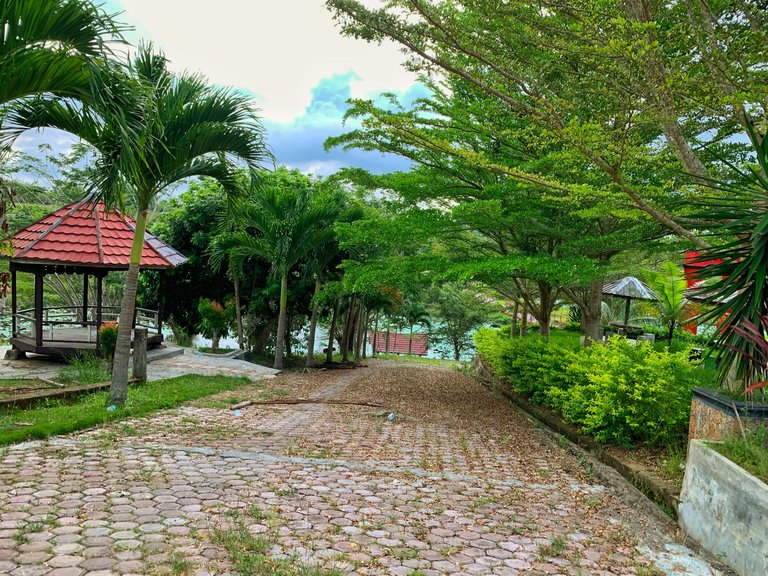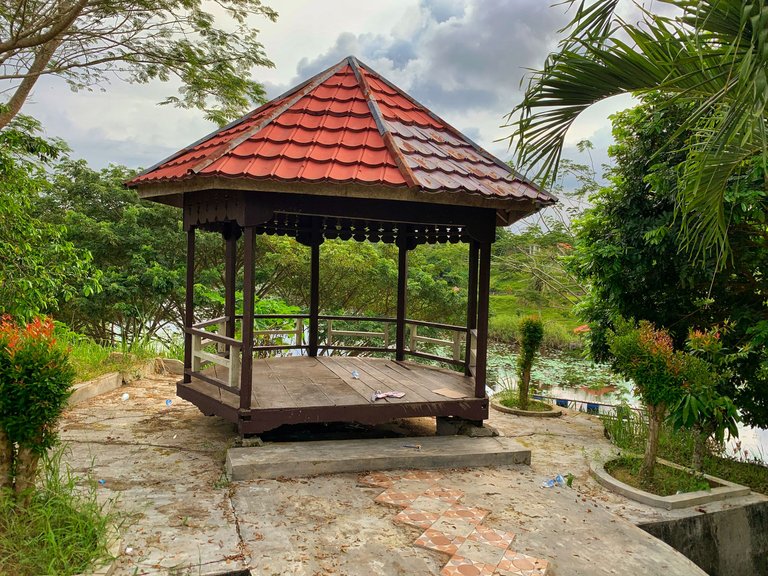 In the reservoir it turns out a place has been made to keep fish, because I didn't see anyone there, I just watched from a distance
Finally I arrived at the edge of the reservoir, some of the tools usually used for rowing and playing in the reservoir had been damaged and had been made into displays on the edge of the road.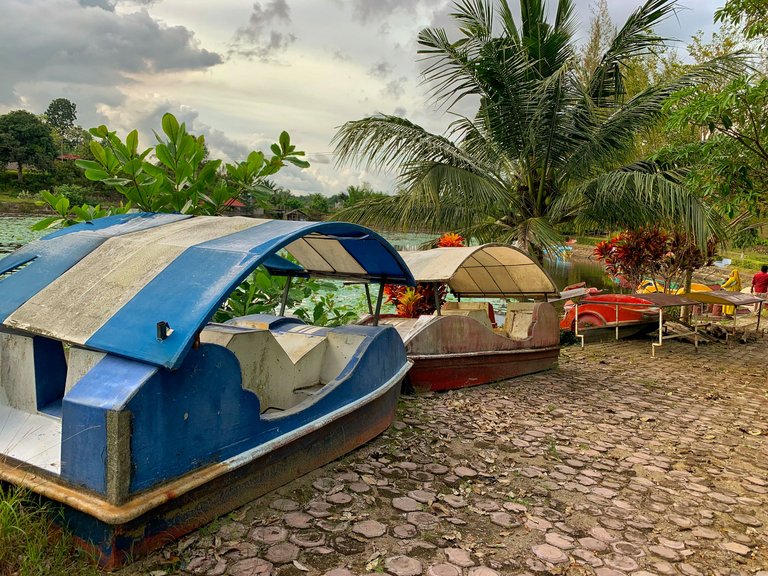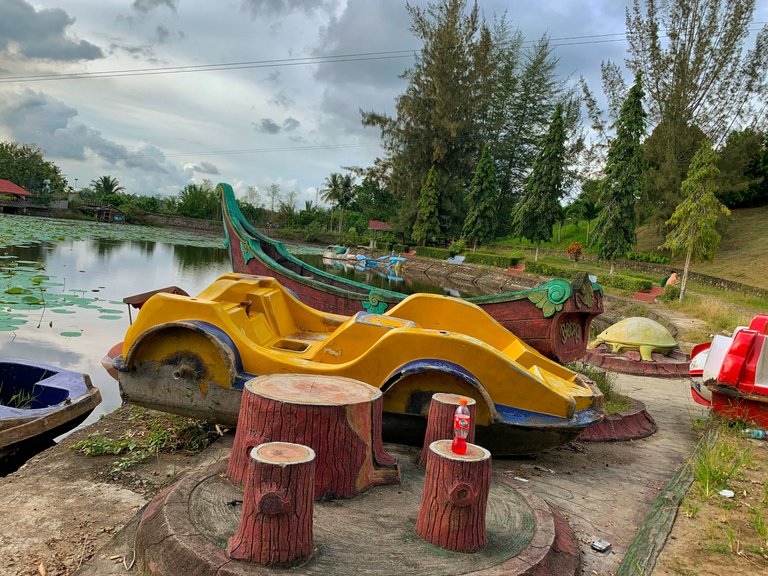 what amazed me most was a carving in the shape of a turtle made of cement but so similar right down to the shell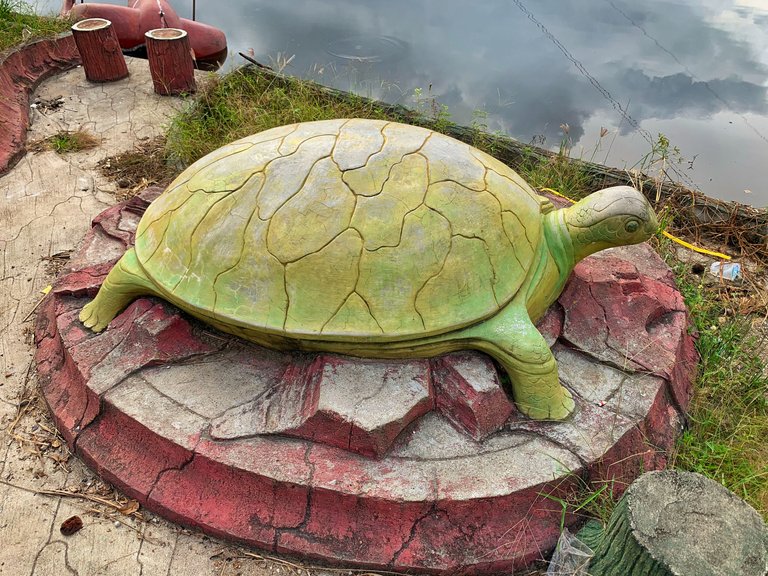 I tried to take a really beautiful shot, I saw turtles, and the bridge made this view very beautiful
In the middle of the reservoir there is a statue of a fish, where the statue usually actively releases water, but now it is no longer used, there are also many lotus trees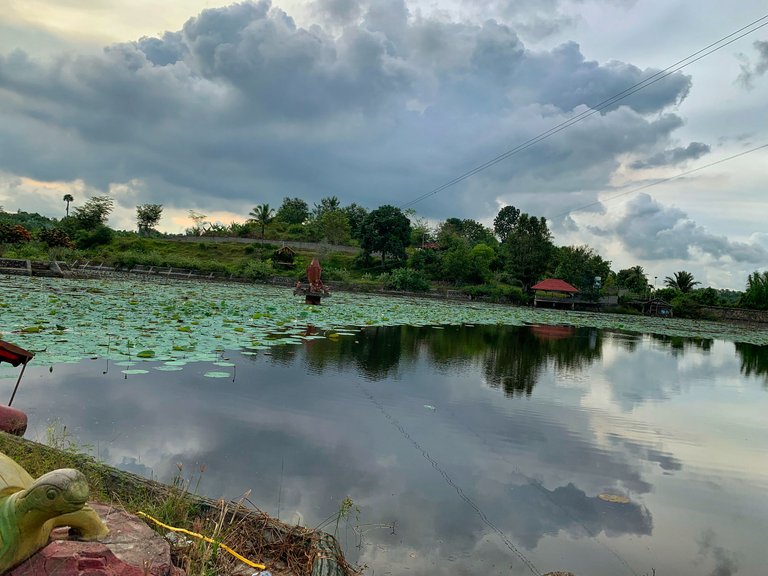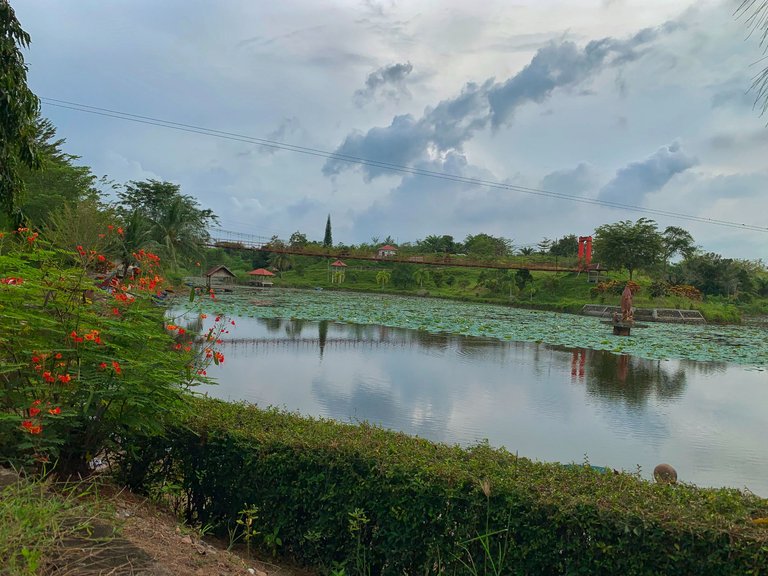 it turned out that in front of him there were many paddle ducks that had been damaged and drowned, it was a very unfortunate sight, of course if this was still being looked after it wouldn't be as damaged as this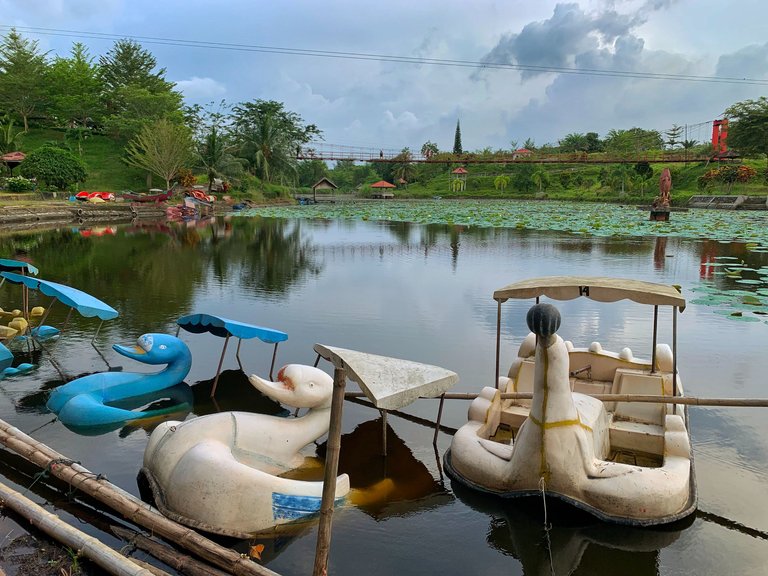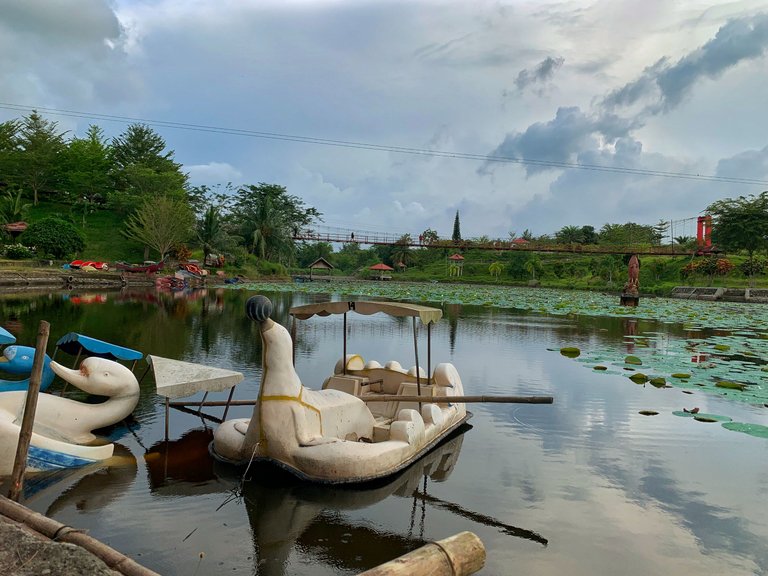 Every time there is a beautiful view, there is definitely a place to rest provided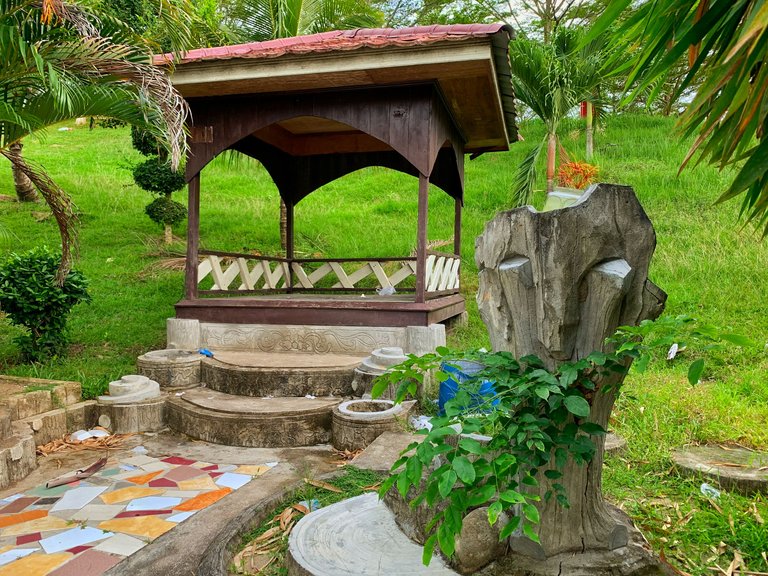 This is a staircase that will take me to another view, there are so many other beautiful things there too, but I will continue in my next post
Here are some photos of the excitement and beauty of one of the tourist attractions that I can share with all my friends here. What do you think about this place?
---
---