Visit to a Floating Bookshop and the banks of the Canal de l'Ourcq in Paris
Hello everyone, I hope you're all well. Today I'm taking you to a district that I already know, but don't frequent very often, and to a special place that I've never been to before. It's a bookshop on a barge whose selection of books is mainly focused on nature, botany, biodiversity and gardening techniques.
So what better place to take a stroll and make a gentle transition from the wilderness I've just arrived in to the concrete world of Paris ?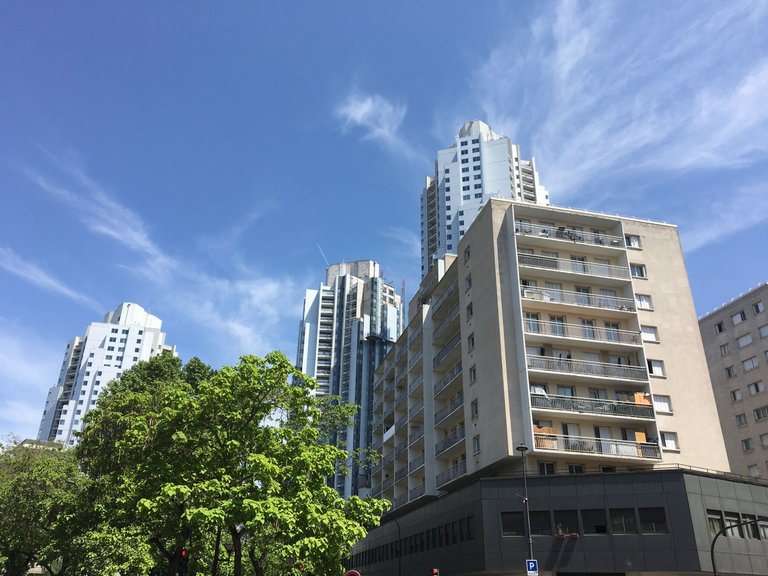 Here we are after the Flandres district in the 19th arrondissement, where you can find a large number of towers of this type. Although they're quite beautiful architecturally and aesthetically, I wouldn't like living inside them, being too cut off from the ground, I don't think it would be very good... In any case, it's not for me !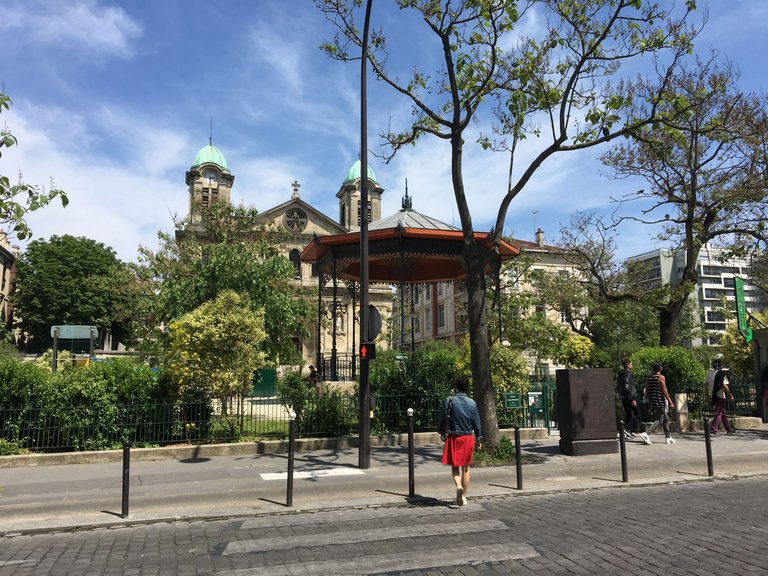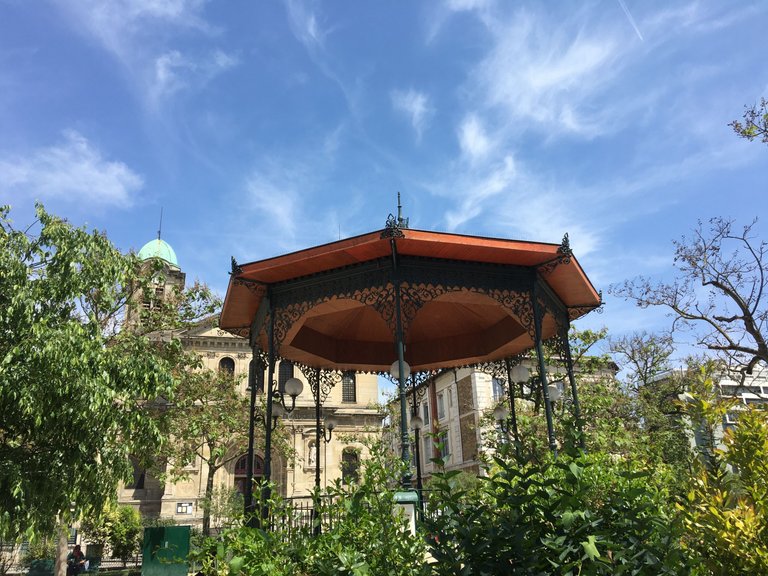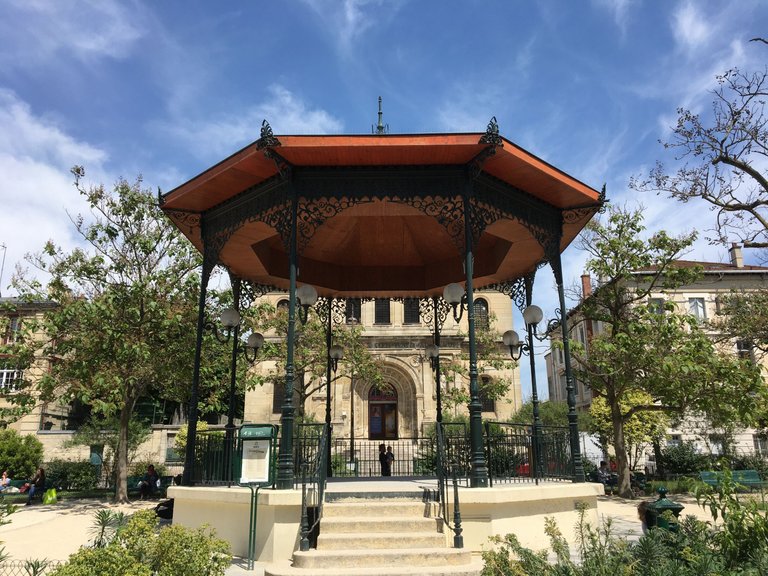 Just before the Canal de l'Ourcq, you come across this small square with its old-fashioned bandstand. It's the Square Serge Reggiani, named after the Italian-born actor and singer.
I'm tempted to go and see the church behind it, but on a fine day like this, I always prefer to stay outside !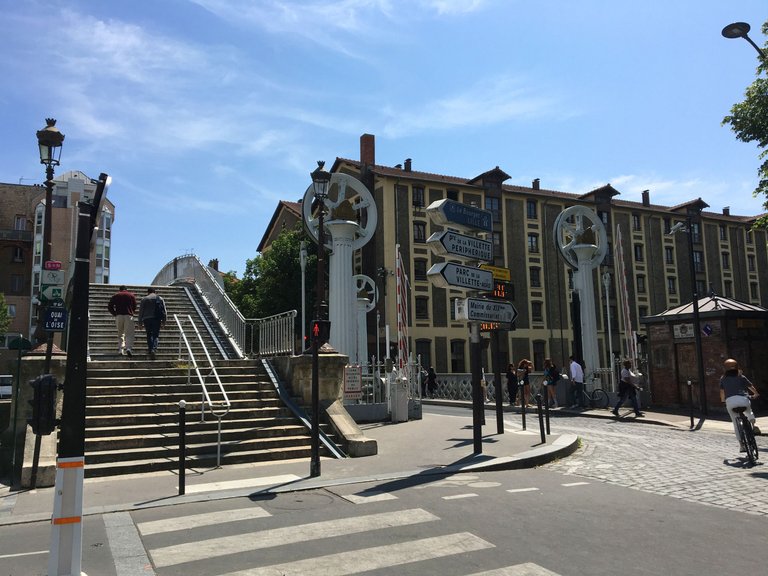 Here we are, facing the canal and above all the mechanical lift bridge on the rue de Crimée. This may seem a common sight in countries with a multitude of canals, but in Paris it's actually quite rare.
What's more, here it's not the two sides of the road that are raised by pivoting like hinges, but the entire rectangle of the road that rises vertically to let the boats pass.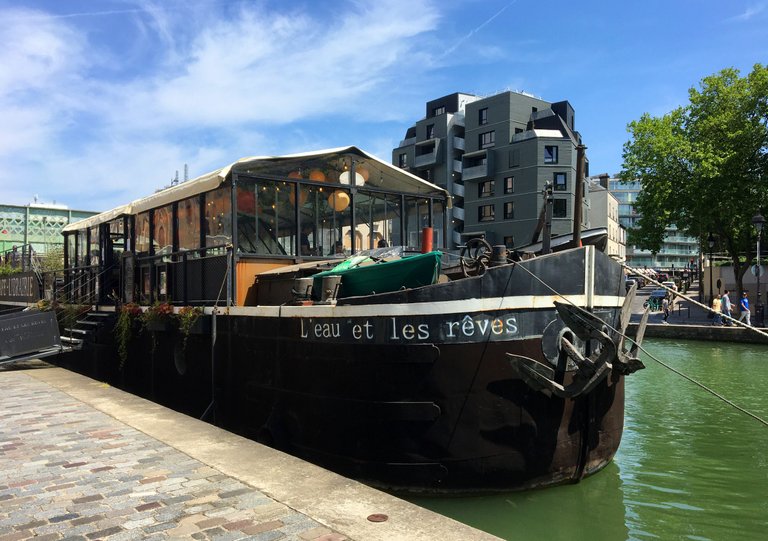 This is the famous bookshop barge we've come to visit, named "L'eau et les rêves" (Water and Dreams) after the title of the book "L'eau et les rêves" by the philosopher Gaston Bachelard.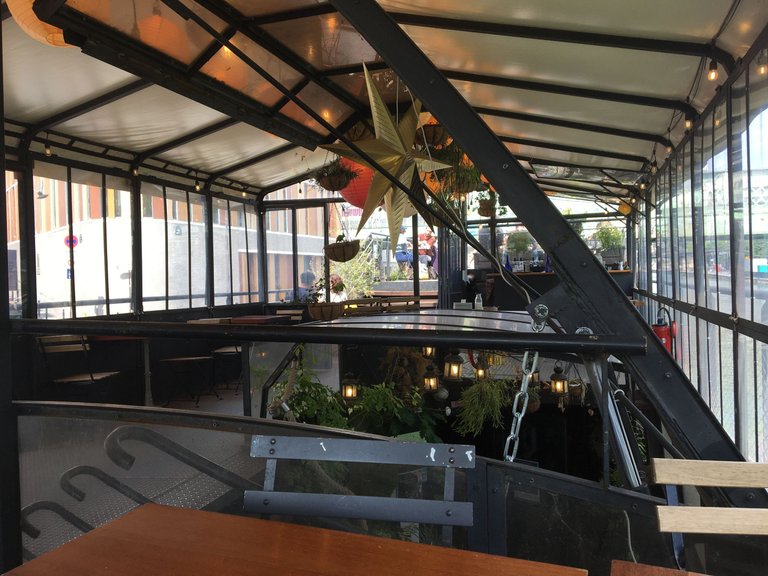 Here is the open, warm and luminous terrace that we cross directly before descending into the bowels of the ship, where the books are kept... We'll be back later to take advantage of these outdoor pontoons.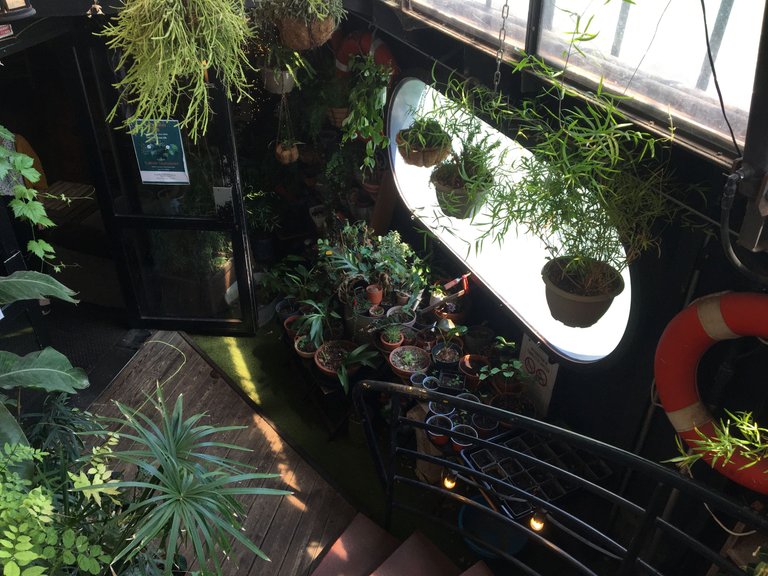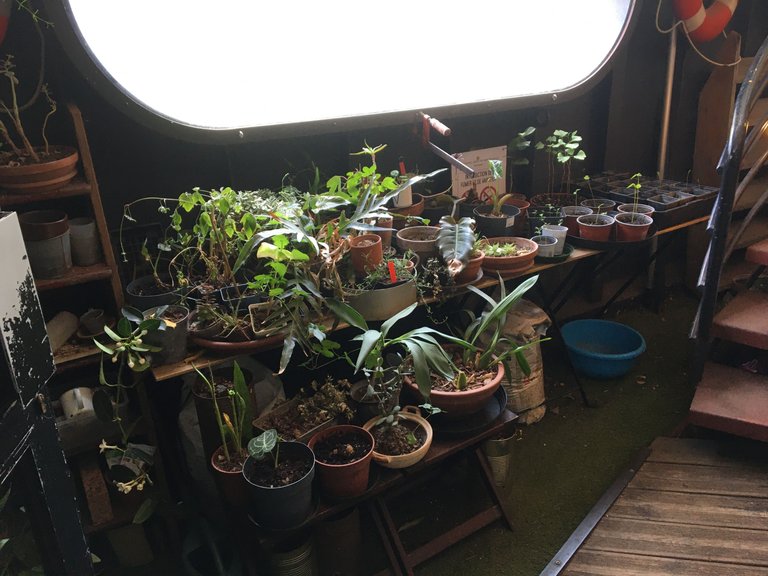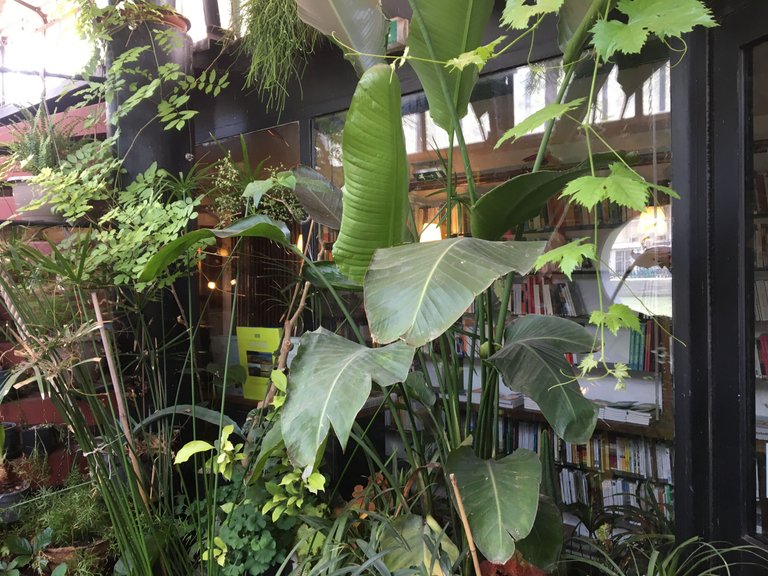 The entire passageway down to the lower floor is filled with plants and if I'm honest, I have to say that I thought this place would really please @dswigle and in fact, would probably have made a good subject for #MarketFriday :)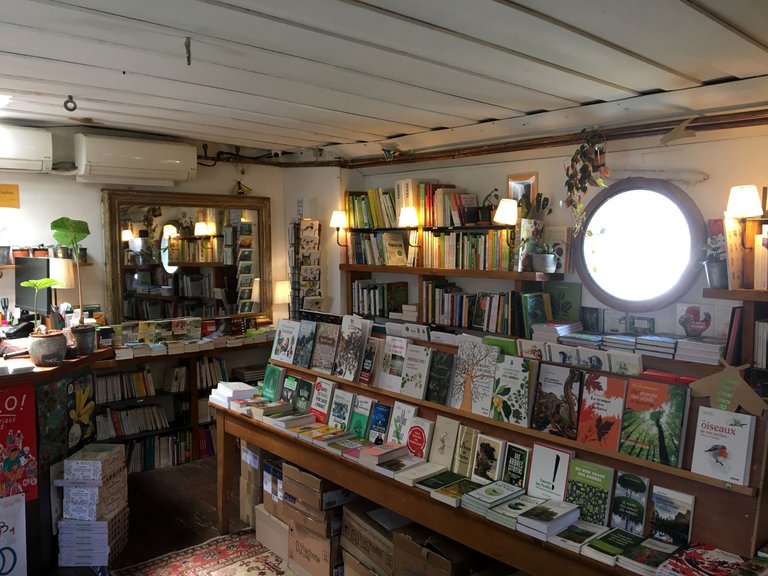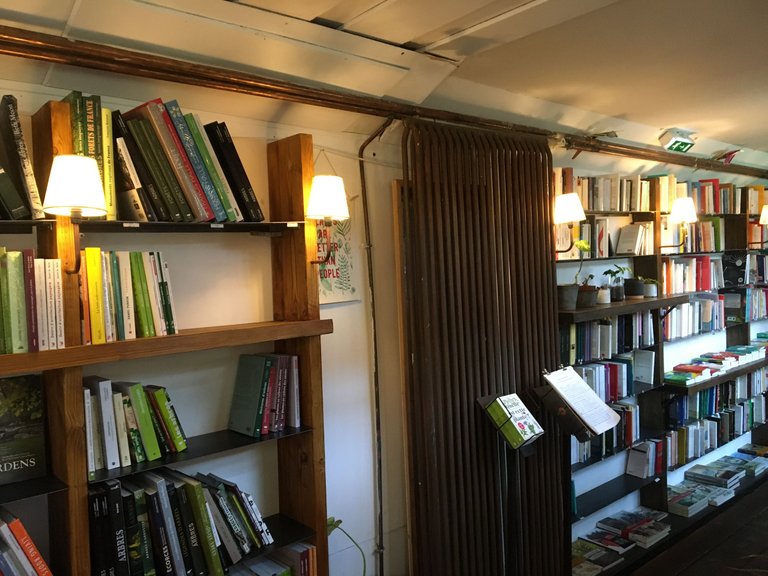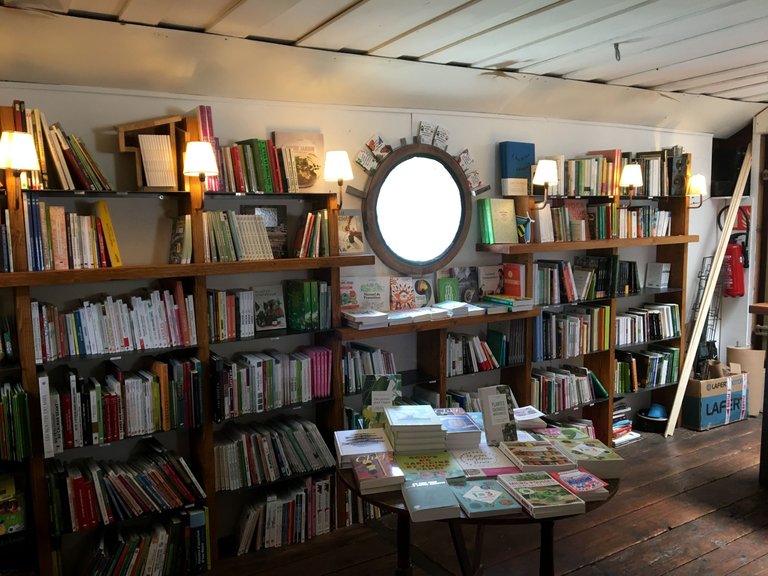 In the back of the barge, there's a large room covered with shelves, themselves covered with books all related to Nature, whether in terms of the study of animals, plants and our ways of interacting with different environments or specific species.
For me, it's a bit of a dream place and I think we spent a good hour there, opening and looking at what was inside each of these miniature universes.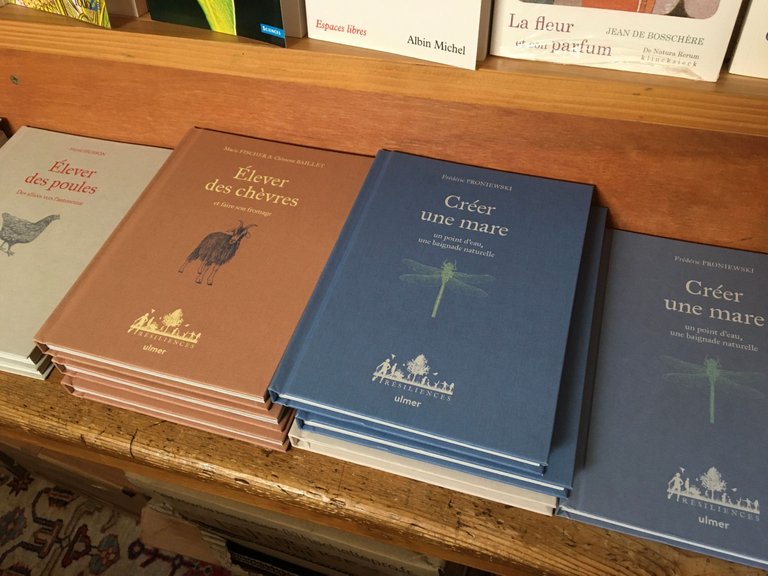 The two I'm most interested in are this guide to a selection of 250 varieties of tomato and this second little book on how to create a pond. But in the end, as I literally bought books the day before, I'll just take a photo of them and add them to my folder full of book covers :)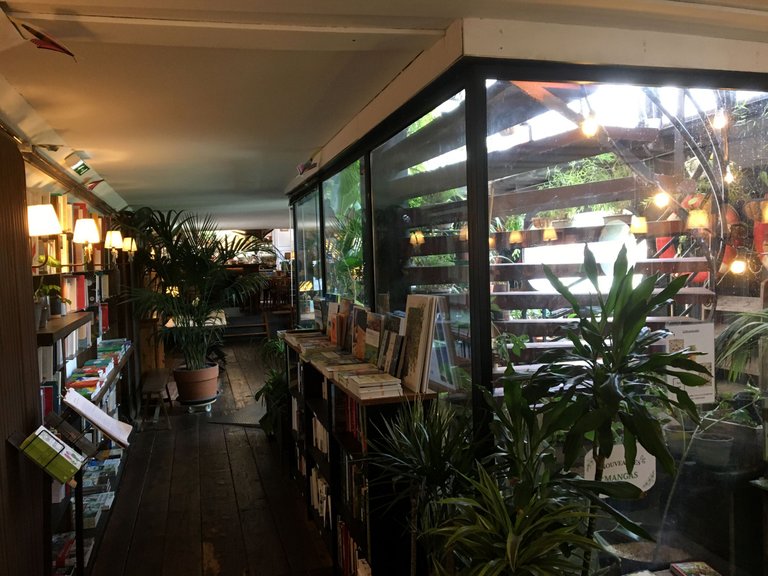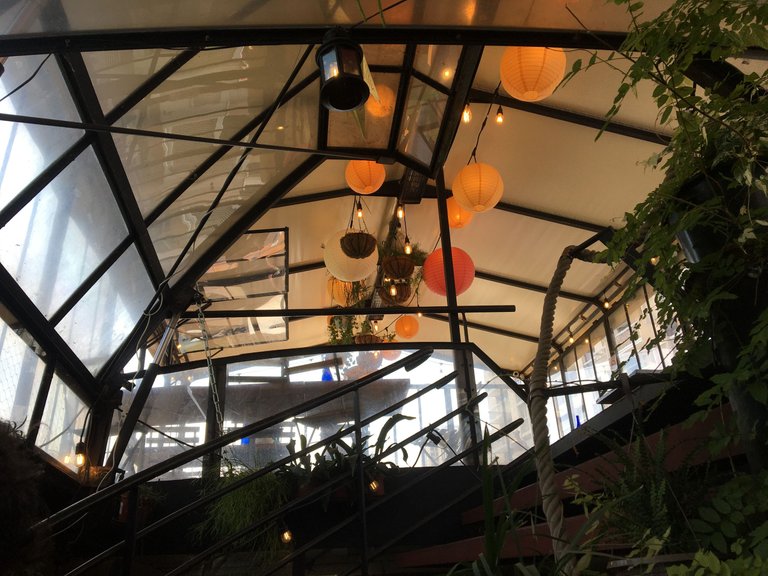 So after a long time, we take the same route back to the upper deck for a moment of relaxation - let's just say without frantically rummaging through books - over a homemade drink. In this case a fresh ginger juice for me and a lemonade for my companion.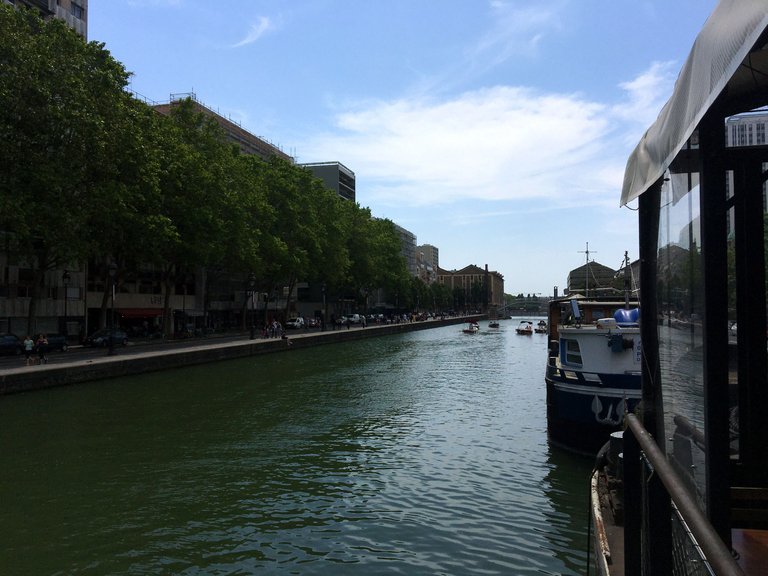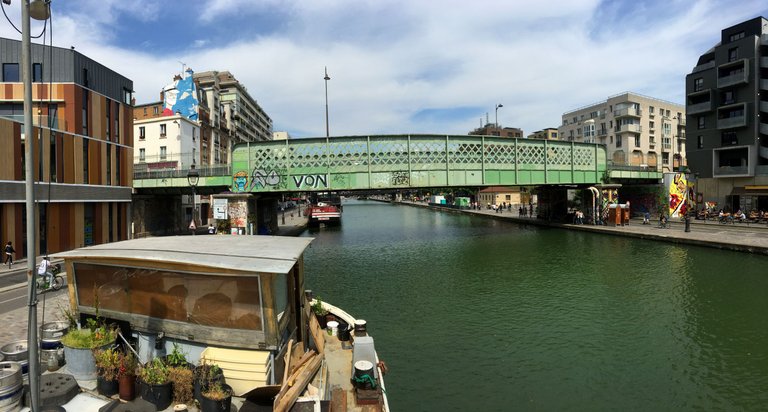 Here are some of the viewpoints, first on the south side of the canal and then, with a very distorted panorama, on the north side.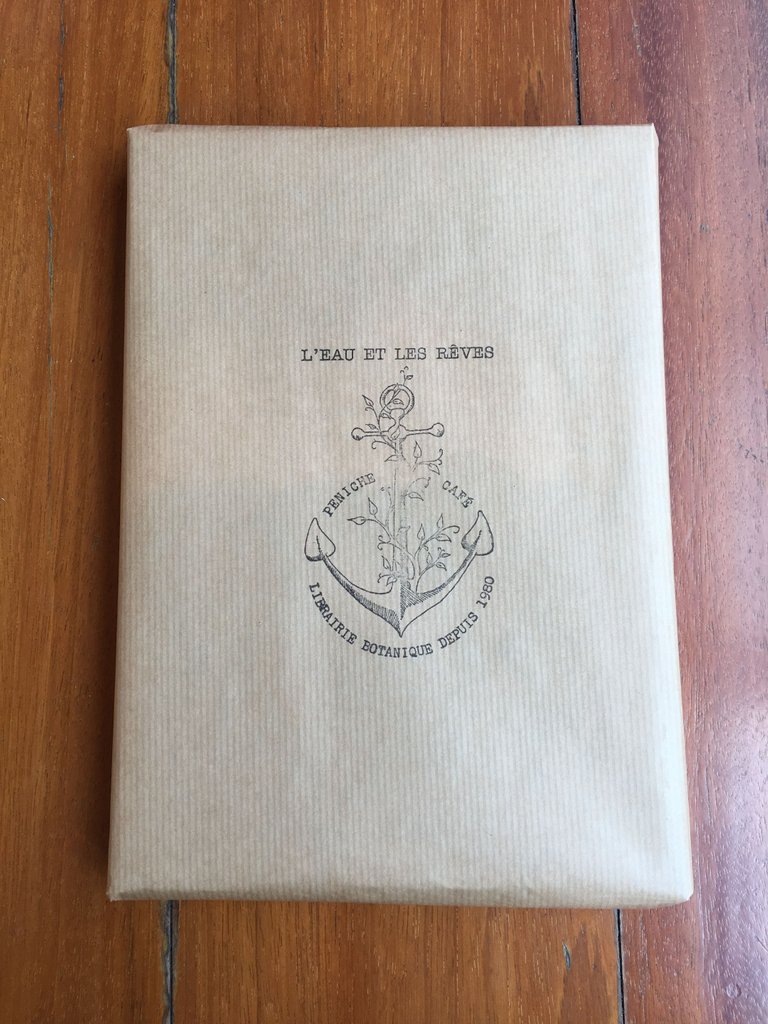 We stayed there a good while longer, and to close this chapter, here's the gift wrapping for a book bought by my companion, with a very pretty bookshop stamp on it.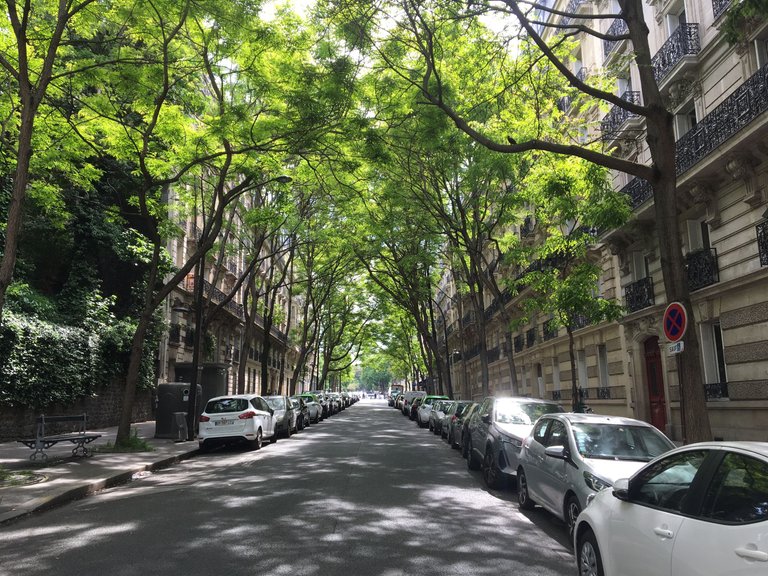 To finish, we walk back up to the Parc des Buttes-Chaumont along this superb, peaceful avenue of ash trees, if I'm not mistaken... Paris is very quiet at the moment, as it's Whitsun weekend and many of the locals have left to enjoy the 3 or 4 day break.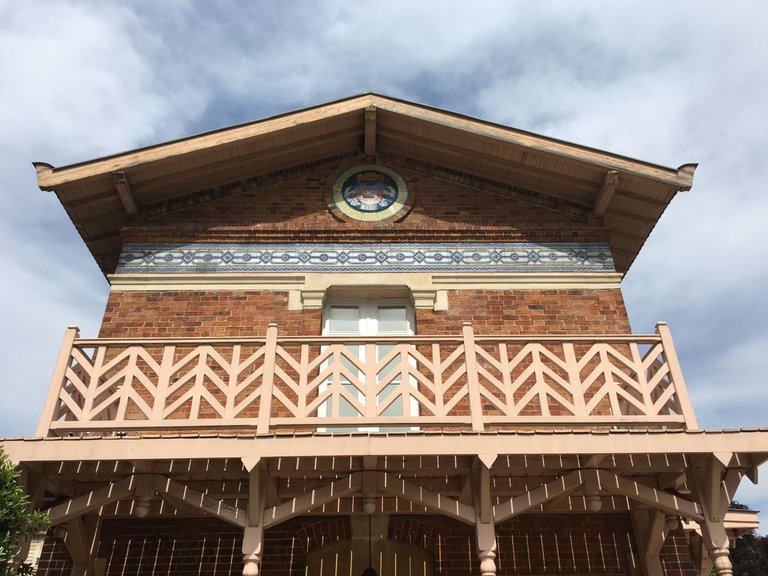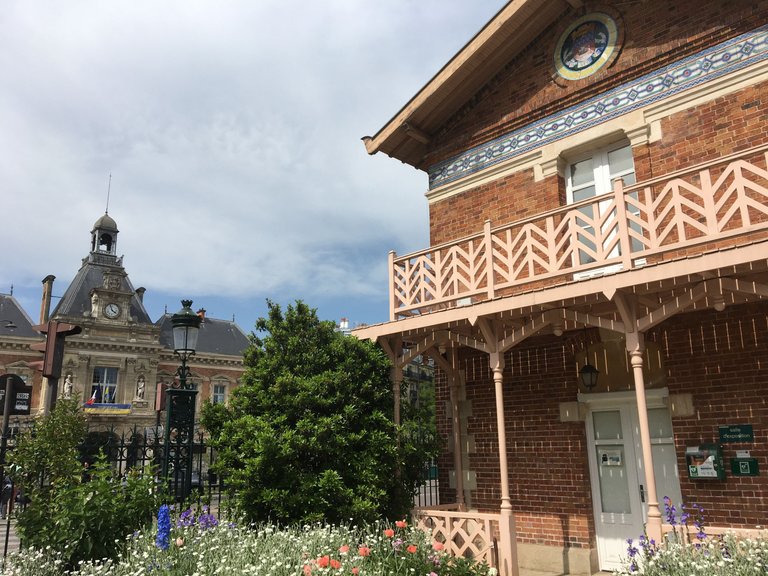 Here we are in the old-fashioned Buttes-Chaumont park, where I'm more used to taking a stroll during the week and where there aren't many people.
In the images here, we're just at the entrance, and in the second image you can see the 19th arrondissement town hall building.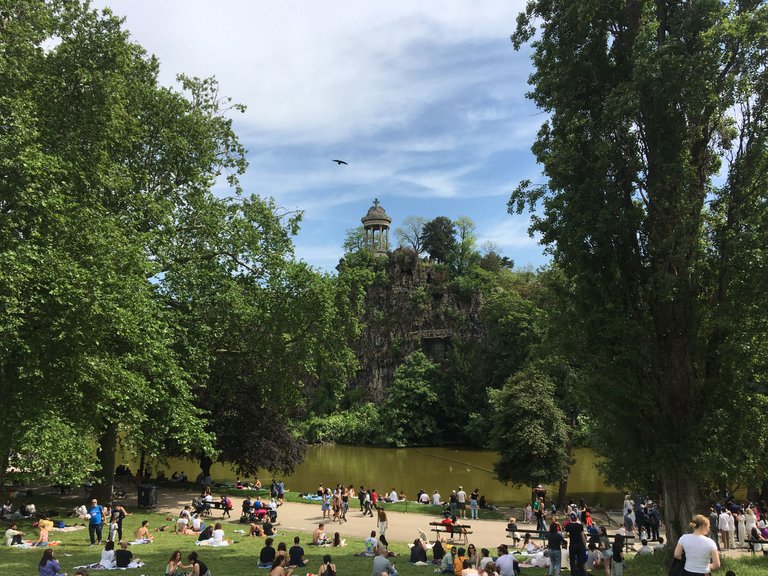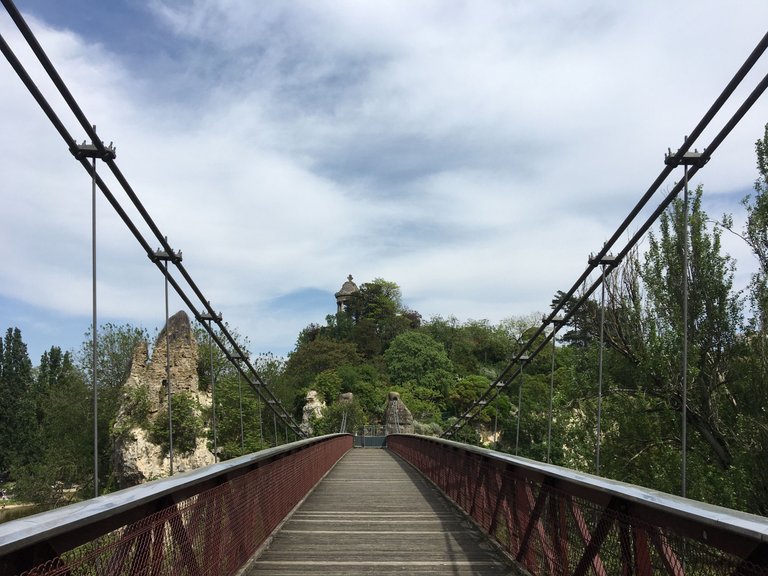 But it's far too crowded for me, so maybe not everyone has gone out of town but ended up here !
We didn't stop, especially as access to the belvedere was also closed due to roadworks... We'll see about that next time !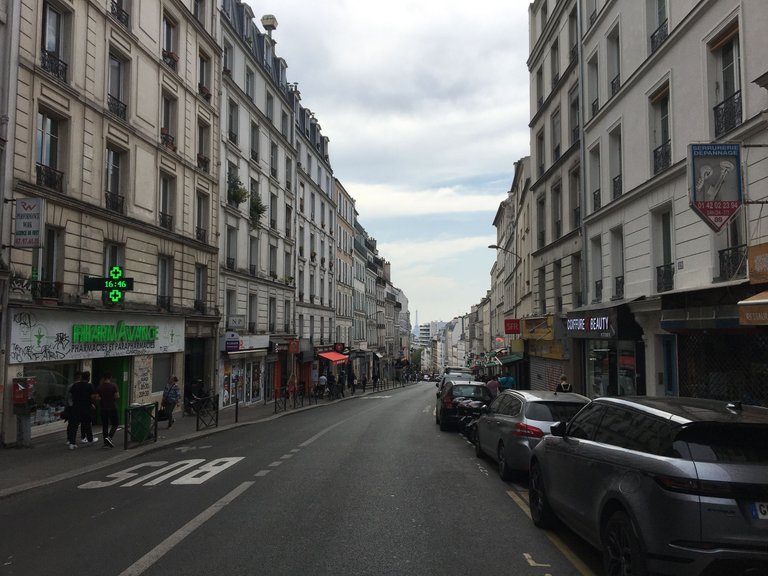 The end of our itinerary takes us to the heights of the Asian district of Belleville and the street of the same name, from which the Eiffel Tower can be seen at the very end.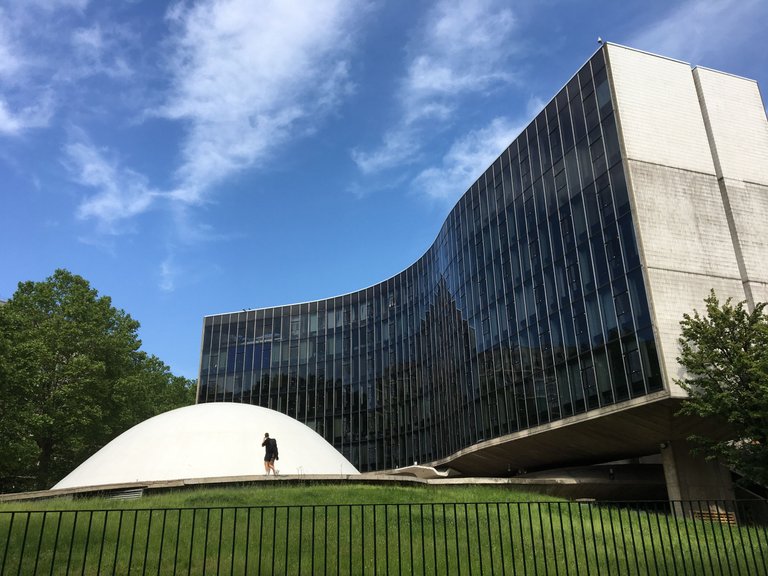 But this itinerary really ends at the Colonel Fabien metro station on line 2. Here you'll find the Communist Party headquarters designed by architect Oscar Niemeyer, a perfect example of the International Style movement, which holds a major place in the history of modern architecture.
I hope you've enjoyed this article and thank you for reading it. Have a good Sunday and take good care of you and your loved ones.
<3
---
---
---
Bonjour à tous chers Hivers, j'espère que vous allez bien. Aujourd'hui je vous emmène dans un quartier que je connais déjà, mais fréquente assez peu et dans un endroit particulier où pour le coup, je n'était jamais allé. Il s'agit d'une librairie dont la selection de livres est surtout orientée par rapport à la Nature, la botanique, à la biodiversité et aux techniques de jardinage.
Quel meilleur endroit donc pour faire une belle balade et opérer une transition douce entre les territoires sauvages d'où j'arrive et l'univers de béton de Paris ?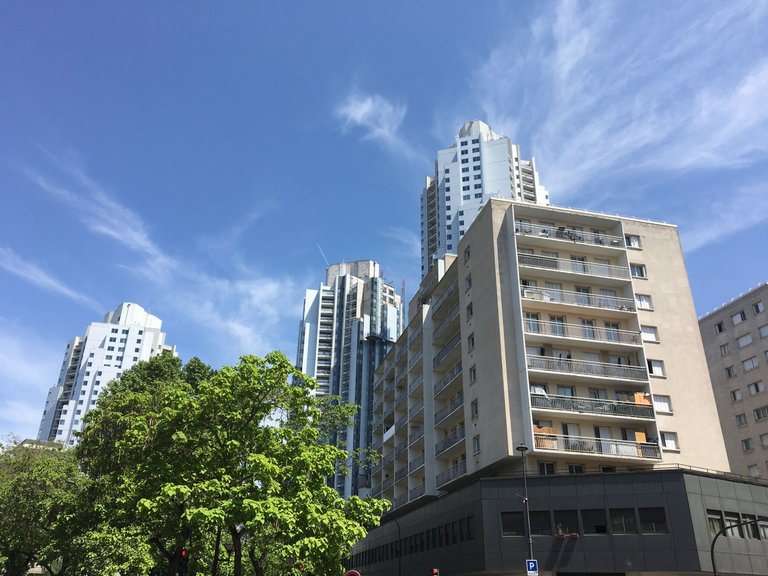 Nous voilà après le quartier de Flandres dans le 19ème arrondissement, là où on peut trouver un grand nombre de tour de ce type. Bien que celles-ci soient assez belles architecturalement et esthétiquement, je n'aimerai pas vivre à l'intérieur, être trop coupé du sol, je ne pense pas que cela doit être vraiment bon... En tout cas ce n'est pas fait pour moi !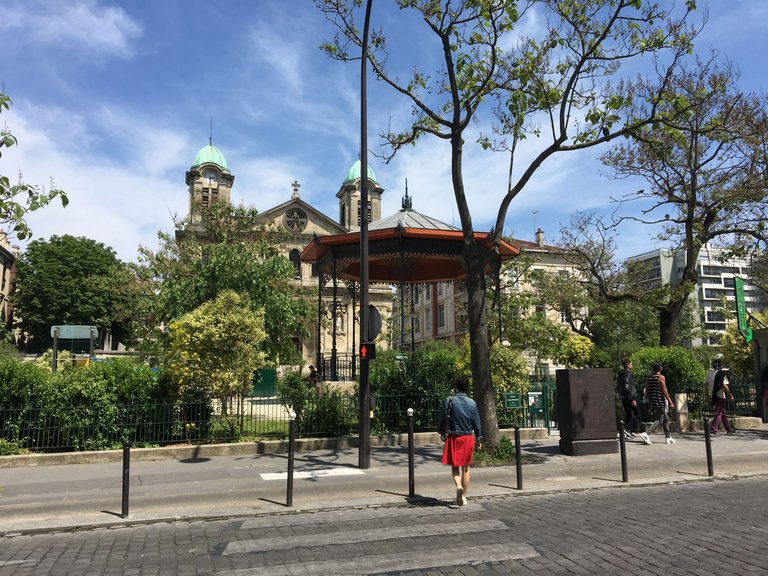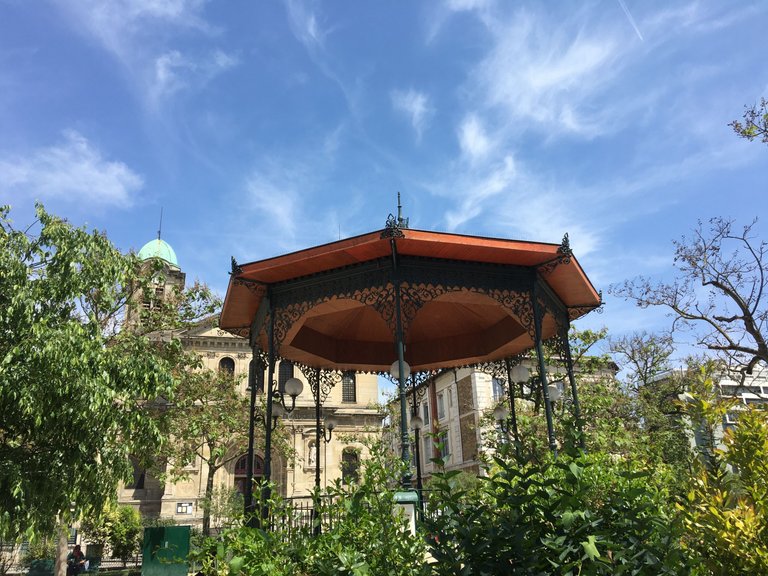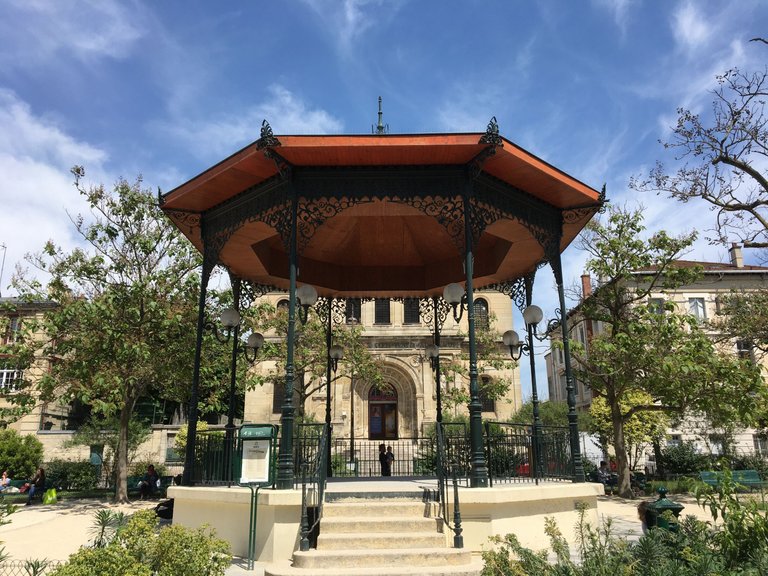 Juste avant le canal de l'Ourcq, on tombe sur ce petit square avec son kiosque, vraiment à l'ancienne. C'est le square Serge Reggiani nommé d'après un acteur et chanteur d'origine italienne.
Je suis tenté d'aller voir l'église derrière, mais par un beau temps comme celui-là, je préfère toujours rester en extérieur !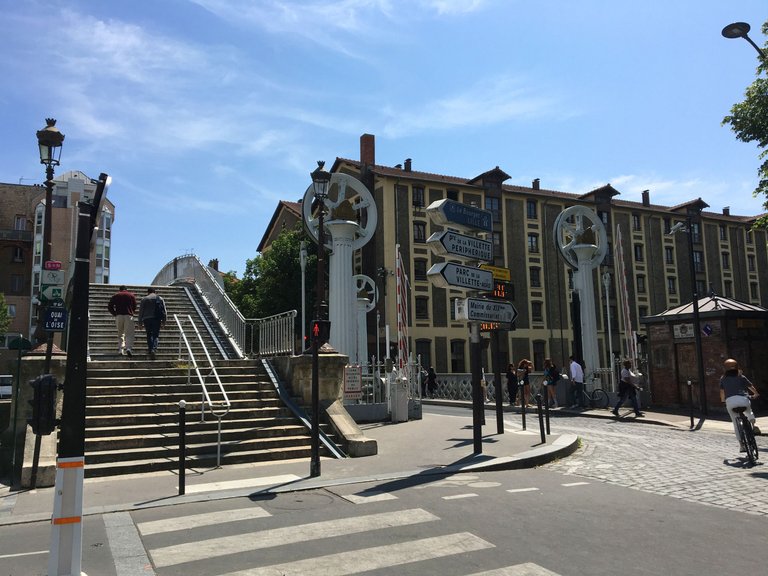 Nous voilà face au canal et surtout au pont levant mécanique de la rue de Crimée. Cela peut sembler fréquent dans les pays où l'on trouve une multitude de canaux, mais à Paris, c'est finalement assez rare.
De plus, ici ce ne sont pas les deux côtés de la route qui se soulèvent en pivotant comme des charnières, mais bien le rectangle complet de la route qui s'élève verticalement pour laisser passer les bateaux.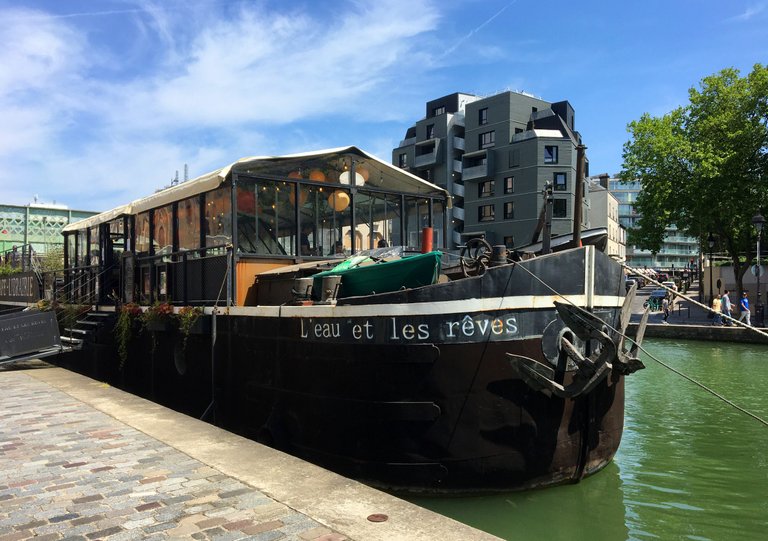 Voilà cette fameuse péniche librairie que nous venons visiter, celle-ci est baptisée "L'eau et les rêves" bien entendu en rapport avec le titre du livre "L'eau et les rêves" du philosophe Gaston Bachelard.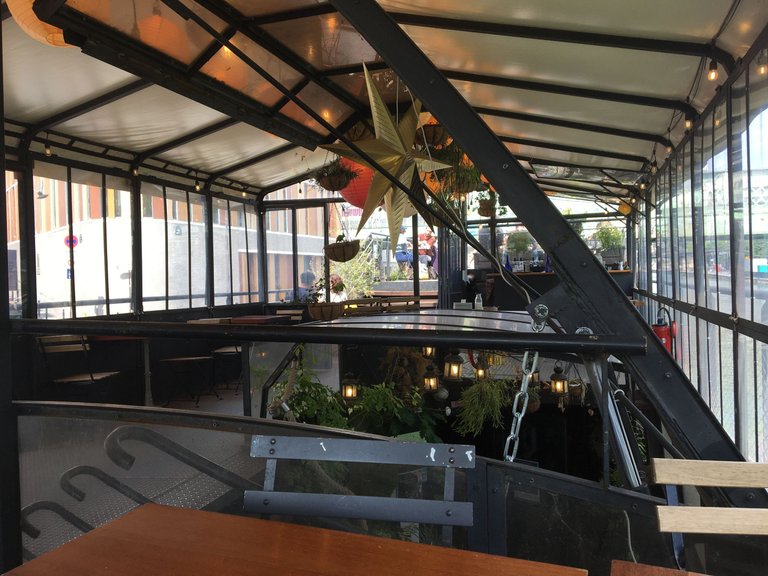 Voici la terrasse ouverte, chaleureuse et lumineuse que nous traversons directement avant de descendre dans les entrailles du navires, là où se trouve les livres... Nous reviendrons par la suite profiter de ces pontons à l'extérieur.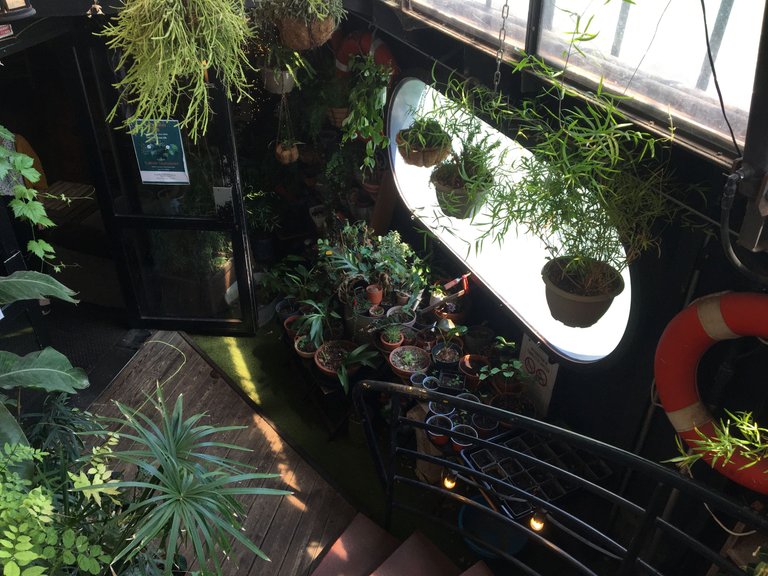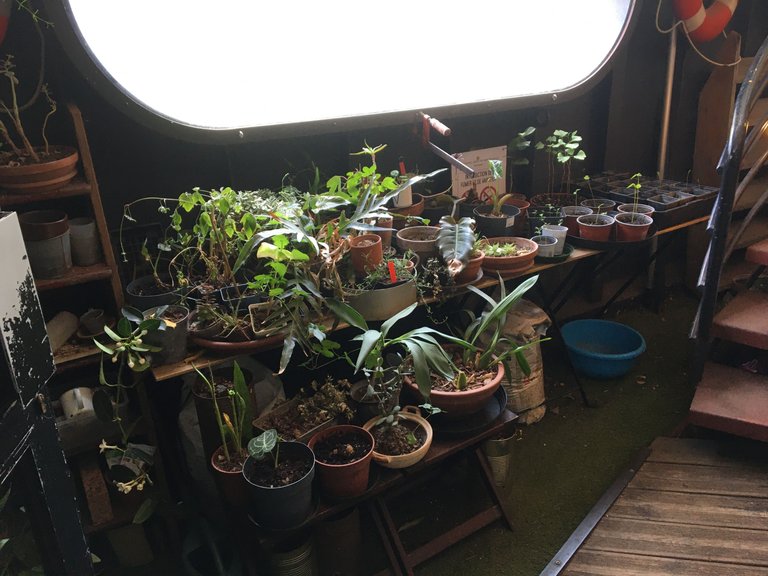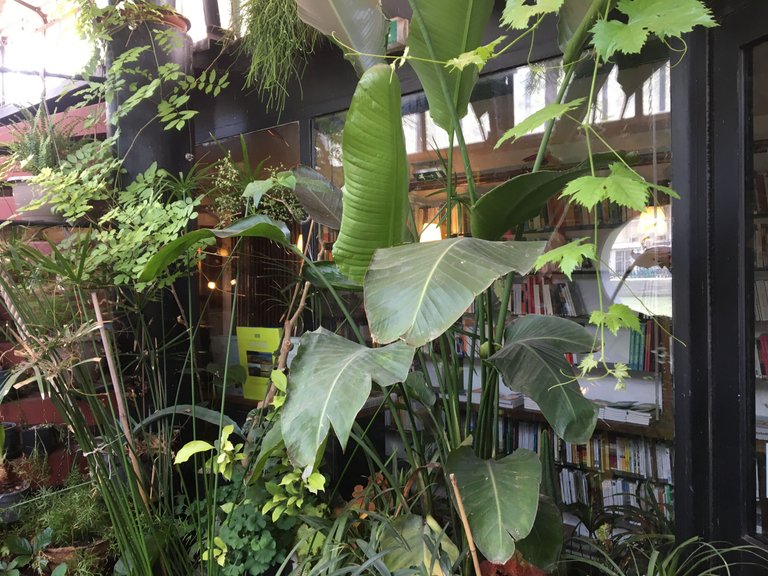 Tout le petit passage jusqu'à l'étage inférieur est rempli de plantes et si je veux être honnête, je me dois de dire que j'ai pensé là que cet endroit plairai beaucoup à @dswigle et dans les faits, aurait sans doute fait un bon sujet pour le #MarketFriday :)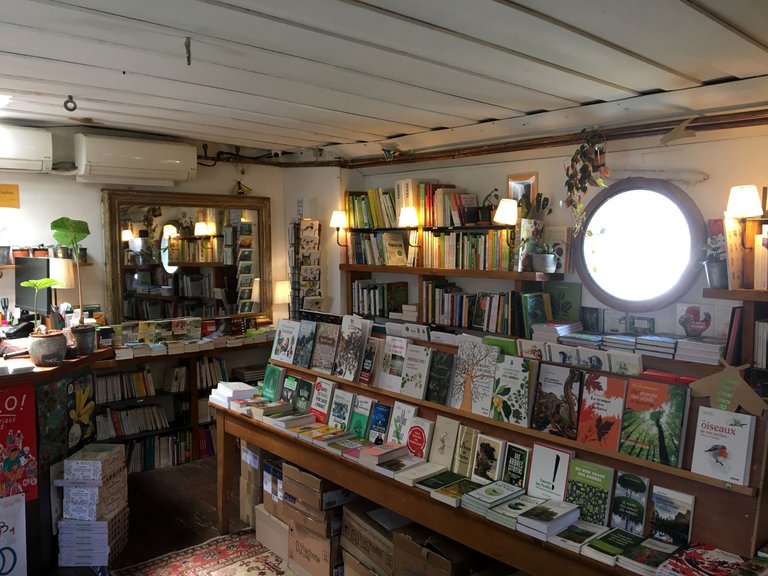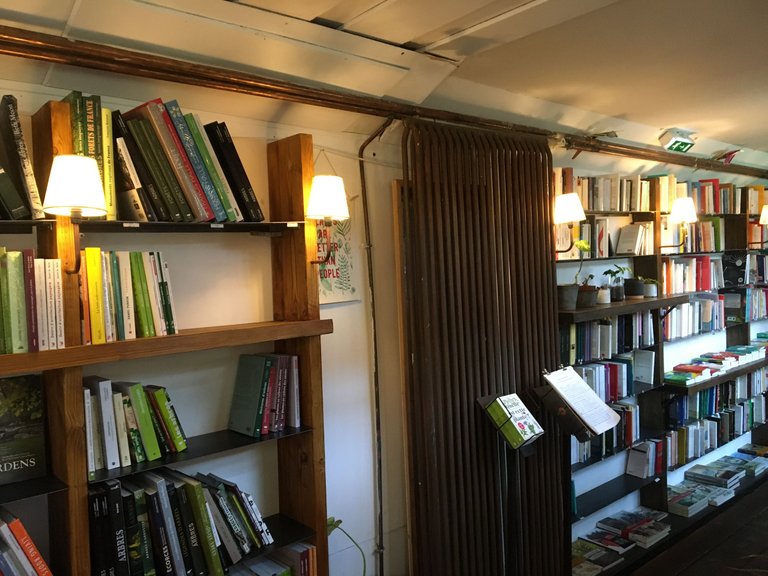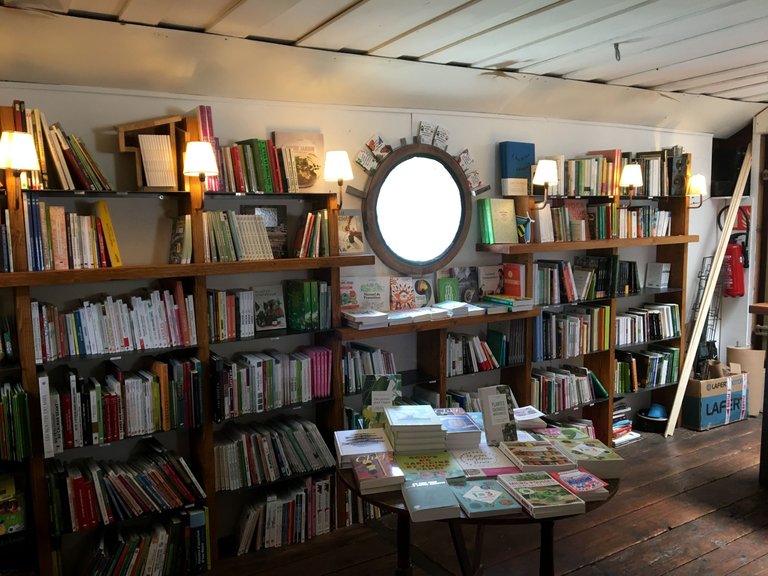 Dans le fond arrière de la péniche, on trouve une grande pièces couvertes de rayons, eux-mêmes couverts de livres tous reliés à la Nature, que cela soit par rapport à l'étude des animaux, des plantes et nos manières d'interagir avec les différents environnements ou espèces spécifiques.
Pour moi, c'est un peu le type d'endroits rêvés et je crois que nous y avons passé une bonne heure, à ouvrir et regarder ce qui se trouvait à l'intérieur de chacun de ces univers en miniatures.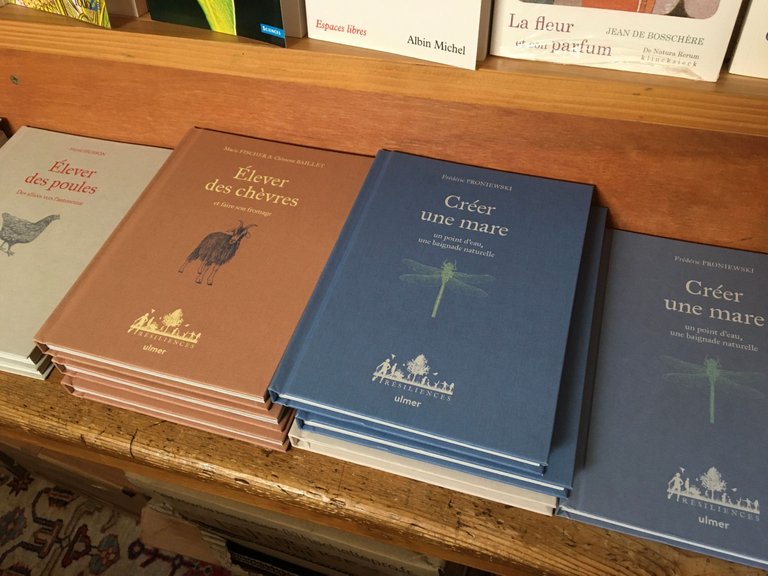 Les deux qui m'intéressent le plus, c'est ce guide sur une selection de 250 variétés de tomates et ce second petit ouvrage sur la manière de créer une mare. Mais finalement comme j'ai littéralement acheté des livres la veille, je me contente de les prendre en photo pour les ajouté à mon dossier plein de couvertures de livres :)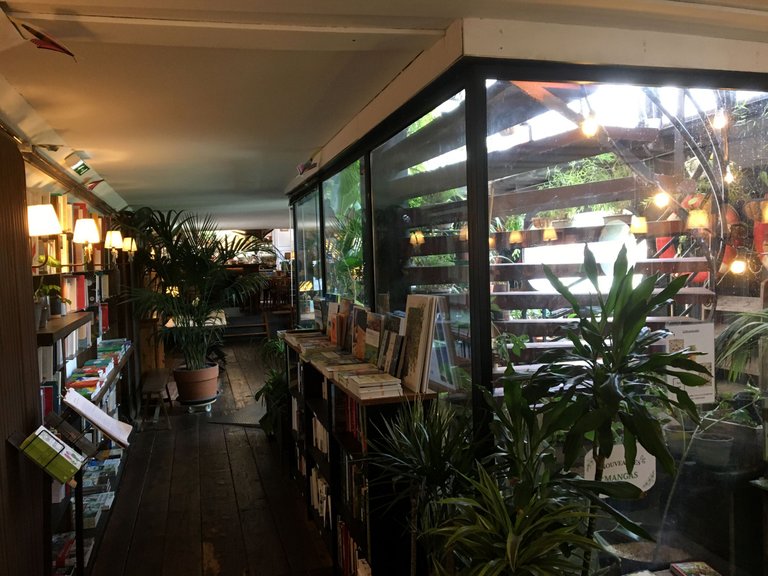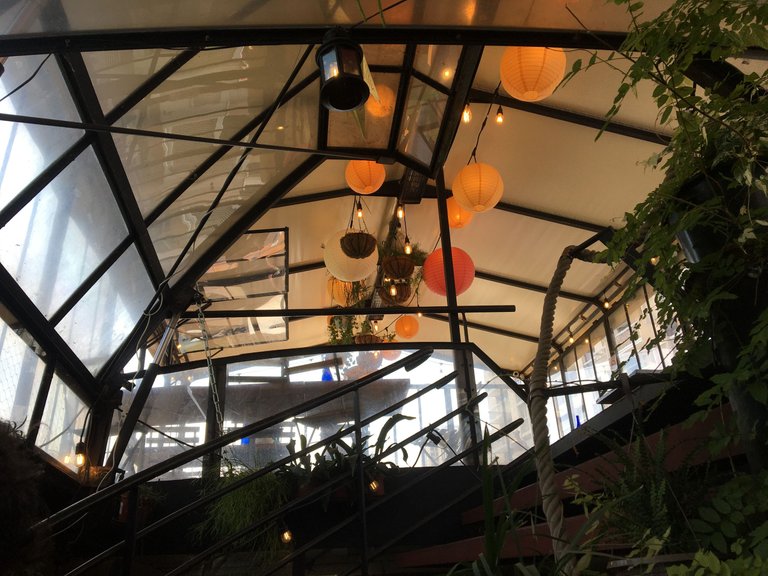 Après donc un long moment, nous reprenons le même itinéraire vers le pont supérieur et l'air pour un petit moment de détente - on va dire sans fouiller frénétiquement dans des livres - autour d'une boisson préparée maison. En l'occurence un jus de gingembre frais pour moi et une citronnade pour ma compagne.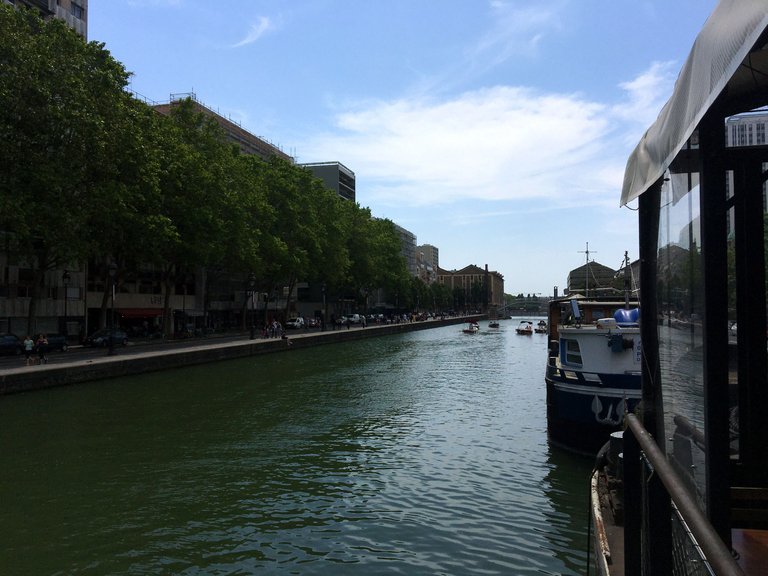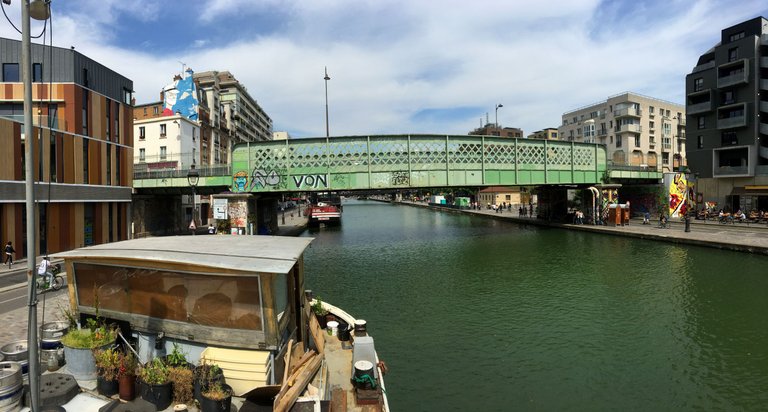 Voilà un peu les point de vue, en premier du côté sur du canal et ensuite, avec un panorama tout déformé, du côté nord.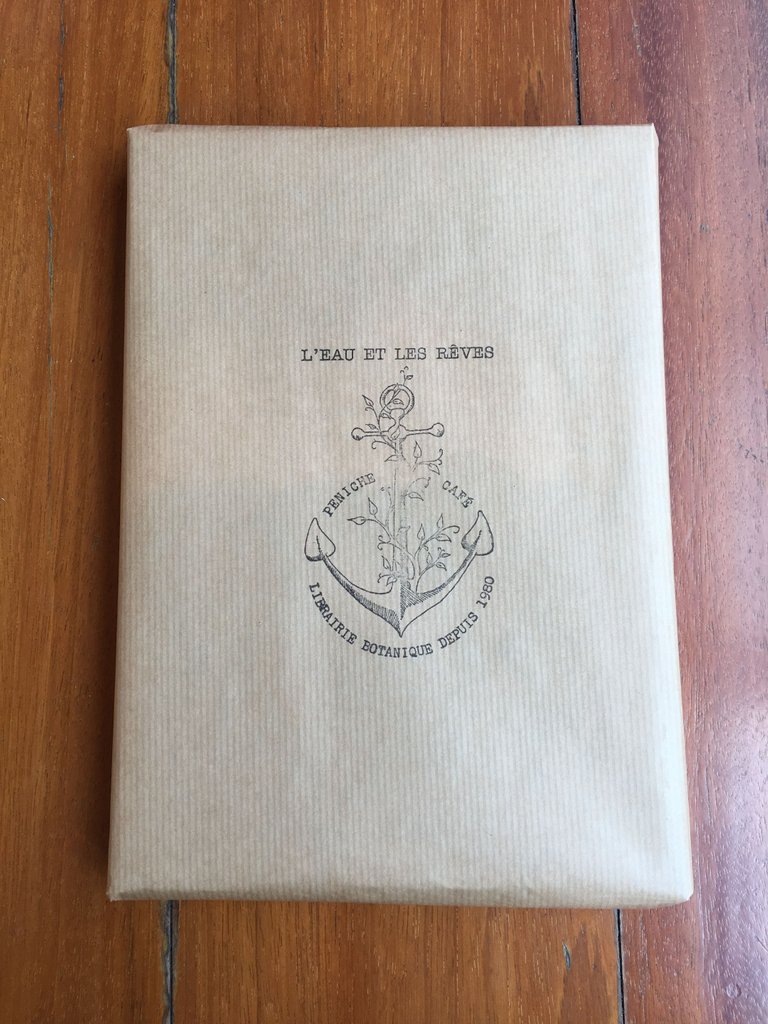 Nous restons là encore un bon moment et voici pour clore ce chapitre l'emballage cadeau d'un livre acheté par ma compagne avec le très joli tampon de la librairie dessus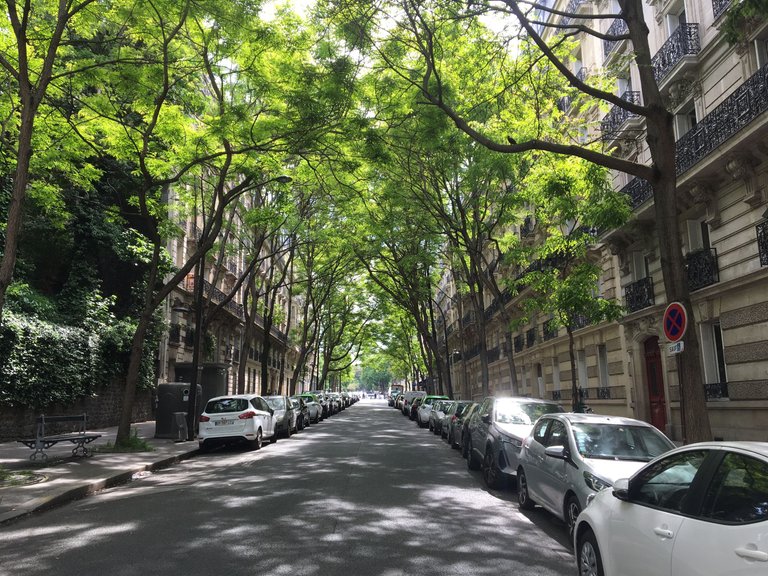 Pour finir, on remonte vers le parc des Buttes-Chaumont par cette superbe et paisible allée de frênes si je ne me trompe pas... Paris est très calme en ce moment comme nous sommes dans le weekend de Pentecôte et que beaucoup d'habitants sont partis pour profiter des 3 ou 4 jours de pause.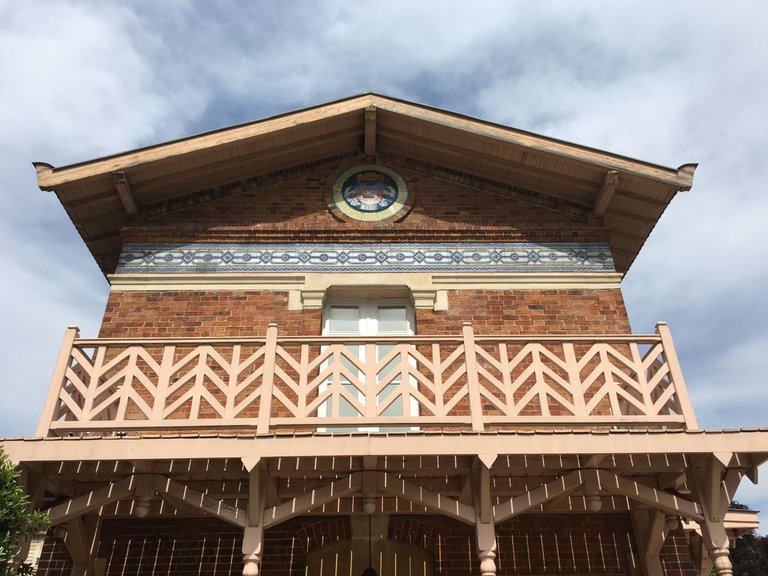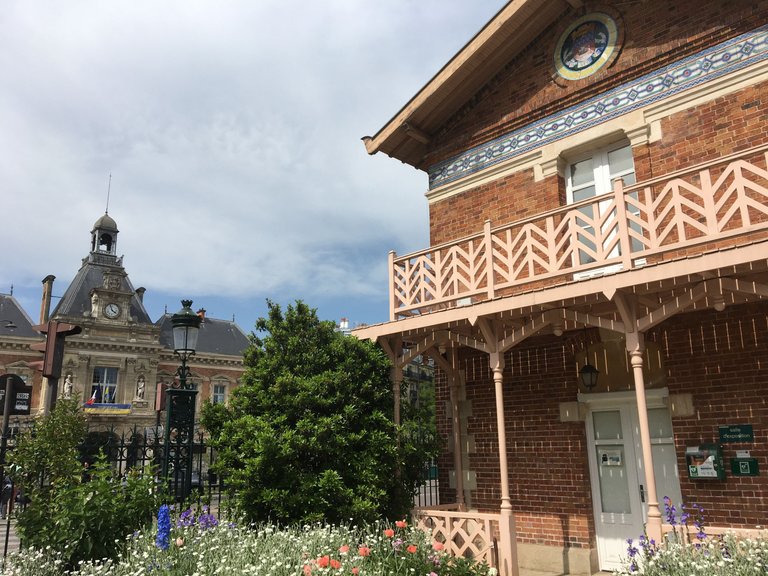 Nous voilà dans ce parc à l'ancienne des Buttes-Chaumont où j'ai davantage l'habitude de me balader en semaine et où on trouve assez peu de monde.
Là sur les images, nous sommes juste à l'entrée et vous pouvez notamment voir sur la seconde image le bâtiment de la mairie du 19ème arrondissement.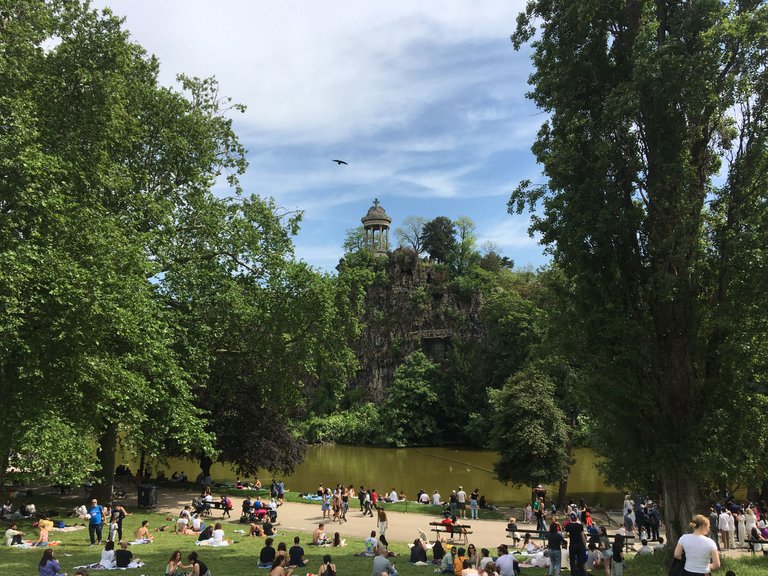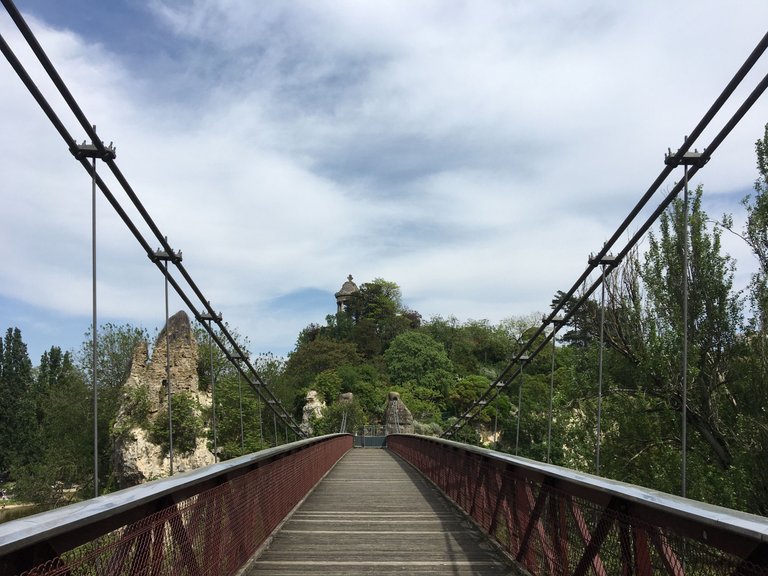 Mais il y a bien trop de monde pour moi, finalement peut-être que tout le monde n'est pas partis en dehors de la ville mais s'est bien retrouvé ici !
Nous ne nous arrêtons pas, d'autant que l'accès au belvédère est aussi fermé pour cause de travaux... On vera ça la prochaine fois !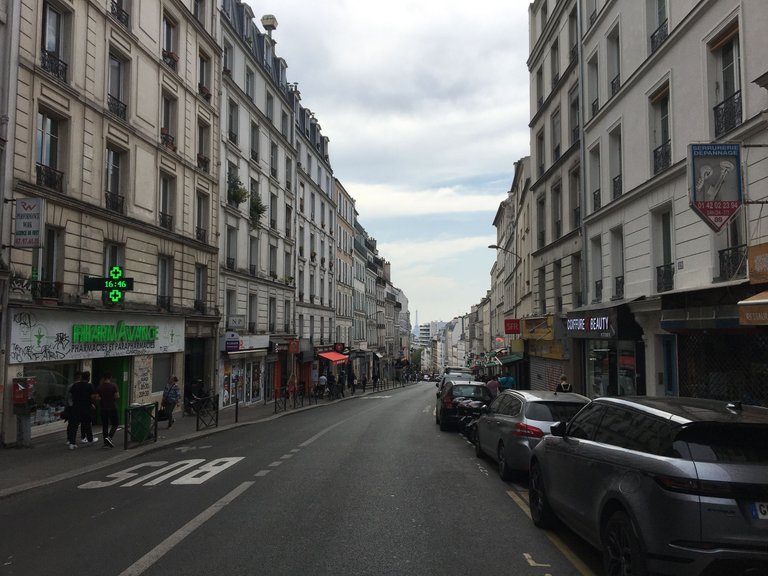 La fin de notre itinéraire nous mène sur les hauteurs du quartier asiatique de Belleville et dans la rue du même nom et depuis laquelle on peut apercevoir, tout au bout, la Tour Eiffel.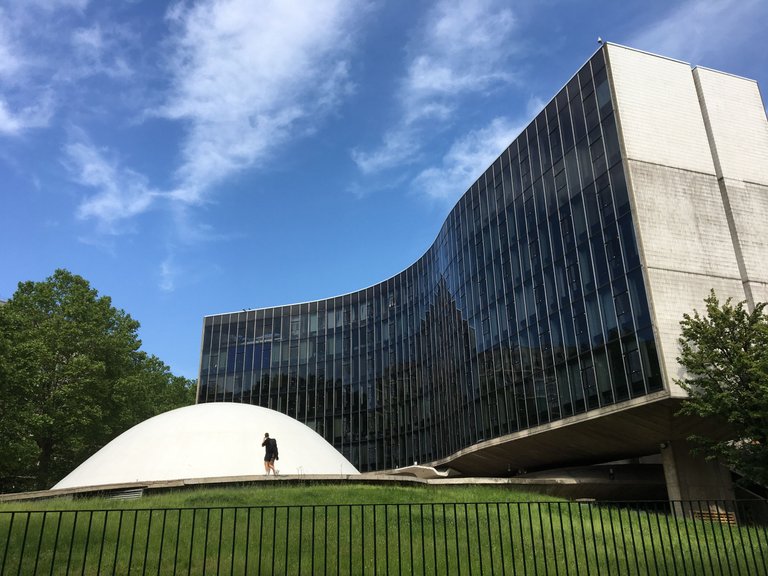 Mais cet itinéraire se terminera réellement à la station de métro Colonel Fabien sur la ligne 2. On trouve le siège du parti communiste conçu par l'architecte Oscar Niemeyer, un exemple parfait du mouvement du style international, qui tient une place majeure dans l'histoire de l'architecture moderne.
J'espère que vous aurez apprécié cet article de balade-découverte et je vous remercie pour votre lecture. Bon dimanche à tout et prenez bien soin de vous et de vos proches.
<3
---
---